Recently Andy Lau was interviewed by ent.QQ.com and talked about his 30 years in showbiz. Andy exclaimed that he experienced problems in production fees thus he approached his classmates to act in his music video. When talked about his good friends, he revealed that he's the landlord of Chapman To. With regards to his future, he plans to bring his whole family on a holiday during his 2011 birthday.
QQ: Today we are interviewing Andy Lau who is in showbiz for 30 years, staged more than 500 concerts, more than 140 films to his name. Let's welcome him.
Andy (A): Hello.
QQ: I would like to congratulate you as your film Detective Dee and the Mystery of Phantom Flame did very well at the box office and now you released a new album, so how are you feeling?
A: Normal. All along I see crew members are having more pressure than me, thus I wanted to thank them. For my earlier film – Future X-cops, they were worried of the box office taking, they said the film is hard to understand, anyway had to thanks the director anticipation for this film, it gave confidence. Because this album also a product to share my feelings.
QQ: It's also a keepsake.
A: After I entered showbiz, some artistes influence me.
QQ: We knew that you had several interviews earlier today. Let's have a game. We discovered some meaningful incidents, fan club distributed your old photographs allowing fans to guess when the photos were taken. Let me show you these photographs to make your guess. Here's the first one.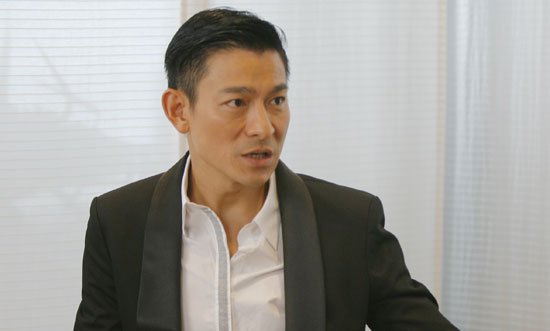 A: This should be taken during my Latin dance in my 2001 concert. It's the Latin dance for my charity concert.
QQ: So you were actively doing charity at that time?
A: I'm active in charity long time ago, I already have my own charity foundation.
QQ: What's your understanding of charity?
A: I feel that it depend on where your heart lies when doing charity, because your solo effort is that strong. It's the atmosphere that you brought, those whom liked you will follow what you're doing, this is a responsibility to society. Thus when talked about charity, now I see artistes has pressure when doing charity. I feel that artistes should not have pressure and need not care what people are saying. You need not worry if you are doing the right thing. I feel that you will be prettier and more handsome after doing charity. You will feel that you belong to this world, this world is also a strength that support you.
QQ: Let's look at the second photo.
A: When this photo is taken? I can't remember.
QQ: It looked like a paparazzi shot. This is Chapman To's wedding. From this photo, it seems that everybody has good relationship with each other, attending wedding quite often.
A: I'm the best man.
QQ: Very meaningful, do you remember this photo?
A: This should be taken at the backstage area of my concert.
QQ: Which year?
A: Should be 2005.
QQ: Wrong, it's 2004.
A: Around that time.
QQ: Rehearsal for 2004 concert.
A: Someone from my company took the photo.
QQ: Now the last photo, this should not be a problem?
A: It should be around the 1990s.
QQ: The correct answer is 1991, shooting of 'Yi Qi Zou Guo De Ri Zi' music video.
A: Everything was shot on a bridge, this should not be 'Yi Qi Zou Guo De Ri Zi'. I remember clearly, because they are my classmates, we location shooting in Taiwan, we shot 5-6 songs at one go.
QQ: Having problems with production fees during that time?
A: Then we don't have money. We remember for one song, I was walking on an embankment and spotted wave, it was a beautiful sight so went ahead for shooting.
QQ: In this new album there are many old songs, how you select these songs? What is based for selection?
A: The Cantonese songs are nearer because Cantonese songs were popular during the 80s. Thus the Cantonese songs would be more familiar, I picked the songs of friends that influence me, as like Alan Tam, Leslie Cheung and Michael Kwan, he was popular during that time.
QQ: Many of the songs are sang by your good friends, did you gave them a call when you pick their songs?
A: Nope, in the past I did told them that I like that particular song. Cai Qin's 'Bei Yi Wang De Shi Guang' is a nice song.
QQ: When you were recording these songs, what you were thinking when you are singing these songs?
A: Images of them singing the songs. Another song 'Wang Bu Liao Ni' is very touching, Alan Tam is a megastar.
QQ: There is also song by Leslie Cheung?
A: Actually both myself and Leslie started from the same record company and our vocal is similar. Our voice and way of singing are similar. We had been best friends, although we all knew that it's a pity that his life ended this way. There is a song that I failed to perfect is Stand Up. I specially picked this song, because there was once I made a mess when singing this song, it's embarrassing. I'm depressed and prepared to sing this song during my concert.
QQ: You will be staging concerts at the end of the year?
A: Yes.
QQ:So when your concert will come to Mainland China?
A: Mid 2011. Most important is to remember my 30th anniversary in showbiz, 50% remembering and 50% looking into the future, There would not be much images, in the past you can see navy officer, clown and whatsoever, this time it will be just Andy Lau.
QQ: There is a song titled 'Xiao Chou' in the album. I loved this song, what's your feeling for the song?
A: In the past I think it's the reflection of an artiste but if you say this now, those whom liked you would not agree, because in their heart, you're not a 'xiao chou' (clown), because their laughter and tears are for you. For today, these lyrics are without an alternative. I used a plain way of singing this song, because everybody's contribution and love for you have a return. Should not use this word, it would made those whom liked you sad.
QQ: The fans should occupied an important position in your heart?
A: I never feel them as my fans, I feel them as my family members, they knew when I'm unhappy, when I'm happy.
QQ: Normally how you communicate with these "family members"? On your own website?
A: Correct, this is an important channel. Also communicate through fan club.
QQ: When would you held gatherings?
A: I would gave an activity each year called "Dream Come True", it would be held 4 times each year. Where it would be held would let you know and send the invitation to you. I did one gathering once at my shooting venue, once in Shanghai and Hengdian, you can see how I looked like during shooting.
QQ: Currently many artiste interact and communicate with their fans through blogs, can you accept blogs?
A: I don't like that my identity is not disclosed, I would either start or not start a blog at all. But I already had my own website, everybody could go there to chat with me, but they must declare who they are. I think this is a way of communication, I know who you are and you know who am I, this is my clear presentation.
QQ: I discover that you loved "family members" to communicate with you through letters?
A: Used to it, because current is more distant. If I'm in Hong Kong, he's at Hainan, we can let each other know that we are fine when there are flood, not really need to write letters.
QQ: I envy your "family members" to have special guidance from you.
A: It need 2-way communication, not me only, everybody being saying that I'm good at it, if only they're my fans, my fans are better than me. My fan club still exist after 22 years.
QQ: It's already a record.
A: I don't know.
QQ: You made some changes to the song 'Bei Guo Zi Chun Zi Rong Shu Xia Zi Gu Xiang De Yu', made some changes and combined them?
A: Yes, I discovered that there are 3 different versions of the song, I combined the lyrics of these 3 songs into one. I loved listening to songs, thus I have many different songs, not a special case. Take for example of me singing 'Bei Yi Wang De Shi Guang' as per how Cai Qin sing the song.
QQ: I saw a few photographs in your album, they are works of artistes?
A: I don't need everybody to write so many things, if you really think of someone, just send a postcard to the person.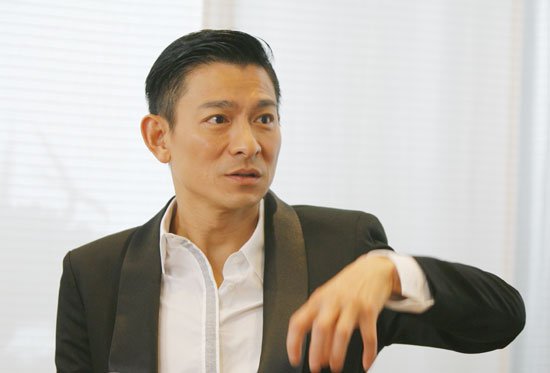 QQ: This is special, I like it very much. What's your first feeling when you see it?
A: Every drawing is related to my songs, when I first saw the postcard for 'Wang Ji Bu Liao Ni', I felt "pain", I felt more pain when listen to the song. This is 'Da Yang Jing', the most important presentation is because it's a dated song. Dated is also a characteristic, I don't know why I like this song when I'm young, I then realize the idea is great. Actually I feel that singing artist is not simple, this 'Da Yan Jing' is not simple. This is a characteristic that you will not forget if you loved someone.
QQ: There are many photographs of you in the lyrics booklet, like how you looked like when you're working, what gave you the idea of these photographs?
A: This set of photographs is very me, if you do not like me you will feel nothing. This is very real life of Andy Lau, thus there is no elegant costumes during the photo shoot, no special design, no makeup, shooting for 10 hours. We had an early preparation, hoping it to be realistic, we could have made these photographs with computers.
QQ: That's more simple.
A: It must be realistic, this is a responsibility to myself. Whether one look at it is not important, we shall do what we needed to. We reached the shooting venue at 3am in the morning, we started work at 4am. Maybe nobody know, people was saying that the photographs are computer enhanced.
QQ: This MV is special with so many cameo stars. Is this your idea or the production company's idea?
A: It's the director's idea. Initially I wanted to appear alone in the music video, because this is a representative of my 30 years in showbiz, thus I met people all these years, these people are special in my life. In 2000, I once discussed to sign him as one of the artiste of my company, he is Ekin Cheng because I feel that we are people of two different generations. I wanted to collaborate with him, but I got myself involved in a lawsuit, thus I did not signed him. Chapman To is the first artist that I rent my apartment to, he stayed beside me, nobody wanted to rent from me.
QQ: Are you still staying with him?
A: Nope.
QQ: What about Sammi Cheng?
A: She's my good partner, I learn a different rhythm from her. These are friends that I met at a different timing, inviting them was to tell everybody that my showbiz career is strong.
QQ: I feel that this is very good, renting apartment can help each other and also share experience in showbiz because artistes suffered huge pressure.
A: Actually artistes get hurt easily, because it's getting difficult, the new artistes nowadays are different from us. We can be angry with the media in the past, now who dares. Nowadays artistes don't dare to drink alcohol, don't dare to do many things. This is rather difficult, thus hope to make more friends in showbiz in order to make our showbiz circle stronger.
QQ: 30 years, other than concerts, any others?
A: Nothing special. Because I staged concerts every 2 years, then became 3 years once. Because this activity will continue to next year and the year after next year, actually there are different activities.
QQ: Did you thought of going for a holiday?
A: Yes, during my birthday next year.
QQ: I wish that you can bring your family members out next year and have a happy holiday, albums selling well, concert be a success. Thanks, Andy.
A: Thank you.
news and pictures from: ent.QQ.com
---