Metro Radio held its Chinese New Year activity yesterday and Andy Lau made an appearance as special guest, he brought his two sons Andox and Box along for the occasion.
Andy was presented a ox shaped neck pillow which symbolize "steady in earning money, steady in becoming rich".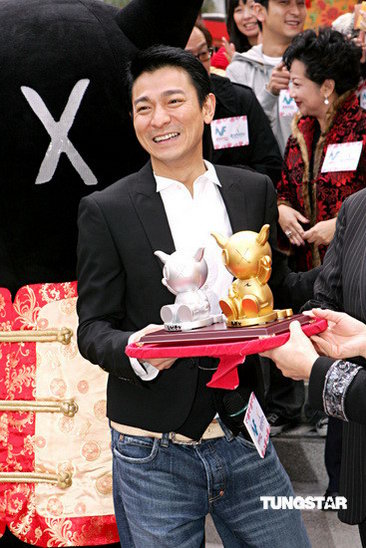 Meanwhile his latest song I Wish was also announced at the number one song on the radio station's hit charts. The other singers that attended included Fiona Sit, Khalil Fong, FAMA, Vincy Chan and Sherman Chung as they played "suck gold" game.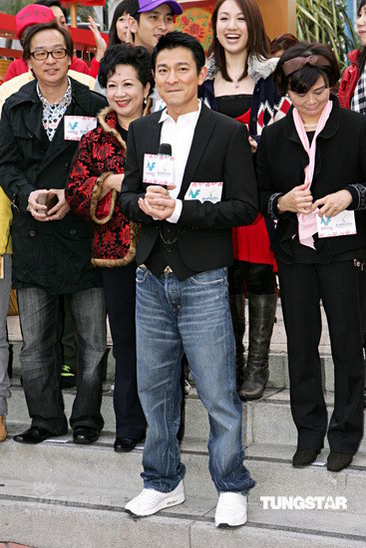 With his two sons Andox and Box, it increase the number of red packets for Andy. He gave out 800 red packets in his fan gathering and collected 1600 red packets in return. Andy intended to donate the money in the red packets to charity, he quipped: "Last year my sons asked me why I wanted to donate the money to charity."
With the festive holidays, Andy had his long holiday thus he went house visiting as he went to Michael Miu's house and other celebrities' house to make up the places he missed out in previous years. Andy exclaimed that he did gamble and end up losing money as he lost thousands dollars to Lam Ka Tung in mahjong, but Andy is confident of winning it back.
With regards to the recent slamming of Liu Xiang in Sandra Ng's radio program, Andy expressed that he's not sure of this incident, he says: "She's always like this, she would say the wrong words once in a while, she did apologize, realizing her mistake will do, one should know their mistake and correct them will be considered a good person."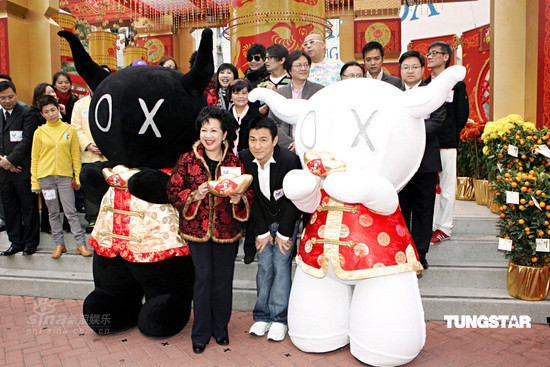 When talked about Andy looking down on people from Cows Home Hong Kong and saying that the taking care of abandoned and strayed cows as "silly" and these cows should had been dead, Andy said he had never said these words, the staff from his company would not say these too, all these are allegations and he would not like to talk about it.
With his song I Wish becoming the number one song on Metro Radio hit chart, Andy quipped that it's a good beginning as he wish the Hong Kong movie industry will do better. It had been 3 years since Andy release a brand new album, he also hope that his new album will do well, he says: "I hope that the song will also top the charts of other radio stations, really I Wish."
The new album will be released on 14 February Valentines Day, Andy hope that all lovers can used his album as Valentine Day present. When asked how would he spent Valentine Day, Andy quipped: "I will be waiting for the good news on my new album," before asking if the reporters will be free on that day.
This album will be the first album that he released since joining East Asia, he knew that the company spend huge on the production, when asked how much money is spend, he quipped: "East Asia had earned some money back when they release compilation album for me. I would know that if I'm the boss like in the past, I know nothing when someone is the boss now. The company had been supportive in terms of money as they used up $100,000 to shoot the music video in Thailand."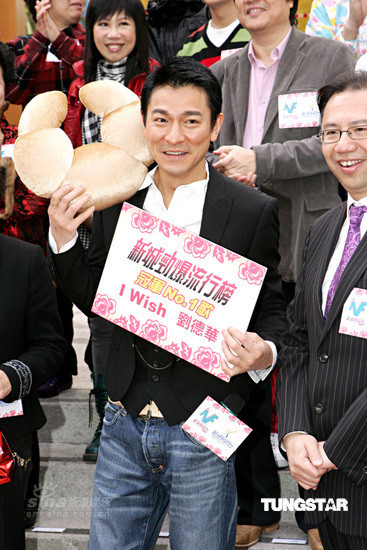 news from: Wei Wen Po, Sing Tao News, Ming Pao, Sina.com, Sin Po, HK Headline
---