Everybody would be familiar with Andy Lau's sons – Andox and Box. They were guest on ent.sina.com to discuss their current status with the compere on 11 May 2009. During the interview, the active Andox and Box made one wanna to burst into laughters. Below is the minutes of the interview: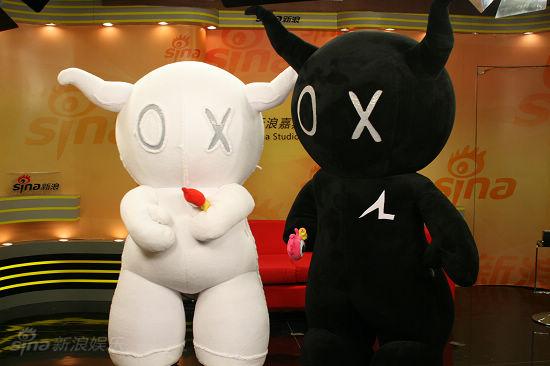 Compere Wang Jing (WJ): Dear netizens of Sina, welcome to tune in to Sina Artiste Interview, I'm the compere Wang Jing. Since the first episode of this program, many major stars had came to be interview by me. Today is no exception as I invited 2 major stars, they are the offsprings and the darlings in showbiz, so who are they, let me give you some tips, these 2 major stars are a bit different, who are they, they are the sons of Andy Lau, our imaginary idols, who are they?
Andox(A) and Box(B): Hello everybody.
WJ: Really gave me a scare, I initially wannted to introduce both of you, both of you really can talk?
A: Yes, auntie, if talking really that difficult, it's small case, we can talk when we are born, we can do everything.
WJ: Even your ear can move.
B: Beauty, are you bullying us because we don't have a mouth?
WJ: I don't dare to bully you.
B: If you bully us, I'll look for mummy and tell him that you don't treat us well.
WJ: I would like to know what is the end result of not treating you well.
B: Give you a small punishment, choose between these 2, either allow me to hug you, or you give me a hug, 1,2,3, hahaha
WJ: Andox, I think Box is rather lecherous.
A: Box, don't go bad, mummy told us that artiste cannot take advantage of female!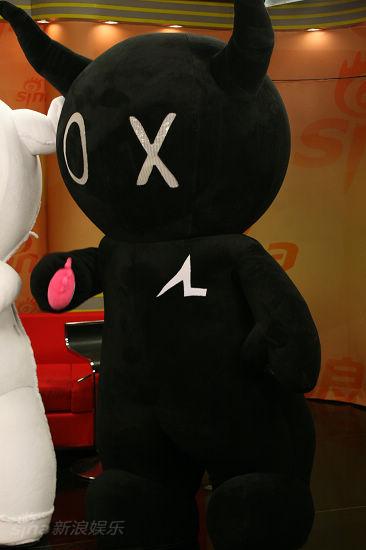 WJ: Correct, there will be allegations, must take note.
A: Correct auntie, please don't everybody's time, if you have any questions, just ask me.
WJ: Netizens would like to understand your current status, now would like to understand where did both of you come from, how old, understand your character and temper. Let me introduce elder brother Andox, okie?
A: Ok.
WJ: What's your English name?
A: My name is Andox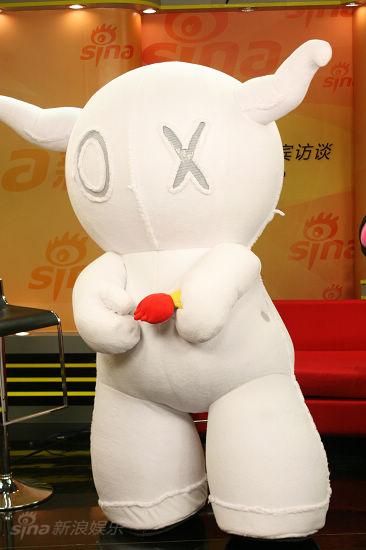 WJ: It was known that you was gave birth when location shooting Resurrection of the Dragon, mummy is heavenly king superstar Andy Lau, it's surprising as he should be daddy, according is that giving birth to Andox is like a mummy pregnant with a child?
A: This is the case.
WJ: Box, don't be anxious, I'll introduce you in a short while. Andox birthday is 11 May 2007, zodiac is Taurus, character is gentle and determine, silly till very cute, I feel that Andox gave people a special impression of very obedient.
A: Thanks, auntie.
WJ: Love to sing, I know that Box is not talking because he's jealous. Box, make some noise and I'll introduce you.
B: Ok, it's now my turn.
WJ: Box's english name is Box, born in the location shooting venue of Gansu, birthday is 28 June 2007, heavenly king superstar Andy Lau is your mummy, zodiac is Cancer, people of this zodiac care the family.
B: Yes.
WJ: Loved to dance, this I really cannot see that? We have look through both of your performance history. Let me introduce and hope that in the upcoming performance in Mainland China, netizens will show support and encourage both of you. Both of you first appeared in Andy's Wonderful World concert tour between 2007 and 2009, celebrated Andy World Club 20th anniversary in 2008, performed in McDonald's World Children Day 2008 concert, setting up ceremony of Andy World Club in Shanghai in 2009, also exciting performance of Andox and Box in Hunan TV's Happy Camp, Gold Medalist Magic Troop, Zhejiang TV's America Plan A, I think you should give yourself some encouragement.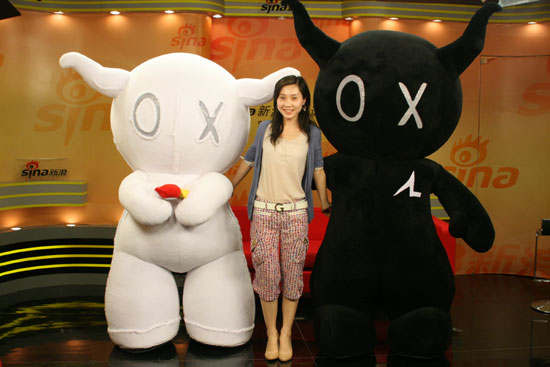 A: Yes.
WJ: From what I see, both of you are very young, it would not be easy, is it tough?
A: Still ok.
WJ: Is it your mummy being Andy, you're motivated when working hard?
A: Correct, we cannot lose mummy's face, we'll continue to work hard.
B: Yes.
WJ: Box, did auntie give you the cold shoulder?
B: A bit.
WJ: Really sorry about this.
B: Why?
WJ: Because you're too active, you're too tall. I know that you're one month younger than Andox, we also know that Box is obedient, thus your mummy loved both of you. On 28 December 2008, we will watch a VCR and understand the situation, it's Andy who brought both of you into Mainland China showbiz.
WJ: As what we had watched, it's really a large scale press conference, after that day both Andox and Box signed up with a management company to venture into Mainland China, did it change your life?
A: Yes, suddenly we have two home.
WJ: Which 2 home?
A: One in Hong Kong, another here – Beijing.
WJ: Box, I wanna to ask you, is it tough traveling between these 2 places?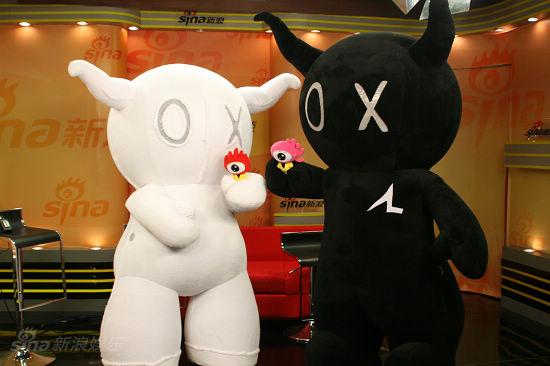 A: You do not know auntie, younger brother will not complain, I'm the one really tired, no matter where we go, he would like to eat good food, I'm the one really tired, see his tummy, so big, time to slim down.
WJ: We can see that, no wonder Box is fatter and taller, so Box eats a lot?
B: Talking about my tummy, I'm feeling hungry, beauty what will we be eating tonight?
A: Ok, we went off topic again, please sit down.
WJ: Both of you loved to perform, I can't continue acting, maybe let the netizen watch your performance on the stage, both of you release a single 'Zhong Guo Niu' earlier this year, am I right?
A: Yes
WJ: Hearing the music, definitely I could not sing it, it will be difficult for me, why not we listen both of you sing, I'll learn from both of you. This song is so difficult, how both of you master it?
B: Nope, you surely can sing it, you're so modern, clever and pretty, beauty sing a few lines for us?
WJ: Box, you really know how to sweet talk, I decided that I'll sing for you later, because both of you sing too well, I don't have the confidence. I know that Andox had a blog?
A: Yes, I have a blog.
WJ: It's incredible that your blog had 350,000 hots on the first day?
A: Yes, when I started my blog on 1 April in Sina, never expected that it will be so popular, I would like to thanks everybody's support.
B: Don't be proud brother, I'll start my blog soon and then I'll PK with Andox, everybody please support me.
WJ: Don't be too happy, look at their hands, how can they write blog with one finger?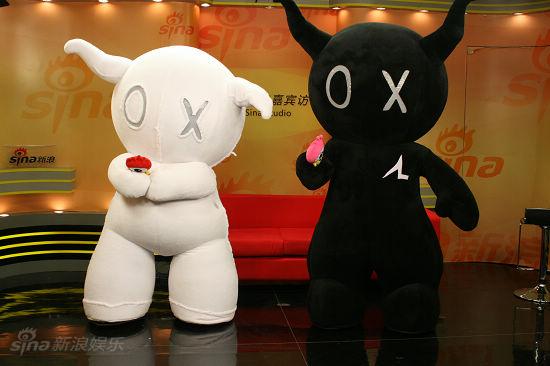 A: Auntie, typing with one finger is a bit slow, when I write my blog, a sister help me.
WJ: I'll believe it when you say it this way, if not it would be hard to believe.
A: But I replied the comment myself, both of us will take note of the comments, we wanted to know the suggestions given to us.
WJ: Box, so what did the comments said? Can you tell me?
B: They said many things, but all are supportive, they hope we will improve, because we just came here.
WJ: All are best wishes.
B: Yes.
WJ: Let's hope your blog set up faster and we can know what comments your fan leave for you.
B: Ok, when I start my blog will you become my fan?
WJ: Reserve me a sofa.
A & B: ok.
WJ: Don't be so happy, after listening to your song, I know that both of you can sing and dance, especially Box.
B: Of course, when you talked about dancing, this place is too small to dance.
WJ: Ok, since the place is too small, you can sit here quietly, I can see that both of you can dance, so active, know magic, so who can perform magic, give me an indication.
B: Both of us.
WJ: Please be more modest, I know your abilities, there is a judge from overseas, after watching your performance, immediately dashed forward to hug both of you, even the compere said that such incident happened for the first time.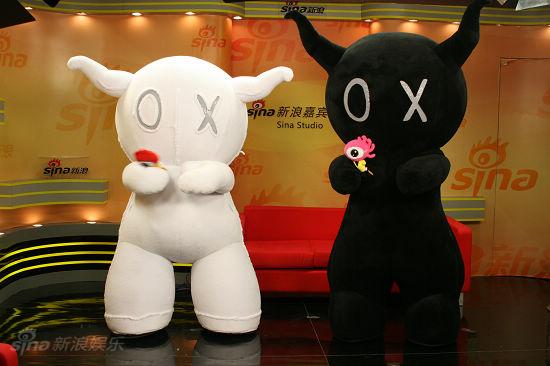 A: Yes.
WJ: How do you draw the line?
B: Didn't you see it, when the scene is grand, he run towards us, hug us and dance with us.
WJ: Ok, I know that, please sit down. I know you can dance, and obedient. Next we will have more interaction with those netizens concerned of you.
B: Ok.
WJ: Let's me ask you a question from netizen whom concerned of you, can I ask, actually I also wanted to know, are both of you human?
A: Brother, I think we are being threaten. They wanted to slice us up.
B: Brother, let me protect you.
A: We know kungfu.
WJ: Do both of you to go into acting, I'm just curious, seeing both of you so active and clever, only human can be like this, thus had some questions, not only this. Look at the next question from netizen, if you're not comfortable can don't answer. So, how about that?
A: What other people say, we will follow them. Auntie has asked us that question, this question is more easy.
B: Yes, I never think that my brother is so silly.
WJ: I'm worried how both of you managed to speak, I'm worried after this chat, my voice will be the same as both of you.
B: What's up with our voice?
WJ: Won't?
B: No, it won't.
WJ: The next netizen loved both of you, he wanted to buy your products.
B: I'm Box and my brother is Andox.
WJ: Both of you, one is black and another white, I still cannot differentiate, white is Andox, black is Box. Many netizens loved both of you, want to buy products like toys, can they be bought?
A: Yes, many people asked where can buy our products like T-shirts, hats, maybe you can only find them in Hong Kong, only original can be found in Hong Kong, they can be found in Mainland China too, if talking about China, last year's press conference we did some T-shirts, jackets, bags and badges, these are original, I'm telling everybody must support original, only originals are cute.
B: Correct, must support originals.
WJ: Everyone will support originals. But disappointed that originals can only be found in Hong Kong, after some time, when our game products come out, you can buy them in Mainland China, this will then satisfy the requests of netizens. Let's continue, this question is more private, Andox and Box, what sort of girls do you like?
A: Auntie.
WJ: Don't say that you love me.
A: Mummy said that kids cannot lie.
WJ: Do you have any standard?
B: Of course. For example, she must have the figure of Barbie, as cute as Hello Kitty, the character of Mickey Mouse, to say the truth, only must be pretty, cute and can play with me for life, my skin is already so dark, she cannot be dark.
WJ: Pretty, cute and can play with you for life, skin not as dark as you, your requirement is not low. Andox, seeing your younger brother high requirement, I think your requirement is not low either. Andox, who wrote the blog for you, will Andy read it, Andox has revealed to me just now that a sister wrote the blog for you, but all are Andox's thoughts and what he wanted to tell netizens, will Andy read it, you have not answer me.
A: I can answer this question, mummy will read, mummy will spot check when he has time and see if we changed. If the post is not properly written, he will call us to scold us even he's location shooting overseas.
WJ: Frankly speaking, I wanted to know what your mummy has been telling you, let's listen to what your mummy has to say to you.
A & B: Ok.
WJ: We see that your mummy pit many hopes on both of you, concerned of your growth, also hope that you're happy, and continue to work hard.
A: We know that, auntie.
WJ: So don't disappoint the hope of the netizens, they are also concern of both of you. The next netizen question is to ask when will both of you organize meet the fans session?
A: It would depend on how many people love us, when more people love us, we will meet them.
WJ: So this is the case, so it depend on everybody?
A: Yes.
WJ: Box, when will you release your new song, everybody is also asking.
B: Actually our single Zhong Guo Niu had already been released, with regards to new song, soon.
WJ: From what we can see, both of you can sing and act, also perform magic and dance, so will both of you plan to enter the TV and movie circle?
B: Of course.
WJ: Brother said that?
A: This question will be answered by him.
WJ: Ok, Box, I think you're talented, so is Andox.
B: Of course, I'm little heavenly king Box, of course I'm talented. We are undergoing training, maybe it will be next year.
WJ: So really planning for this?
B: Yes.
WJ: Keep up the good work, I hope to see you on TV soon, also see you on the silver screen. Can you reveal some secret of your mummy, who's your mummy's partner?
A: Mummy said that he's still searching, but he's too busy, no time to look for one, with regards to requirement, only he know best, because it's mummy's partner.
WJ: Both of you are too sly, have the charisma of an artiste, know how to avoid questions, I also know how to ask question, does your mummy plans to get married?
A: There is nothing, how to get married?
B: I'm hungry, time for dinner, time to knock off.
WJ: I know that it's difficult jetting around Hong Kong and Beijing, it's tough, after this program we will go for a good meal, but before signing off I wanted both of you to say some words to netizens in order for them to support you, meet you sooner, Box release your new song soon, ok?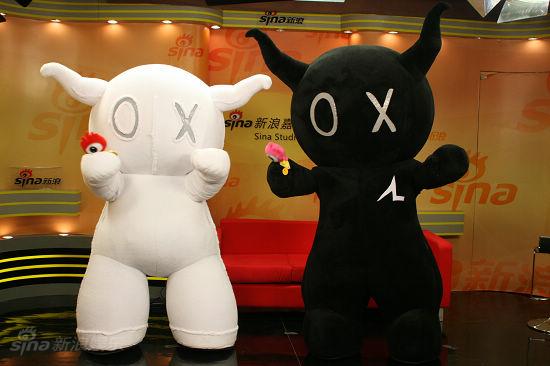 B: Ok, thank you.
A: Let me say first, I wanted to thanks all netizens for all the support, I hope you will leave more comments and suggestions to me, I'll continue to work hard, you will see a more cute and all rounded Andox and Box.
WJ: Good, anything that Box wanted to add?
B: My brother had said everything, what am I going to say?
WJ: So perform a dance for us.
B: Sure, but this place is too small, I still have something to say to everybody, thanks for all the support, we will continue to work hard, hope more people will support my blog as I will be starting mine soon, I must do better than brother.
WJ: Many thanks to Andox and Box for becoming my guest, hope your album will be release soon, have better developments, have more interviews, more people love and support you. Thanks netizens for watching. Good bye!
A & B: Bye bye and thank you.
news from: Sina.com
---