Wearing a black hat, blue wind breaker, causal pants and a pair of white sports shoes, Andy Lau arrived on a rainy day in Shengyang on 20 April 2009. Fans did not manage to see him, even reporters armed with "super mega zoom len" DSLR could only take a photograph of his side view.
Andy's low profile arrival is understandable but it would still disappoint for those fans whom followed him from the airport to his hotel in the rain. This is the third time that Andy come to Shenyang to stage his concert.
The long awaited rain came in Shenyang which delights the fans, they could also catch their idol 3 days prior to the concert as it's a chance hard to come by. The fans went early to wait for him at Shenyang Taoxian Airport as they held banners like "Love Andy forever, North-east number one Andy's fan club" await his arrival to welcome him, some crazy fans even held banner like "Hubby, you're back, Shenyang forever will be your home". The fans wore t-shirts with Andy's autograph, they are so excited as they posed for reporters to take photographs.
Around 16:10 hours, the rain had yet to stop, the private jet plane of Andy had successfully touched down at Taoxian Airport from Yantai. When the plane came to a stop, the crew members immediately used umbrellas to create a shield to prevent the reporters from taking any photographs, when they discover the cameras of reporters, they used their body to block their view. At this moment, Andy had already alight from the plane, being shielded by the black umbrellas of the crew members, he immediately walked toward the awaiting blue car, the whole process last not more than 20 seconds, although the difficulties, reporter still managed to take a photograph of his side view.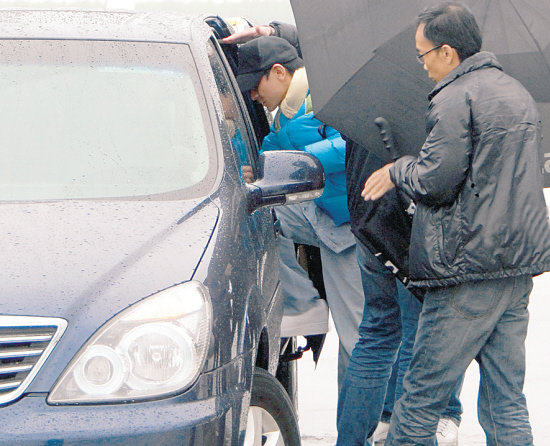 After exiting from the airport, Andy directly head towards the hotel that he's staying, although unable to see their idol, the fans still stayed behind, their determination is touching. The car drove into the hotel carpark and Andy took a private lift which will directly bring him to his room, this prohibit anyone getting near him. Reporter understand from the hotel that Andy's manager had already set some rules for Andy's security, thus when the hotel staff hear questions on Andy had to stop answering questions.
It's heard that Andy is staying on the 28th floor presidential suite, nobody is allowed to enter that floor since 18 April. The presidential suite cost $16000 per night, the room is 200 square feet and has a grand interior renovation. There will be a personal housekeeper attached to Andy, the hotel reserved a lift for him as it will directly reach the 28th floor.
The reporter understand from the organizing committee that Andy's schedule in Shenyang will not be disclose, other than taking a rest to replenish his stamina, he will have his rehearsal in the Shenyang Olympic Centre. Andy will be staying in Shenyang for 4 days, he would not be accepting any interviews.
Being the first singers to stage a concert at Shenyang Olympic Centre, he hope to give the audience an unforgettable night.
news from: Sina.com, Shenyang Daily, ent.tom.com
---