The 48th Golden Horse Film Awards was held at Hsinchu City Performance Hall last night, it was a starry red carpet which includes Andy Lau, Shu Qi, Aoi Miyazaki and other megastars which attracted 2,000 on-lookers, Andy who had the highest popularity heighten the atmosphere as screams were deafening, he was the focus point.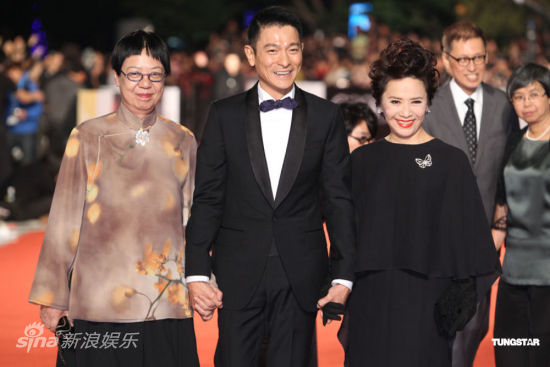 When Andy arrived at Hsinchu Ambassador Hotel to makeup around 1pm in the afternoon, around 40 loyal fans followed his nanny car all the way from Taoyuan International Airport in 6 hired 9-seaters cars, it was a grand sight. Andy walked the red carpet with director Ann Hui, Deanie Ip and 8 others, the screams were deafening, some agitated fans complaint to the media: "You blocked my view! I can't see Andy!"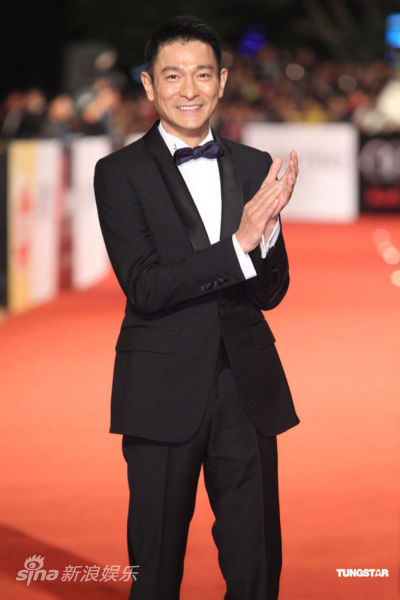 With regards to his wife's alleged pregnancy, Andy still gave the same answer: "Today is Golden Horse Film Awards, no discussion of family matters."
After years of disappointment, Hong Kong film came good this year as A Simple Life became the biggest winner with wins in Best Director,Best Actor and Best Actress as it shadowed Best Motion Picture Warriors of the Rainbow: Seediq Bale and You Are the Apple of My Eye.
Andy was the prize presenter for the Best Actress award, before announcing the winner, he commented on the four nominees, he said that he wished to employ Qin Hailu as she could act, write script and direct, Shu Qi had always been huggable, Deanie had been playing his mother for more than 20 years, with regards to Michelle Chen's love declaration, Andy quipped that he had waited her for years, Michelle then made use of her hand to form a heart to declare her love again. Compere Eric Tsang then ask the question that everybody wanted to but doesn't dare to ask, that is if his wife is pregnant, he said: "Would you have children?" Andy shouted for stoppage.
Deanie Ip who was crowned Best Actress again with A Simple Life after Venice Film Festival, when announced the winner, prize presenter and "son" helped her onto the stage and knelt down to present the award to his "mother". A delighted Deanie quipped: "I suffered a stroke in the film, here I win award, I had to thanks Andy, Ann Hui, luck came to me at old age and win awards! The competitors are strong, not easy to win, thanks everybody's love."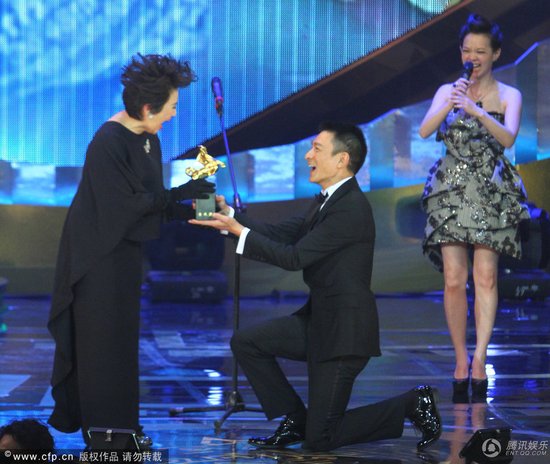 Andy who was so nervous biting his fingers, when announced as the winner of the Best Actor, he quipped while looking at the award: "I already said that I paid money to win the Best Actor award, f would win, having witness Taiwanese films survived the 10 years of downturn, now it's Hong Kong films' turn, hopefully people like us can survive it and attain the same target as you (Taiwan)!" Everybody audience after hearing him as Andy gave a bow.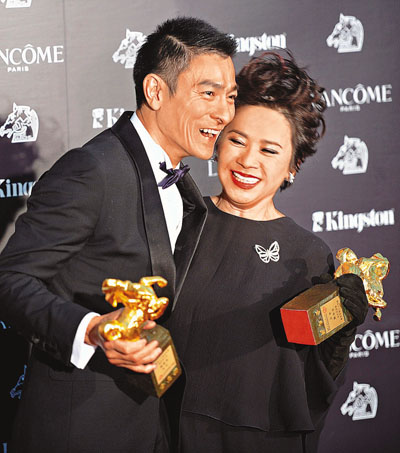 Andy and Deanie shared a mother-son relationship, it's meaningful that both win awards together!
When interviewed after the ceremony, Andy said: "I'm really surprised, my mind was blank when I went onto the stage." When asked whom he wished to thanks the most, a rather embarrassed Andy said: "That need not to be said, it'll be the same answer." Reporters tried hard to force him say out his wife's name, instead he cupped his hands and asked for mercy. When media congratulate him of "double happiness", Andy said thanks, it (could be) his first time admitting that he's going to be a father.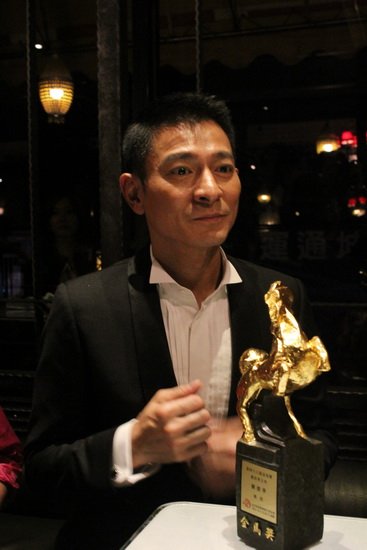 This is Andy's second Golden Horse Film Awards Best Actor award after he last won it with Infernal Affairs III in 2004. Andy sighed that the award he received was of different color, he said: "I did not know that they had changed the color to gold, I asked them why they change the color after I won it. That year I won was the last year when the award is in bronze, that it changed to gold, then they told me that I can passed them my 2004 award and convert to gold for me, I don't wanted to, never expected I waited 7 sevens for another win."
When collecting his award, Andy exclaimed that "he used money to become Best Actor". With regards to being a boss and actor at the same time, did he feel the pressure, he continue quipping: "No pressure. I will feel the pressure if I don't act after paying the money." When asked if he's worried if it's another person acting, as a boss he said: "Nope, I only feel that acting myself would make the selling price higher. This is not about box office, it's selling (copyright), the price can be higher."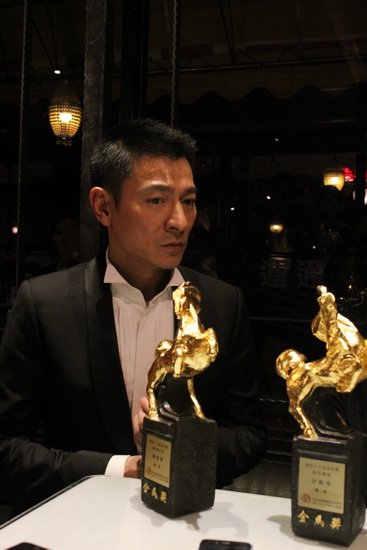 Andy, Deanie and Ann's affinity can be said to be more than 20 years, Andy's first film Boat People was directed by Ann and he formed a mother-son relationship with Deanie in The Unwritten Law, such a golden triangle gathering, kneeling down to present the award to Deanie, Andy said: "No planning, that is feeling that she deserve the award, should give her a superior feel." With regards to Ann's trust, Andy expressed: "I waited to collaborate with her for 10 years. She can approached me if she feel any of her production would have development space in my company."
In A Simple Life, Andy submerged himself into the soil as he said that he forgot how to show his handsomeness. Whereas such forgetfulness is what attracting of an actor. Andy said that he learn a few things from this film, "Because every time I need to trust and took her decision, then I said, because during editing being a boss I'll take a look, while looking will think whether it can changed a little, but changing a little will be far from requirement, in the end wish that it will be her stuff, believe her feelings, when the finish product came out, acknowledge it, this is one more selection I can take, I believed different acting has different acting style, take for example I'm 007 now, need to show my handsomeness everyday, now I won't, it seems I forgot how to show off handsomeness."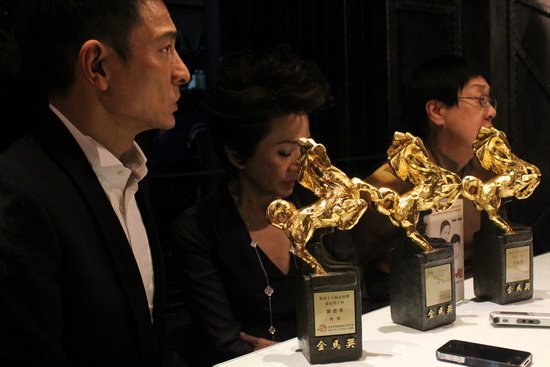 Being popular for so many years, it's the first time that Andy is not a star on the silver screen, will this feeling made him lose confidence, "Nope. Only I decided, I will believe myself, will make change if it don't make it, if you chose 50 such and 50 other, maybe you will not know why you failed, you won't know what you succeed after success, actually I made my decision before taking up the role, knew what it will turn out to be, what will be the feedback when it went into the market. Because now we can say the judges, but when the film is screen the audience might not like it, we are back to the same position, how to allow everybody, media, judges and audience like the same thing."
A Simple Life received good comments since appearing in Venice, but it would only be screened next year in Mainland China. Talking about the reason, Andy also expressed: "This is because Mainland China has its own way of distribution, from now till the new year there are many important screening periods, but no cinema willing to screen this film, because they feel that it's not a commercialize film."
Andy expressed that Ann Hui had her disappointment in Venice repaid, he's delighted for her.
news and photos from: Apple Daily News, udn news, Liberty Times, ChinaTimes, Sun News, Oriental Daily, Wei Wen Po, Hong Kong Daily, Sing Tao News, Ming Pao, ent.QQ.com
---