Andy Lau Wonderful World Mainland China tour was held at Changsha Helong Sports Centre two nights ago. Close to 40,000 fans witness this man's "forever young mystery". In the close to 4 hours performance, Andy changed into 5 costumes and sang many classic songs. From the first to the last song, all the fans followed his beat and sing along with him.
However, what disappoint fans was that Andy talked about almost everything but he didn't shouted out the sentence that everyone wanted to hear which is "I'm getting married!". Till the end of the concert, when Andy was singing 'Xie Xie Ni De Ai', he began to tear and said: "If it's possible, I'm going to be Andy Lau in my next life….."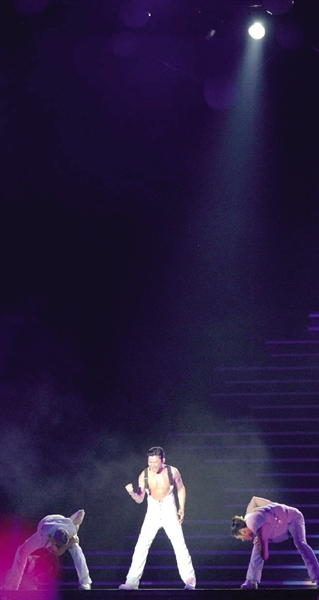 Around 8:20 pm, the concert kicked off 20 minutes behind time, with all the loud cheers from the audience, Andy appeared from the sky wearing a white sexy suit singing 'Zhong Guo Ren' in the sea of cheers.
In the close to 4 hours of performance, Andy changed a total of 5 costume, the whole concert was divided into 5 segments. In the first warm up segment, Andy wore a white-golden battle suit showing off his chest. He further take off his clothes and sang 'Lang Ren Qing Ge', 'Nan Ren Ku Ba Bu Shi Zui' singing and showing off his tone 48-years-old body. Later, Andy appeared in air-force uniform, cowboy weaver to bring audience into different story. He returned to his own self during the encore segment, when singing the finale 'Zhen Yong Yuan', Andy specially wore a long-tail suit with a pair of wings appearing on the giant LCD screen to leave a deep impression in the closing.
Other singing all the familiar songs, Andy also had close body contact dances with 2 different female dancers which attracted cheers. During his performance, Andy recall his 20 years in showbiz many times, 'Yi Qi Zuo Guo De Ri Zi' become the biggest talking point.
In the segment where he dressed up as a clown, Andy communicate with the audience again as he said: "For more than 20 years, I entered showbix because I'm handsome, that time everybody call me as handsome, but I never hear any one called me as handsome now!" After saying, all the audience called him as "handsome". Suddenly, he joked again: "Correct, after more than 20 years, I'm very disappointed to say that I'm still so handsome! Therefore I wanted to know, since which year you started to know the name Andy Lau." The audience used the sing along way to prove that they had never give up on Andy for these 20 years.
During the communication with fans, Andy sighed: "For those whom are seated and 80 years old, did you adore me for 20 years?" Some fans shouted out: "I'm not born yet!" Andy then quipped: "You're so evil, I know I'm old." Andy then continue to quipped: "Being an artist like me, I think this life is not wasted." Andy who never talked about love, but facing all the female fans, he sweet talk them all night as he even declared to love them till his next life, "Hope all the male will follow me and sing 'Bing Yu' to the girl seated next to you."
The most touching incident was that at the end of the concert, close to hundred of fans whom did not managed to get into the centre holding hands together listening to the songs from start to end.
After completing the Changsha stop, Andy returned to Hong Kong last night to attend the IFPI awards presentation ceremony before returning to China for his Yantai stop. It was initially scheduled that after completing his 18 April stop at Yantai, Andy will rushed off to Shengyang, but there are news from Mainland China that he had changed his schedule as he will return to Hong Kong for a few days before setting off to Shenyang, this adds on to the wedding mystery.
news from: Sina.com, Apple Daily News, rednet.cn
---