Andy Lau's 50th birthday falls on 27 September, he held "50 Years Unchanged Affection Dinner" (literally translated) on Mid-Autumn Festival at AsiaWorld-Expo, there were 150 tables to cater fans from all over the world for a vegetarian dinner to celebrate his birthday and Mid-Autumn Festival. The entrance ticket cost HK$500 and all earnings will be donated to charity organizations.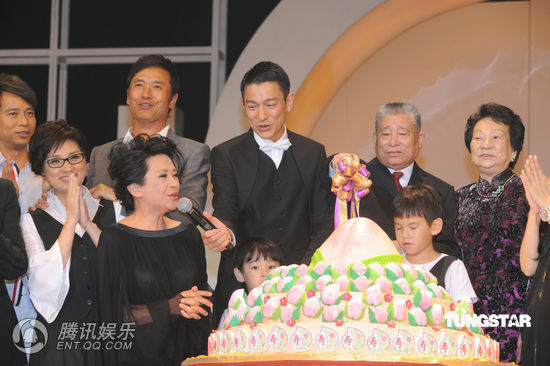 It was a star-stubbed AsiaWorld-Expo two nights ago as his good friends that attended included Michael Miu, Felix Wong, Kent Tong, Hacken Lee, Anthony Wong, Lam Ka-tung, Vincent Kuk Tak Chiu, Lawrence Cheng and newly crowned Venice Film Festival's Best Actress Deanie Ip as she gave her trophy to Andy as birthday present which Andy hesitated to received as he quipped: "OK! It will stay with me for two days!"
Deanie whom just touched down in Hong Kong from Venice earlier that day also sang 'Ming Xing' to congratulate Andy. When she brought out the Best Actress award, Andy said excitedly: "I really wish to see the trophy." Deanie then expressed that she would give the trophy to him, he shaked his head and hands as he said: "No, No, No!" because he feel that the trophy has huge meaning to her and would not wish to take the trophy that belonged to her, after some pushing and declining, Andy can only said that he just keep the trophy for two days before returning to the owner, he quipped: "Never expected that this trophy is so heavy."
Deanie immediately helped Andy to support the trophy, she also sing praise of Andy being a nice and hardworking person as she exclaimed that without him there would not be the film – A Simple Life, thus she would not win the award. Andy congratulate Deanie and director Ann Hui again, he wished A Simple Life would win the Best Picture award in Hong Kong Films Awards, whereas Deanie wish Andy to win the Best Actor award in Hong Kong Film Awards.
Coming to 50 years old, his friends in showbiz Jackie Chan, Sandra Ng, Feng Xiaogang, Gong Li, George Lam, Ann Hui, Sammi Cheng recorded congratulation videos for him, Sammi quipped: "Happy 80th birthday to Andy, you're my role model, wish you lose more weight because I loved you looking fit."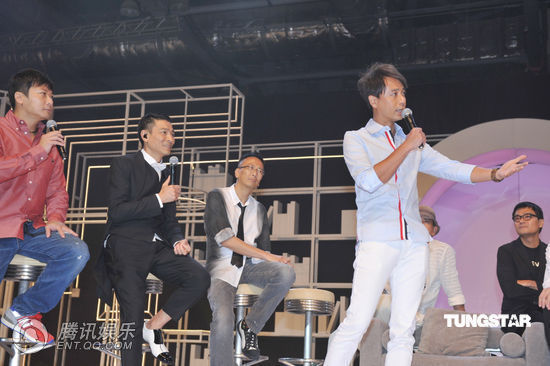 The night's comperes were Eric Tsang and Chin Ka Lok, Andy's parents were also in attendance, except Carol Zhu Liqian. The friends that attended the "Celebrities Classmate Gathering" made use of the topic "If I'm Andy Lau" to reveal his secrets. Hacken quipped about what Andy loved to buy, he said: "He love singing thus will buy recording studio, love movies thus open film company, if love drama serial best to buy TV station, everybody will be delighted as there will be so many to watch."
Anthony Wong talked about the taboo Carol Zhu Liqian, he quipped: "If I'm Andy? I'll buy Causeway Bay for one day and goes dating and shopping with my wife, all the onlookers will be my fans, no need to worry, the fans can also see their idol." Upon hearing, the fans immediately replied with screams and applause. Anthony suggested: "The fans always address Andy as 'lao da' (Big Brother), actually should address him as 'united world president', the fans will be the citizens." Eric then quipped that he will be the secretary-general.
Fans from all over the world performed different performances for Andy which includes singing (60 fans forming a choir to sing I Wish), dancing (Mid-Autumn Festival dance), the little monk in the film Shaolin specially came to perform kungfu. Andy's two "sons" Andox and Box also came onto the stage to sing the birthday song.
The encore belonged to Andy as he sang several songs which followed by Eric leading all fans to raise their hands to vows to love Andy forever which touched Andy to tears.
In addition, Andy who got sued and need to pay NT$5.1 million compensation for damaging a rented helicopter during Taiwan location shooting of Island of Greed in 1997, after another round of court listenings, there is no proving that Andy touched the control knob, thus Andy and film company Win's Entertainment Ltd.need not pay the compensation.
news and photos from: ent.QQ.com, Macao Daily, China Times, Liberty Times, Apple Daily News, Metro Daily News, Headline Daily, Wei Wen Po, Hong Kong Daily, Sing Pao, Sing Tao News, Ming Pao
---