Andy Lau's birthday falls on 27 September, he held a 100-tables dinner at AsiaWorld-Expo last night to celebrate his birthday in advance with hundreds of fans from all over the world which includes Mainland China, Japan, America, Thailand and other countries. The fans brought along flowers and several of them prepared banners with blessing and supporting phrases like "Happy Birthday, Forever 17 years old", "'Lao Da' (Andy) allow us to accompany another 50 years" for Andy.
Newly crowned Best Actress of Venice Film Festival Deanie Ip touched down in Hong Kong from Venice yesterday, she went home for a short while followed by a haircut before heading to Andy's birthday party around evening.
At the airport, awaiting reporters were waiting to send her their congratulation. When asked of her feelings on winning the award, Deanie quipped: "Never expected the win, maybe god gave me a hand, to me it's an encouragement, I'm delighted that everyone is happy that I won the award. I'll try to distance myself and not be too carried away, faced it in a stable manner, it's not just own efforts, it's a combined effort, everybody's effort cannot be discounted, take it as per normal!" She's very thankful to the boss and god-son Andy and director Ann Hui, many thanks of their trust to give me the role of 'Tao Jie'.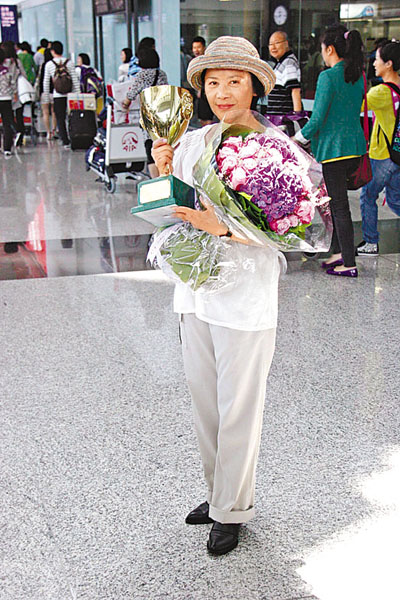 When asked if Andy had sent her his congratulation? She quipped: "He called me and 'hehe and haha', love me so much!" Deanie is very thoughtful as she will head home before attending Andy's 50th birthday party, she would bring along the Best Actress award, Signis Special Mention Award by SIGNIS World Catholic Association for Communication as her birthday present for Andy as these awards would be there without him.
Other in attendance of the party includes Mr and Mrs. Charles Heung, Vincent Kuk Tak Chiu and So Wa Wai. It is said that the party would be charity based as the earnings of all entry tickets costing $500 each will be donated to charity organization. Before the start of the party, So Wa Wai helped by distributing house programme.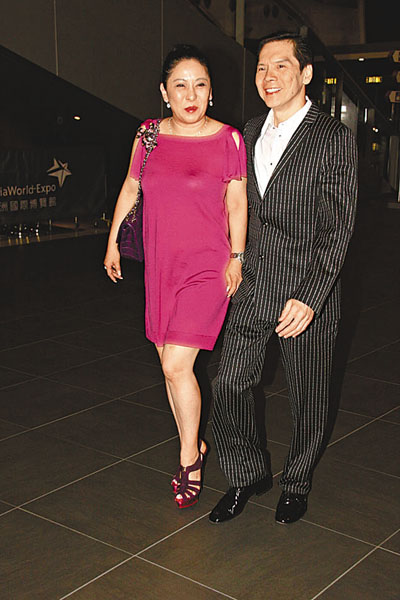 When Mr. and Mrs. Hueng were asked what present they were giving to Andy, Mrs Heung quipped that due to the charity theme, they had donated a 6-figure amount and wish that Andy remained unchanged for 100 years. When asked why they celebrate with Andy on 27 September? Mrs. Heung quipped: "He usually don't meet anyone on the actual day. (Will Andy's family members attending?) His parents should be here, he seldom make his birthday party a huge event. (You referring to having his wedding dinner?) You're asking me, you should go and ask him." Mr. Heung added: "It's a happy occasion tonight, just treat as it is." Mrs Heung rebulked: "Andy must think this way too, don't make up your own story." When asked if she knew when Andy will become a father, Mrs. Heung only indicated let nature take its course. When talked about A Simple Life doing well in Venice, Mrs Heung expressed that good return for being kind hearted, Mr. Heung pointed out that it's three celebrations meaning birthday, Mid-Autumn Festival and A Simple Life winning an award.
news and photos from: Wei Wen Po, Ming Pao, Sing Tao News, Hong Kong Daily, Apple Daily News
---