68th Venice Film Festival had came to an end, A Simple Life was presented Award for the Equal Opportunities earlier, the film was presented Signis Special Mention Award by SIGNIS World Catholic Association for Communication and La Navicella award for the film's helping others and humanity message and spirit.
At the closing ceremony and prize presentation ceremony, 63-years old Deanie Ip won the Best Actress award beating the likes of Kate Winslet and Keira Knightley. Deanie is the second Chinese actress after Gong Li who won the award with The Story of Qiu Ju nineteen years ago and the first Hong Kong actress to win the award.
Deanie was very stable when she went onto the stage to receive her award, she came prepared as she used Italian to greet the audience: "Thank you ladies and gentlemen" and later used English to give her speech.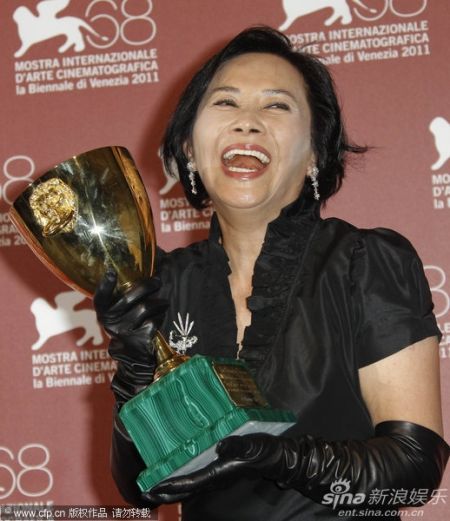 Deanie had been in showbiz for 32 years, being a singer and actress, she had won 4 Best Supporting Actress awards, she finally won her first Best Actress award and it being an international Best Actress, she exclaimed: "Maybe I'm already old, thus not much excitement." Despite her statement, she was still full of smiles when taking photographs with her award. Director Ann Hui said: "Initially thought that I would retire if A Simple Life could win an award, now I can continue to shoot more films, feel so excited."
Secretary for Commerce and Economic Development Gregory So congratulate Deanie for winning the Best Actress award in 68th Venice Film Festival. He said: "I wish to send my congratulation to Deanie for winning such an honor. Her outstanding achievement once again proves that Hong Kong film industry's hardwork won the recognition internationally, it's an encouragement to the Hong Kong movie industry." Gregory added that with such an honor and international recognition, the government will continue to promote and develop Hong Kong's film industry, nurture talents of all areas and add new blood, the Create Hong Kong (CreateHK) of the Government of the Hong Kong Special Administrative Region and Hong Kong Film Development Council to sponsor its development.
During the press conference after the ceremony, when asked of her feelings, Deanie replied: "I'm so delighted!" When asked how she could acted out Tao Jie so well, she said: "Only to be the Tao Jie within my heart." Deanie expressed that after shooting the film, it allowed her to understand more on ageing and death, "After A Simple Life, I really know that I'm no longer young, but through the understanding of these elderly, I'm no longer afraid of ageing and death, maybe when I'm back in Hong Kong, I'll go and stay in a nursing home."
Deanie specially thanked Andy's support for small budget film and sighed at the poor Hong Kong industry, she hope that this film will made everyone watch it. With regards to congratulation from the government, she expressed: "I'm surprised, hope everybody will work hard together and the government can help us!" When asked of her feelings collaborating with Andy, she exclaimed: "I don't wish to talked about not to 're-fried yesterday's fried rice'." When asked about Andy did not win the Best Actor award, will he be disappointed, she quipped: "Nope, Andy did well and does not lose out to others." Deanie added that she would return to Hong Kong to rest before attending Andy's birthday party, later he would attend A Simple Life's celebration dinner on 18 September.
Andy who once exclaimed that he does not long to win Best Actor award in an Ann Hui film as her films only help actress become Best Actress award winners, being one of the investor and male lead of the film cannot be discounted out as his 50th birthday wishes were dedicated to the film as he wished the film would win awards. Although Andy had already went back to Hong Kong, but he also immediately send his congratulation to Deanie as he was waiting for the good news at home watching the television.
Andy said: "I feel happy for Deanie and the director, thankfully the judges have sharp eyes. This year there are several international well known directors' films participating, A Simple Life still many to stand out and got notice among strong competitors, delighted that a Hong Kong film made its name overseas. Deanie's outstanding acting won her the Best Actress award, the judges have sharp eyes." As one of his birthday wish was Deanie to win the Best Actress award, he said: "My wish came true!"
Bona Film Group CEO Yu Dong thanked Deanie's outstanding acting, he said: "We had high expectations, the award we stood the highest chance is the Best Actress, congratulation to A Simple Life, also had to thanks Andy Lau, many thanks to Deanie's outstanding acting, we will celebrate for her in Hong Kong." Yu Dong expressed that Andy told him that he's willing to drop his asking fees to act in A Simple Life, he believed in Andy's eye sight, thus he invested in the film. Yu Dong pointed out that Andy insisted in shooting this film, he respected Andy's opinion and quipped that his "The Eight Characters of Birth Time" matches Andy's, thus they can collaborate for many years to come.
He also revealed another good news as the film had been registered in Taiwan's Golden Horse Film Awards, now awaiting the nomination list to come out in October, if got nominated, Deanie would have the confidence of winning the Best Actress award. In addition, the film will be distributed and screened in Mainland China next year and he had confidence in the box office takings.
news and photos from: Sing Tao News, Sing Pao, udn.com, Wei Wen Po, Ming Pao, Apple Daily News, Hong Kong Daily, Sina.com
---