Andy Lau is currently in Italy attending Venice Film Festival, when interviewed he revealed that he was not the first choice for the male lead of A Simple Life and he recommended himself. He also added that there was suspicions in the script, thus requested to write a new version but till today it had not been completed. Meanwhile Bona Film Group Limited's director Yu Dong expressed that the films next aims are the Golden Horse Film Awards and Hong Kong Film Awards.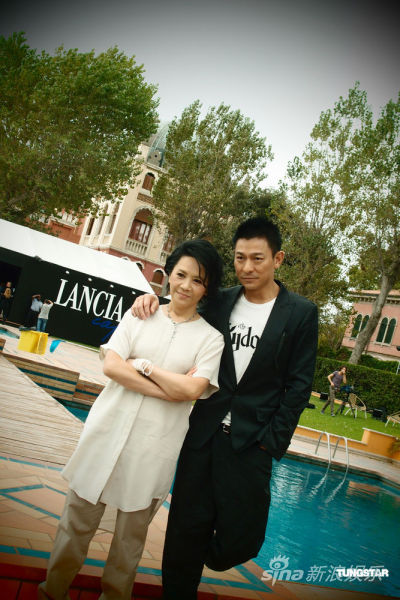 Andy revealed that the Roger in the film was not offered to him initially, he said: "It's not me at the beginning, only Deanie Ip was approached. After reading the script, I took the initiative to ask the film company: Can I be the male lead? and they told me: Will you take up the offer?, I replied: Of course! Ann Hui also said that she hope she would have a production fee of 10 million, then I said that if I'm in the film, the production fee can reached 10 million."
In addition, when received the script initially, Andy have some suspicions and specially wrote another version, "The version that I wrote is looking from the angle of Roger, but those whom read it feel that it's "too mean". Maybe three to five years later, I publish a book with it." When reporter asked him when he will become a director, he expressed: "I'm not ready, whenever I thought of directing, people will be asking: What happened if your film failed to earned 200 million, what would you do? It's a huge pressure." If one day he really became a director, he would like to try comedies, he said: "I loved comedies but seldom I'm in one, therefore I hope to shoot a comedy if I become a director."
It was said that when shooting films directed by Johnnie To, he would get scolded. Andy pointed out he did experienced before but does not feel bad not instead it's Johnnie who feel bad. Andy also described their unhappy encounters: "Because I also threw my temper on him. Then time I need to wear a helmet during shooting, I adjust my hair after removing the helmet, he then scolded me: Why you artistes always care about your image! Then I adjust my hair again in another scene and he immediately shouted 'Cut'." I'm angry and went to blow my hair. Three months later I was location shooting with Johnnie in Mainland China, he asked me out of the sudden: Why didn't you arrange your hair?, I told him that I don't really like to arrange my hair, then we understand each other better.
After A Simple Life's premiere in Venice, it won good reviews and some film critics labeled it as an art film hard to come by in recent years. When asked about his acting being recognized, a modest Andy said: "Actually there's nothing special with my acting, the director requested me not to act this time round, I feel that it's good, to me it's a new attempt." After shooting this film, Andy exclaimed: "I'm going to be 50 years old soon, with me getting older, I can experience the mindset of a normal person, and slowly discover the beautiful details that I had neglected."
When Ann Hui was asked if there is any trace of herself in the film, she quipped: "Yes, I also like to have face, just like Tao Jie, but I do not know how to cook." When asked if she feel that Andy and Deanie had any chance of winning awards, she exclaimed: "I hope so, but I dare not say, need to depend on other competitors." In addition, Yu Dong exclaimed that A Simple Life next target is Taipei's Golden Horse Film Awards at the end of the year and April 2012's Hong Kong Film Awards.
news and photos from: Sing Tao News, Hong Kong Daily
---