The press conference of Media Asia Group Holdings was held in Shanghai on 28 July. Zhang Gouli, Han Hong, Andy Lau, Leon Lai, Daniel Wu, Sammi Cheng, Miriam Yeung, Shawn Yue, directors Andrew Lau and Pang Ho-Cheung were present to show their support. When two heavenly kings appearing in Shanghai together, there was no sign of "hatred" between the two of them as during group photo taking, both of them were standing in the middle as they held each other shoulder and waist, from one look, they did not vye for the "big brother" title.
Hong Kong showbiz bigwig Peter Lam's Lai Sun Group, YF Capital and Sina invested and bought in Hong Kong listed company Rojam Entertainment Holdings Limited, the transaction was completed on 9 June 2011 and the name of the company will be changed to Media Asia Group Holdings Limited as it would venture into Mainland China media and entertainment business. Media Asia Group Holdings will make use of Lai Sun Group's resources in international and Chinese showbiz, media, entertainment and programme management, together with YF Capital vast network of collaborators and China's Internet bigwig – Sina to venture Mainland China media and entertainment business. It's business will include movie production, concerts and musical performance, artistes management, TV dramas production and distribution, investment in cinemas and new media services.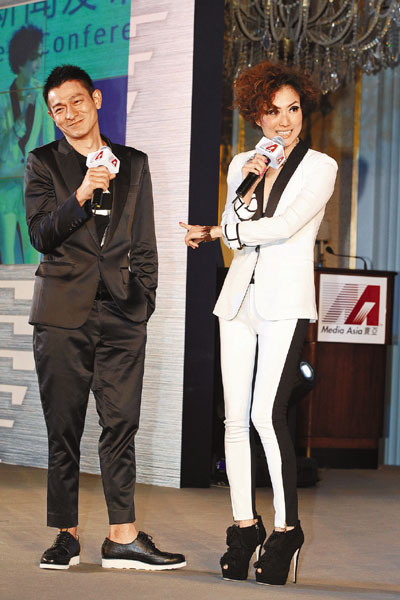 When Andy and Sammi dressed in black and white respectively appeared on the stage together, Andy said: "Zhang Guoli asked me to buy the company's shares as it would go up, thus I invested in the company's shares instead of properties." Sammi then quipped that she is not as wealthy as Andy thus she did not buy the company's share. When interviewed, Andy quipped that he would ask boss to give it to him, whereas Sammi said: "I know nothing about shares, I can't come out with the cash."
The silver screen pairing of Andy and Sammi have left deep impressions to audience after they collaborated in Needing You, Love on a Diet and Yesterday Once More. When interviewed they revealed that they would be collaborating in a new film directed by Johnnie To as friends whom have feelings for each other but not considered as lovers. Their profession will be police, Andy's character will lose his sight when solving a case. Andy expressed that he's currently preparing himself for the new film, "The crew had arranged a police with similar experience to chat with me, I would also spend 2-3 hours in counselling centre, I already knew how to feel braille."
Meanwhile, Sammi is not worried of aesthetic fatigue, she said: "Andy always gave a lot of imagination to females." Sammi said that there will be changes with every collaboration and learn a lot of things from each other, thus when the director told us that we would be collaborating again, we agreed immediately.
news and photo from: Sina.com, Apple Daily News, Ming Pao, Sing Tao News, Wei Wen Po, Headline Daily, Metro Daily, Macao Daily
---