68th Venice Film Festival announced the list of competing films yesterday, a total of 22 films will be competing for the Leone d'oro. There will be two Chinese films competing which are Ann Hui's A Simple Life which starred Andy Lau and Deanie Ip; and Wei Te-Shen's Seediq Bale. Being one of the competition film, this means that Andy and Deanie will be vying for the Best Actor and Actress award, however, they would be facing fierce competition from George Clooney's The Ides of March and Roman Polanski's Carnage.
Venice Film Festival chairman Macro Muller had wanted to watch A Simple Life but it was not completed, as the final editing was completed in early August and added English subtitles, Muller immediately flew to Beijing to watch the film and invited her to compete in the festival.
When told of the good news, Ann Hui expressed: "I've waited for 10 years, finally to have my taste of glamour, I kept telling myself that I would like one of my films to be nominated in Venice Film Festival or Cannes Film Festival before I retire, finally I have my chance. Really had to thanks the superb acting of Andy and Deanie, hope it won't give Deanie too much pressure, it would be prefect that everybody watched the film with the mentality of supporting a Hong Kong production."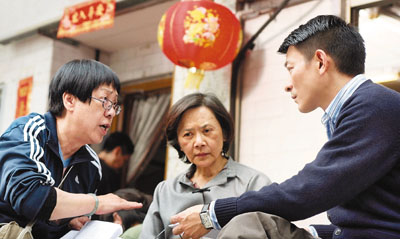 Deanie expressed that she was very lucky and pointed out that it's the result from the whole crew, "My film to be able to make it overseas for the first to allow more people to know about Hong Kong films, of course delighted and being nominated as one of the competition film, really hard to come by." It was said that foreigners only know about Asia's kungfu and action films, thus she expressed that A Simple Life is a good drama film which allow foreigners to know different type of Oriental films. Deanie is also excited that she could walked down the red carpet with Andy thus she immediately approached image consultant to choose a suitable dress, she also planned to fly to Venice in advance to adapt to the time difference.
Andy who was in last year's Venice Film Festival with Detective Dee and the Mystery of Phantom Flame, naturally he's delighted to return this year, he said: "Hard to get the chance to collaborate with Deanie, now could hold her hands and walk down the red carpet, of course delighted. Yet another unforgettable experience with Deanie in my life." Andy is also delighted that Chinese films are being recognized again, "This time round, A Simple Life is a localized Hong Kong film, it would be encouragement and confidence for those localized Hong Kong films! Go, go go Hong Kong films!"
news translated and photos from: Wei Wen Po, Ming Pao, Sing Tao News, Apple Daily News
---