According to Hong Kong reports, "father of concert in Mainland China" Chan Tat Chi whom everyone addressed him as "Uncle Ba" pleaded guilty to conspiracy to defraud, he was sentenced to three years and prohibited from acting as company directors for eight years.
Chan started from scratch, he was born in Mainland China, he came to Hong Kong when he was 14 years old to become a garment manufacturing factory, he made his fortune with the creation of "Abba" clothing brand which made ways into America, he then expand his business food, electricity, entertainment and later environmental protection and other fields.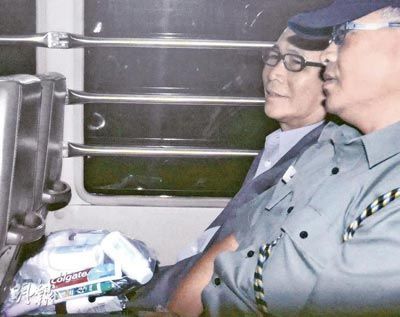 In 2002, he set up Abba Entertainment Group Limited, his company nurture (then) newcomer Timmy Hung Tin Ming and Wong Hei, with his connections in Mainland China, he staged concerts for many Hong Kong artistes which includes Andy Lau, Leon Lai, Kelly Chen, Aaron Kwok and Sam Hui in Mainland China, Singapore and Malaysia thus being nicknamed "father of concert in Mainland China". Chan also invested in several Hong Kong films with Paco Wong which includes Lucky Star, Dragon Loaded, Super Model and SPL: Sha Po Lang.
It is said that between 2004 and 2005, using his company name – Asia Energy Logistics to embezzle 72 million yuan, although he pleaded guilty in 2006 to money laundering, conspiracy and embezzlement thus switched to become a tainted witness. Before the sentencing on 11 July, a total of 17 pleading letters from celebrities which includes heavenly king Andy Lau, Sam Hui, directors Tsui Sui Ming and Derek Tung-Sing Yee were submitted.
In the pleading letter, Andy wrote: "I had known Chan Tat Chi for more than 10 years… although didn't collaborate with him with regards to work, but personally I noticed that he's very helpful…he slimmed down and aged a lot in 2006, clearly showed that he was under huge pressure. He regretted and pleaded guilty, his name, business and trust had been affected, hope the judge could give him a light sentence.
Meanwhile, Supergirl 2011 which is joint organized by Hunan TV and EE Media held its grand final press conference in Changsha on 9 July. The final venue is Hunan International Convention & Exhibition Center which house the concert of Faye Wong and several other singers. It is said that there will be a host of superstars special guests which includes Andy Lau, Lo Da-you, Chyi Chin, Chang Hui-Mei (A*mei), Karen Mok, MayDay, Mavis Fan and Show Low.
news and photo from: www.chinanews.com, Sina.com, news.shm.com.cn, www.bjd.com.cn
---