On 7 May 2011, Andy Lau Unforgettable Concert World Tour had came to Shanghai, close to 80,000 enthusiastic fans handicapped the traffic, the brisk business for the restaurants nearby the stadium as there were long queues. The employees nearby the venue got to knock off early to avoid traffic jam in the previous show in Lingbo on 4 May, it's a rare sight other than Lunar New Year and long holidays. It's a sold out for all 11 shows in Mainland China, those fans whom did not managed to get tickets can't wait for the release of the Hong Kong concerts DVD as they specially jet over to Hong Kong during the 1st May Labor Day to buy the DVD. The DVD will only be released in Mainland China and Taiwan on 4 May. Gordon Lam Ka Tung whose The Gallants – the big winner in the recent Hong Kong Films Awards also specially flew to Shanghai to show his support.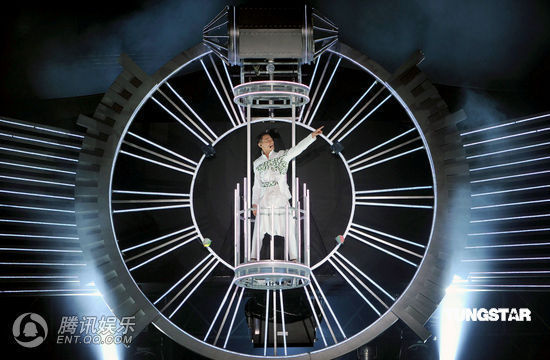 The crowd started to appear around 3:00pm, close to 80,000 strong audience almost topple the stadium. The concert officially kicked off around 7:45pm, the announcement was greeted with thunderous applause as they welcome Andy whom was dressed in white appeared on top of the stage. When the platform slowly lowered him onto the stage, he shouted: "Shanghai, I'm here!" Everybody was drowned in the atmosphere as the 100 meters tall stage and LED screen took center stage, because of the opening's outer space to Chinese mountains background effects, classic scenes from his films, even the audience seated at the furthest end could see Andy's every smile clearly, it accommodated perfectly, the audience is like watching Andy in a large 4D cinema.
Other than screaming, they took out their cameras and mobile phones to take photographs while Andy belted out 'Gu Xing Lei', 'Tian Yi' and 'Xie Xie Ni De Ai', he couldn't help but said: "Please put down your phones, why everybody is using their phones… and nobody is applauding? An artist need applause." After saying, thunderous applause and screams sounded. He then asked: "Today, how many of the audience are 30 years old?" After hearing the replies from the audience, he shouted: "Treat this as your party!"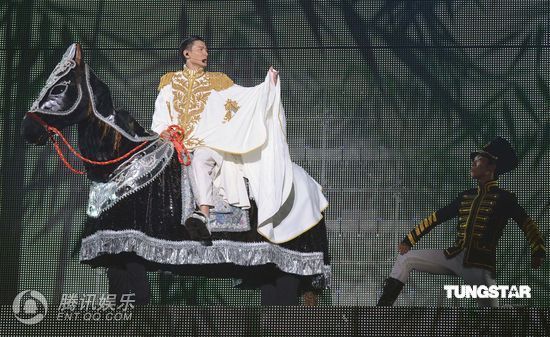 When he sang 'Wu', Andy was dressed in white riding onto a "black horse", following the music, the "horse" nob its head with images of bamboo and clouds on the giant LED screen. Andy also invited young Shaolin monks to show off their martial arts.
With regards to his dressing, Andy stressed that: "Some of the costumes are not fashionable but I still looked good when I wore them, like the past 30 years, whatever I do, everybody is able to accept. I'm so lucky!" Of course, Andy who has strict requirement for his own figure also continue to show off his sexiness as he showed off his six abs muscles wearing a blue coat, danced and sang 'Xin Zi Ji', the audience kept screaming as he quipped: "I'm still young, elderly like you can sit down and take a rest."
During his interaction with the audience, a mischievous Andy shouted his own name before cupping his ears indicating that he wanted to hear the reactions from the audience, close to 80,000 fans accommodating by replying: "I love you." The fans kept screaming "Andy Lau, I love you" throughout the two and a half concert, Andy quipped: "Please don't be like this and spoiled the artist!" The fans immediately replied that they're willing to as they continued with "Andy Lau, I love you" screams, Andy then replied the fans: "However..this is why I love all of you." Upon seeing the reaction of the fans, Andy joked: "I'm really so good?" Without any considerations, the fans replied: "You are the best." Andy had no choice but to say: "I can't handle all of you."
After knowing the enthusiasm of the audience, Andy held a sing-along PK as he divided the audience into two groups as he instructed the left to sing 'Wang Qing Shui' and the right to sing 'Ai Ni Yi Wan Nian'.
Maybe it's his 30th anniversary in showbiz, Andy kept saying words full of feelings and he thanked his fans. When singing 'Wo He Wo Zui Zu De Meng', he said: "Many thanks for adoring me for so many years, in the next 30 years, hope you can still accompany me, I still wanted to see all of you, because I'm proud of all of you!" When one female fan managed to break free from the security to present a bouquet of flowers to Andy successfully, he quipped: "How could it be, only one bouquet of flowers from 80,000?" He later looked into the cameras and said: "Must remember, your next 30 years belonged to me."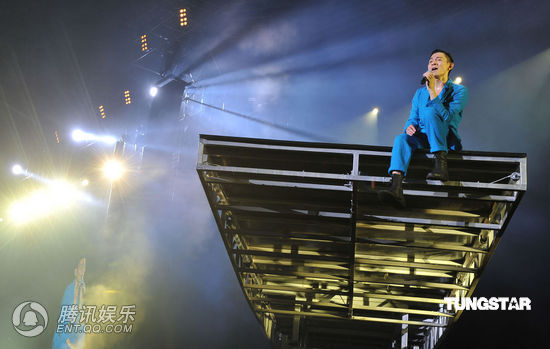 The enthusiastic and undying support for the past 30 years touched Andy as he could not hold back as he teared during the encore, similarly the fans also teared. The two and a half hours concert in Shanghai ended in an atmosphere full of cheers when Andy sang the song I Don't Wanna Say Goodbye.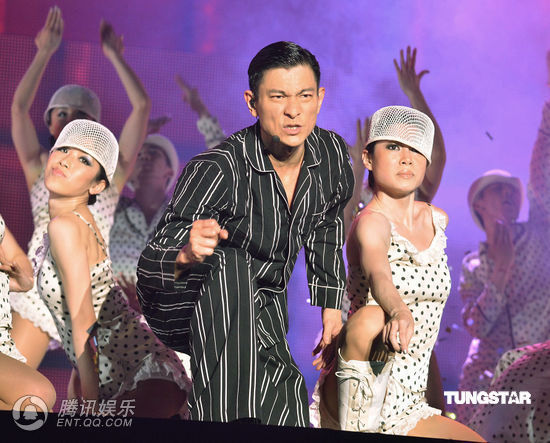 After the concert ended, many fans rushed to nearby KTV as they said: "We will continue to dedicate Andy's songs to sing."
news and photos from: ent.QQ.com, yule.sohu.com, Macao Daily, Apple Daily News, Central Daily News, Hong Kong Daily, Sing Tao News, Ming Pao, Sina.com
---