The eleven shows of Andy Lau Unforgettable 2011 concert in Mainland China kicked off two night ago in Beijing Workers' Stadium. The 50 million renmibi concert because of the 100 inches LED giant screen, it also became a highlight in traffic news as there was a reminder to the citizens to avoid traffic jams along the nearby roads of the stadium. In addition, other than roads got affected, even the car parks were affected as normally the parking charges of the car parks were two dollars per hour, it rose to 80 dollars per hour! There was also an information counter being set up for ticket enquiries.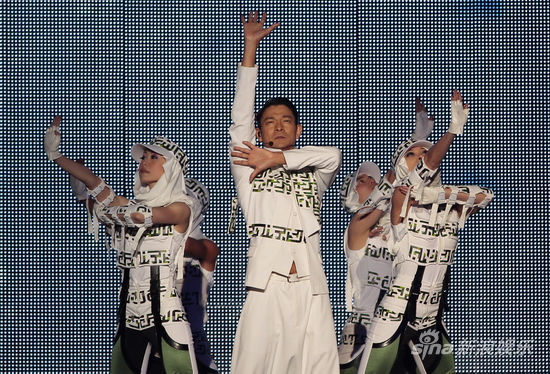 At the opening of the concert, Andy immediately made the 40,000 strong audience hot blooded despite the low temperature of 8 degrees in Beijing! Andy thanked the audience: "Thanks for the support for 30 years, remember that I still wanted to see all of you in the next 30 years."
Andy spent 50 million for a 3D-effect magical stage. When Andy was singing 'Zhong Guo Ren', the background was showing blue and white porcelain, shooting stars was used when singing fast tracks, while singing the theme song for A Moment of Romance, racing CG was used with Andy making an appearance wearing racing gear and riding onto a diamond shining motorcycle. When singing 'Bei Yi Wang De Shi Guang', there was a laser show. The standard of the concert indeed worth the ticket price.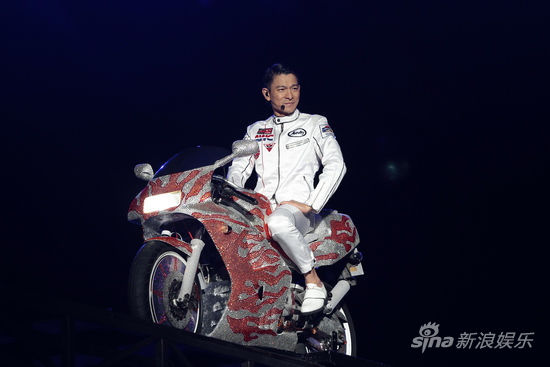 There were many advanced active platforms in the stage which allowed Andy to get closer to audience. Dressed in white, Andy made an appearance with an outer space warrior video which made the audience screamed out loud, he sang 'Gu Xing Lei' to kick start his 30 years. Full of emotion, he said: "I'm back, it had been 3 years, there isn't much changes to everybody. I loved the cheers, my concert must be different from others, firstly there must be cheers, secondly there must be applause." The audience response immediately as Andy burst into laughter.
When singing the theme song of his film Shaolin – 'Wu', he was dressed in a white general uniform and rode on a "black horse" which the audience screamed to welcome him. When he sang 'Wang Qing Shui', 'Ai Ni Yi Wan Nian' and other classic hits, it triggered the 40,000 audience to sing along with him. With the fans' enthusiasm, he said: "It really very cold today, now it feels better, the enthusiasm from all of you is too strong." He followed: "Hopefully you will not forget about me when you like another person." A delighted Andy then teased the audience by asking them: Who is the most handsome? Who is the best actor? All of them answered: "Andy Lau".
Despite being 50 years old, he was still full of energy on the stage. He showed off some kung fu when he sang 'Zhong Guo Ren', when came to fast songs like 'Da Yan Jing' he showed off his Jazz dances and close body contact dance with female dancer.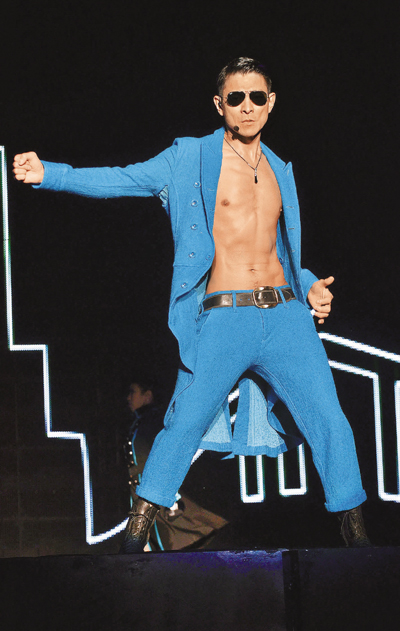 The female fans screamed out loud when Andy showed off his abs muscles during the concert when he sang Stand Up, he said: "In my previous concerts, everybody remarked that I'm too thin, now I put on some weight, hope you don't mind!" Due to the strong wind at the venue, even the barricade topple by the wind, Andy quipped: "Let me button up my shirt, it's really too cold!"
The fans seized the chance to offer their coat to him, it touched him as he said: "I always asked myself, what's good about me? What made all you supported me this way."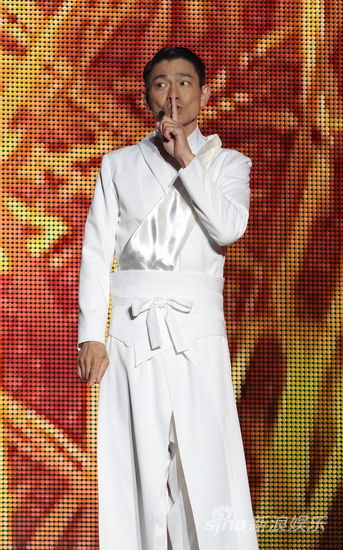 Andy sang a lot of his classic hits, when he sang 'Wo He Wo Zui Zhu De Meng', he choked and teared, he said: "Thanks to all of you for my dream to come true, even if there is only one row of audience remaining, I will still continue to work hard!" He dedicate 'Bing Yu' to the fans, he said: "I must sing this song today, because I knew if I did not sing this song, you would not let me leave Beijing."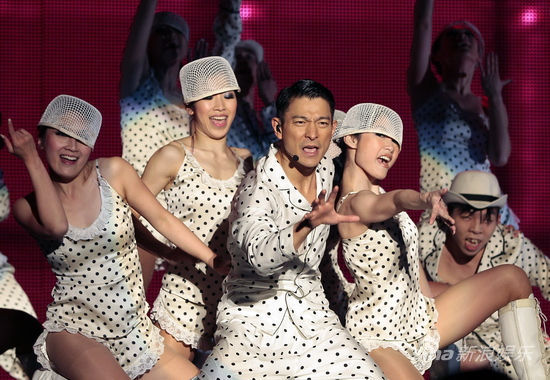 The original song list listed 'Zhang Shang Xiang Qi' as the last song, but Andy had an encore which he appeared dressed in pyjamas to sing '17 Sui' and 'Zhen Ai Wu Tai'. Under a highly charged atmosphere, he bid farewell and made a date with the fans: "See you next year!"
Andy's good friend Li Bingbing was there to show her support to Andy as she posted the photograph of her visiting Andy at the backstage area before the concert started on her Sina blog and she even mischievously wrote on the photograph she took with Andy: "The evergreen legend that came from the clouds", she also gave her blessing: "Shanguang Jing-er wishes Di Ren Jie's concert a success! success! success!"
After the Beijing concert, it would followed by 26 April in Zhengzhou, 30 April in Tianjin, 4 May in Lingbo, 7 May in Shanghai, 10 May in Jiangyin, 14 May in Changsha, 18 May in Chengdu, 22 May in Wuhan, 27 May in Chongqing and 31 May in Chuanzhou.
news and photo: Sing Pao, Macao Daily, Wei Wen Po, udn news, Hong Kong Daily, Ming Pao, Apple Daily News, Sina.com
---