The curtains had been drawn for the 30th Hong Kong Film Awards. In the end, Detective Dee and Mystery of the Phantom Flame which was nominated for 13 awards was the biggest winner as it bagged six awards which includes Best Director, Best Actress, Best Art Direction, Best Sound Design, Best Visual Effects and Best Costume & Make-up Design. However, Hong Kong style kungfu-comedy The Gallants was the dark horse as it was the second biggest winner with four awards which includes Best Film, Best Supporting Actor, Best Supporting Actress and Best Original Film Score.
Gordon Lam Ka Tung who was the executive producer of The Gallant was delighted as he made a booking in a restaurant in Hart Avenue, Tsim Sha Tsui to celebrate. Reporter from Sina was present to interview him and he thanked Andy Lau for fulfilling his dreams.
Reporter (R) : You did complain that it's tough to be the executive producer?
Lam (L): Correct, surely it's more tough to be an executive producer when compared to an actor. I need to take care of what the boss is thinking, take note of the quality of the actors and the liking of the audience, it's tough for me. The most difficult is to explain that I had exceeded the budget, made the boss understand why the budget need to be exceeded.
R: Having being an actor for so many years, did not win despite two nominations in the Hong Kong Film Awards. But you won with your first time as executive producer, will this change your direction and concentrate on being an executive producer?
L: I still want to be an actor, I want to act.
R: After winning the award, will you increase your asking price?
L: Nope, you all knew that myself and Andy does not talk in monetary. Especially thought of his help to me, it's impossible to rise my asking price.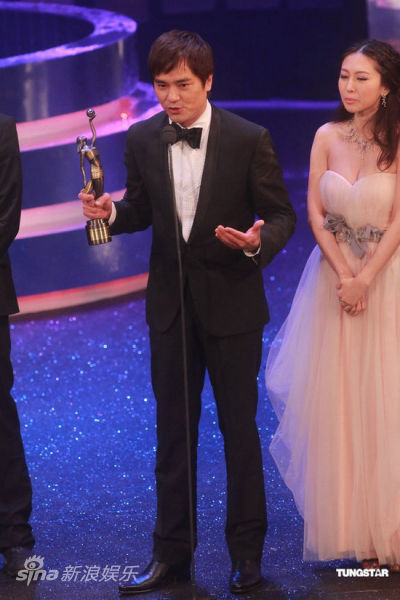 R: How does he help you?
L: When we are preparing for this film, everybody feel that it's risky, but he believed me and let me do it. The biggest help that Andy gave me is money and confidence, he trusted us and basically speaking did not give any opinion.
R: Did you inform Andy that you had won the awards?
L: Yeah, he wanted to thanks the hard work of experienced actors (Teddy Robin and Susan Shaw) and the young crew members. Actually I also wanted to thank him, he paid to fulfill my dream.
R: Did Andy mentioned how is he going to celebrate?
L: He's currently busy preparing his concert, I think he might give me 10 tickets for distribution. (laughs)
---