On 26 April, Andy Lau will be staging his Unforgettable concert to celebrate his 30th anniversary in showbiz in Zhengzhou. The tickets had been selling fast. When interviewed, 50-years old Andy expressed that he's re-visiting the venue because of his concert thus it occupied a special place in his heart, he would raised his expectation as he wanted the Zhengzhou fans to have an unforgettable night.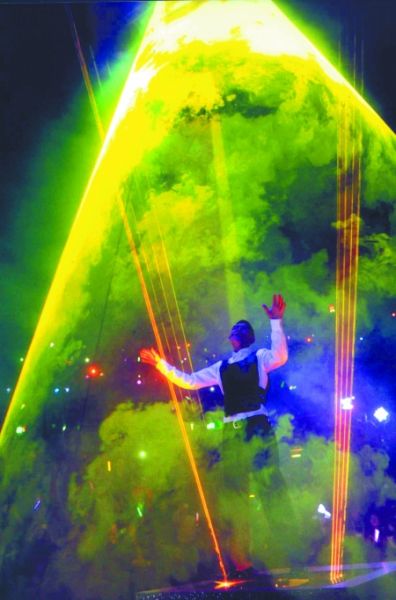 Since entering showbiz, Andy had staged more than 400 concerts, it's a test to his body and stamina for a 50-years-old, when said that it could be his final concert, he exclaimed: "From the first time I stood on the stage in Hong Kong Coliseum and enjoy the love from the fans, I had fall in love with concerts. I've staged many concerts, it's exciting, it would be the same for another singer, for this concert it will truly belong to Andy Lau, only I can. It will include my feelings and the impression that I gave the audience in the past 30 years, thus the attraction will be personalization."
For this concert, Andy participated in almost all including the preparation and he's prepared to challenge himself by selecting some songs of high difficulties, he said: "I have some songs that I didn't sing well, but I have set myself a target to sing them well this time round."
In showbiz for 30 years, all his peers had nickname him 'tie ren' (superman), even well-known director Peter Chan praised him: "Doing the same thing for so many times, did quite a good job, this has became my standard. Andy Lau has became a standard." Andy's professionalism had made all peers whom worked with him to sing praise of him.
Andy is currently busy preparing for his concert tour, he's in "excited mode" that he forgo his sleeping time as he only sleep for a few hours each day. Andy said: "I'm just a normal person, there will be high and low, I'm used to leave low profile to myself. I love the stage, performing thus put full concentration and the motivation will come naturally."
Meanwhile for his 22 May show at Wuhan, reporters found out from the organizer, although the tickets just went on sale on 11 April, within a space of 3 days, most of the price range tickets had been selling fast, the most expensive and cheapest had been sold out!
Mr. Wang who is a fan of 10 years had always looking forward for the sale of the tickets, he initially thought of bring his whole family of 3 to watch the concert, unexpectedly he was sent outstation in Guangzhou thus he asked his wife to buy 3 tickets of the most expensive range but when his wife reached the ticket booth, she was told that the most expensive tickets were already sold out. Mr. Wang who was in Guangzhou was disappointed and immediately tell his wife to buy the next most expensive tickets.
After checking, it was confirmed that the cheapest and most expensive tickets are already sold out. In addition, second most expensive tickets and tickets priced at ¥1000, ¥500 and ¥300 are selling fast, looking at the situation, these four range of tickets will be sold out soon, the organizer remind fans to buy tickets as soon as possible.
news and photos from: Sina.com, news.cnhubei.com
---