Director Ann Hui's new film Tao Jie completed its shooting earlier. Under the lead of male lead Andy Lau and female lead Deanie Ip, Chapman To who cameo in the film and Roger (the film is his story), together with the crew members, they opened champagne to celebrate the occasion. Andy got excited as he shouted out loud his support for Hong Kong films, the atmosphere was high, even fans and people from the neighborhood joined in to share the joy!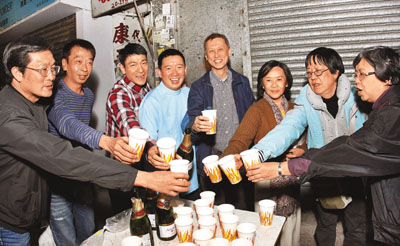 After two months of shooting, shooting for Tao Jie which was adapted from a true story was completed. Andy who have high expectation for Hong Kong films aid: "Actually I seldom shoot films in Hong Kong recently, or involved in Hong Kong produced films, thus for this new film, with the theme of relationship between master and housemaid, it successfully managed to attract Mainland China film companies to invest in this film to shoot a localize Hong Kong film that has recognition and suit Hong Kong and Chinese audience. To me, it's a good beginning, let's hope that it will encourage Hong Kong movie makers could work harder to come out with scripts of different theme to catch the attention of Mainland China investors to invest and bring localize Hong Kong films into the Mainland China market, more openings for developments."
Andy also cheered "long live Hong Kong films" on the spot, the crew members applause as reply.
Director Ann Hui agrees with Andy and thanked his support for Hong Kong films. Deanie exclaimed that she does not understand the development of Hong Kong industry but her first collaboration with Ann Hui is a new experience. After completing the film, her first feeling was that finally she got return to her normal life, she said: "Actually since the end of November 2010, becoming the guest at Andy's concerts till the shooting of this film, it had already been close to 6 months, my usual practice of waking up at 4 in the morning to exercise and sleeping at 8pm was overturned, thus from this moment I need to re-adjust my lifestyle, therefore after cheering and celebrating tonight, from tomorrow will be back to my normal life."
Whereas for Chapman who cameo in this film exclaimed that he await for this chance for a long time and his dream finally come true. Chapman said: "Although I only cameo in one scene, but this time managed to collaborate with two seniors in Deanie and Ann Hui, it's a chance that hard to come by. This film is also Andy and Deanie collaborating after 20 years, I consider myself lucky to be part of it. Actually this scene was scheduled to shoot in early March but I happened to injured my hand, the shooting crew was willing to wait for me, I'm so touched."
In addition, the real man of the story, Roger was also present to join in as he opened champagne to thanks everybody's support. Andy took the camera to pick a good angle for a group photograph. Deanie swiftly cleaned her makeup and join in the crew in the celebration. Even fans and people from the neighborhood joined in to share the joy!
news and photo from: Wei Wen Po, Headline Daily, Hong Kong Daily, Sing Pao, Ming Pao, Apple Daily News
---