Wynners – Alan Tam, Kenny Bee and Benette Pang were at Shanghai yesterday to be the guest of Dragon TV's Fei Chang Ji Yi as they talked about their 33 years friendship.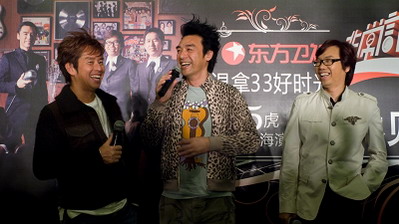 The allegation of Andy Lau getting married in April had been the talk of the town, when reporters talked about this, three of them looked puzzled as they all expressed that they knew nothing. Alan revealed :"Now I remember that I intended to recommend him to become the chairman of the Hong Kong Performing Artistes Guild, but being the vice-chairman he rejected me as he told me that he might not have enough time for the time being." Alan then added: "Maybe this is the reason."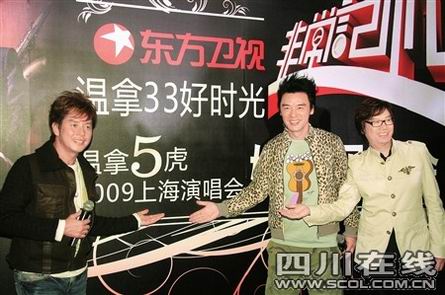 Earlier Alan had said publicly that Andy admit that he's married and have children, the media had predicted that this statement anger Andy thus Alan is not invited to his wedding. With regards to this, Alan clarify: "We have one saying 'If you nobody know, don't say you have told Eric Tsang', I have not yet reach that stage." Alan then swear in front of reporters: "I swear that I do not know if Andy is getting married, I don't know if he's already a father."
When asked of what wedding gift he would give to Andy, Alan said that he would give Andy a jade and Kenny would give Andy a guitar.
news from: Sina.com
---