After "paying respect" to his father-in-law in a luxury vehicle, Andy Lau and his wife Carol Chu Liqian finally made an appearance with a "white-black pairing" and "hand-in-hand" at the Malaysia International Airport around 5:00pm to catch their 5:40pm Cathay Pacific CX0724 flight back to Hong Kong!
Andy was emotionless, initially they were walking separately, however when media was spotted, to protect his woman, the "caring" Andy held his wife's hand but he still did not answer questions posted by the media.
Since Carol's father passed away two years ago, Andy's Malaysia's son-in-law identity was exposed, however their appearance together in Malaysia is rare, the one that leaves the deepest impression is also "holding hands in Malaysia International Airport".
Andy whom was in Malaysia to promote OSIM uDivine, when asked of his family matters he gave the answer of "discussing family matters in private", the number of days that he would be in Malaysia and his whereabouts is also a mystery.
Around 5:05pm, Andy and Carol arrived at the airport, it was the same vehicle being spotted at Fujian Pacific Hill cemetery in the morning, the vehicle which nobody alighted. Upon reaching the airport, two assistants, Carol's younger sister and husband helped to unload their luggages and they took special VIP passageway to board the plane.
While walking towards the passageway, Andy and Carol did not hold hands, when media was spotted, Andy immediately hold her hands in order to protect her.
When relatives and friends tried to stop reporters from taking photographs, suddenly Andy exclaimed: "It doesn't matter, let them take photographs." Whereas Carol who was wearing a face-mask kept her head down as she held Andy's hand and continue walking.
With regards to the media's question which includes: "Did you went tomb sweeping today?", "Why didn't you alight from the vehicle?", Andy was immune to them as he was emotionless and did not give any answers. When the media was following him, taking photographs, he reminded everyone to take note of their own safety: "Be careful!"
He only smile when he entered the special passageway. The always friendly Andy only spoke two sentences to the media. However, one praise was only his wife was wearing face mask whereas he face the world with his face.
With regards to allegations that Carol is pregnant, there was no sight of pregnancy on Carol.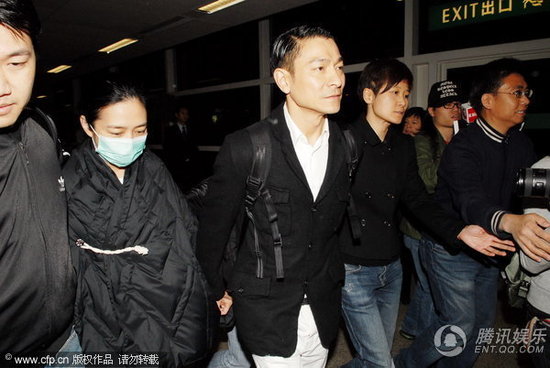 Around 10pm, Andy and Carol touched down in Hong Kong. They were again greeted by media reporters. Carol whom was wearing a sweater and face mask, kept her head down and used her hand to protect her stomach, it made one relate if she was pregnant again.
Andy was very caring towards his wife as other than holding her hands, he also used his body to clear the crowd to prevent his wife from getting knocks.
news and photos from: Kwong Wah e-Newspaper, ent.QQ.com, yule.sohu.com, yule.tom.com, Apple Daily News, udn news, Headline Daily, Sing Pao, Sing Tao News, Ming Pao, Apple Daily News
---