On 20 March and 1 April, Andy Lau 2009 Wonderful World concert tour will touched down in Guangzhou and Foshan. The fans are excited as fans went to buy the concert tickets.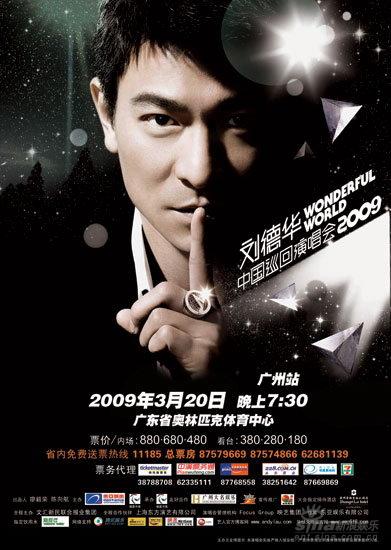 As it had been 7 years since Andy last performed in Guangdong, thus there is a strong demand for tickets in Foshan, on the first day of ticket sales it set a record of the most expensive and cheapest tickets being sold out; thousands other tickets are also sold. Currently, only the $280 and $380 tickets are left for the Guangzhou show; the ticket sales for the Foshan show is also doing well, the most expensive and cheapest tickets are sold out within 3 days, as many fans in Guangzhou failed to buy good seats all rushed to buy tickets in Foshan, thus only few of the other tickets remaining. It's a rare sight for the concerts as several fans bought the tickets for both concerts.
In 2002, Andy left a deep impression to Guangzhou fans by sing 'Bing Yu' with a water screen behind him, thus for this year concert tour which includes top notch production team, dancers whom accompanied him, collaborating for more than two years, their collaboration had reached the highest standard.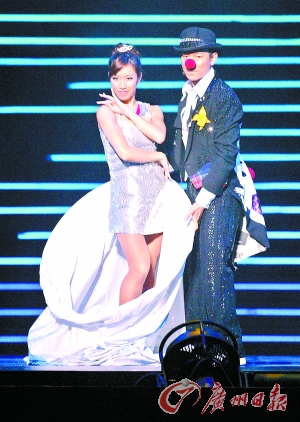 From our understanding, the entourage exceeded 200 people, it had already break the record of recent Hong Kong and Taiwanese concerts, the stage is also breathtaking, its close to 100 meters wide. Andy will also performing the magic tricks he learned from Lu Chen, a "3 seconds transformation" magic trick with the dancer, he will also become the Chinese astronaut to get close contact with fans.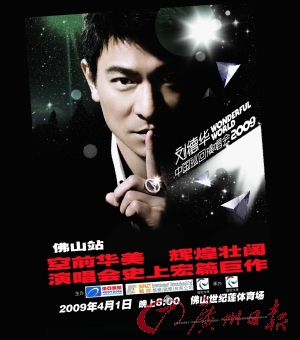 Our reporter has also got the song list for the 20 March show, it will be a total of 25 songs not including the encore segment, most of them will be Chinese songs. Will there be any special performing guest, discussion about his private love life in Taipei or sing the alleged wedding present song 'Long term Companion' for Zhu Liqian, the organizer said that all will be revealed on the night.
The schedule for Andy's 2009 Wonderful World is as follows:
20 March: Guangzhou
24 March: Hefei
28 March: Suzhou
1 April: Foshan
5 April: Changzhou
10 April: Changsha
17 April: Yantai
22 April: Shenyang
27 April: Chongqing
news from: Guangzhou Daily
---