Andy Lau who is celebrating his 30th year in showbiz will be staging his Acura Andy Lau Unforgettable 2011 Concert tour in Beijing on 23 April 2011, the ticket sales is officially started on http://www.228.com.cn. Being the first stop of its Mainland China tour, Andy has already started preparing himself as he would want an unforgettable experience with the fans whom had accompanied and supported him for so many years, reliving his experiences and moments, while welcoming a new chapter.
When "mother" is staging concert, naturally his sons Andox and Box will show their support. To show encouragement to their "mother", Andox and Box presented the audience with limited edition presents, those whom purchase Andox & Box family pack tickets will receive Andox & Box limited edition recycle bags, Andox & Box limited edition ear-phones or snow hat.
With regards to his "mother" staging a concert, Andox said: "Welcome everybody to watch my mother's 30th anniversary in showbiz concert, our limited edition gifts are the same as mother's concert ticket, hope every will love mother and us."
The advance booking of the Beijing concert started in early February, countless phone calls had been coming in. According to sources, best seats "Andox & Box family pack" tickets and the "romantic package" tickets released during Valentines' Day had been fully booked. The organizer of the concert said: "Because this is Andy's 30th anniversary in showbiz co0ncert, Andy wanted to thanks the fans that had accompanied him for 30 years. In order for more fans to get close to him, we had lower the prices of the tickets, the most expensive priced at ¥1280 and the lowest priced at ¥180, allowing fans to go into the stadium to watch their idol's performance."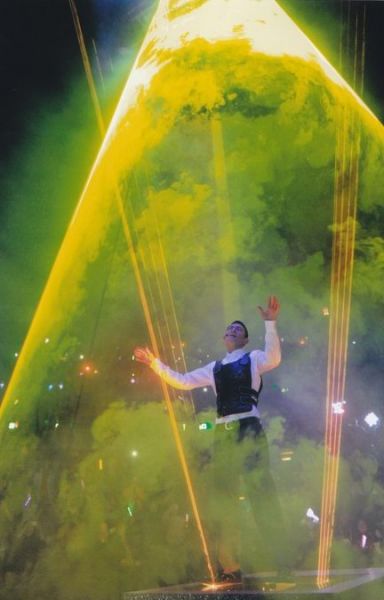 The Beijing stop being the first stop of the concert tour, other than attracting fans from Beijing and nearby cities, fans from Japan and Korea even flew over to celebrate this meaningful moments. According to crew members, Japanese and Korean fans had made their own arrangements and prepared to show support for their idol. For fans traveling from overseas, the organizer prepared a guide, from food; sight-seeing and accommodation, everything for fans consideration, it's like an Andy Lau concert theme tour.
In the concert, it would be a collection of the past 30 years Andy's hit songs and classic images. The concert also set up a dedication segment for fans as they could vote for the songs that they wanted to hear during the concert.
news and photo from: ent.163.com, yule.sohu.com
---