Andy Lau attended the premiere ceremony of What Women Wants at Telford Plaza on 13 February, together with 214 children to present him roses and wish everybody a happy Valentines' Day in advance. The event attracted hundreds of onlookers. Andy showed off his fatherly side as he held the hands of two children when he made an entrance, he also played with them.
The event also includes game segment with fans, as he used a scraf to round them together during photo-taking.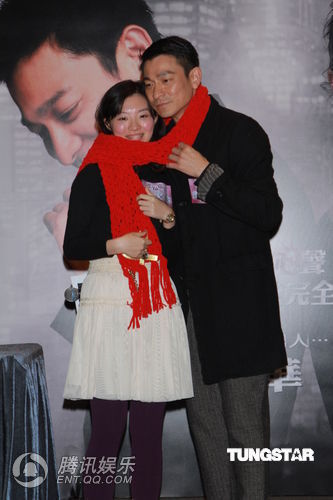 During the Chinese New Year, Andy took 3 days of holidays, he paid visits to his relatives and attended fan club gathering, he started shooting for Ann Hui's film which he collaborated with Deanie Ip on the fourth day of Chinese New Year.
When asked how he would celebrate Valentines' Day, he avoided the question but expressed that he would not be working in the afternoon of 13 February but he would be attending the film's premiere at night.
When asked if he would be having a romantic Valentines' dinner with his wife or giving her any present? Andy exclaimed that he would not as he had never bought any Valentines' Day present since he entered showbiz as he feel that it's not a must to give present on Valentines' Day, any day would do.
However, he revealed that when he was still schooling, the most unforgettable Valentines Day present he gave was a self-made flower. When asked if he managed to win the heart of the girl, a satisfied Andy quipped: "Of course."
He revealed that his secret of wooing girls, "I need not buy Valentines Day present, but it would do when I buy presents everyday. (Would you buy a present for yourself?) I don't do such mushy things." He cheekily exclaimed that he would do mushy things with his wife, but would not reveal anything. When asked if it was giving his wife a massage? Andy immediately told off reporters not to ask such questions in the new year.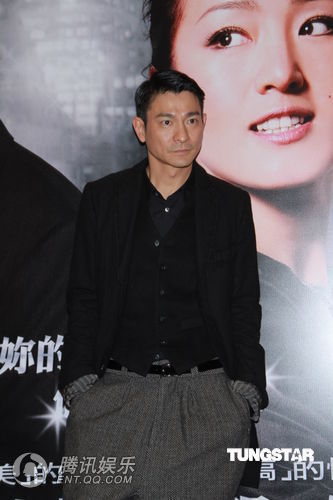 When talked about the cute children, when asked if it motivate him to have children? He quipped that everyone is too nosy. Mak Ling Ling suggested that having god-children would help to fasten the process of becoming a father, he pointed out that years ago he had already had Ellis Tang as his god-daughter, he would leave to affinity when comes to becoming a father.
In addition, the Hong Kong media reported that Andy used Cantonese when interviewed by now Hong Kong, but chose to be interviewed in Mandarin by i-CABLE which made them unhappy. During the activity, the reporter of i-CABLE did not interview him.
With regards to being loggerheads with i-CABLE, it was due to the Home Sweet Home interview with Lawrence Cheng Tan Shui some two to three months as he was interviewed in Cantonese, i-CABLE officials expressed that both stations being paid TV channels, why would Andy differ in standards.
When reporters rectified the allegation, i-CABLE director Ceng Zhan Zhang expressed that the station has no intention of putting Andy into cold storage as he exclaimed: "We are unlike TVB whom will put people into cold storage when dislike the person! But I did overheard that some colleagues are unhappy with Andy." When asked if there is any follow up actions, Ceng exclaimed: "I had yet took up the post, thus unsure of this."
news and photos from: ent.QQ.com, ent.163.com, Ming Pao, Apple Daily News, Sing Tao News, Hong Kong Daily, Wei Wen Po, Headline Daily, Oriental Daily News
---