Emperor Motion Picture's Shaolin held its premiere at Hong Kong Convention and Exhibition Centre two nights ago. Other than main cast Andy Lau, Nicholas Tse and others dressed formally in attendance, many well-knowns and celebrities also attended, they includes Albert Yeung and his wife, businessmen Joseph Lau Luen Hung, Cheng Yu-tung and Francis Choi, Peter Lam, Tse Yin, Emperor's artistes Vincy Chan, Deep Ng and Kenny Kwan.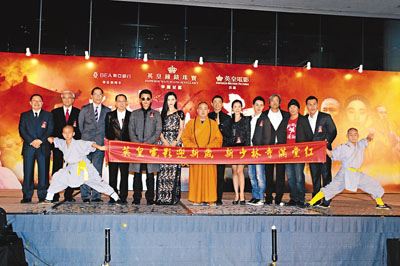 Other than wushu performance by nine monks and presentation of memorabilia, the cast also shared their experience shooting the film and participated in a ceremony wishing the film do well in the box office.
When talked about that he and partner Fan Bingbing had many fighting scenes, Andy expressed that Bingbing only had one scene that required her to fight which is the scene of saving their daughter, he said: "I feel that she put in all efforts, till now still have the chance to really watch how she fight." With regards to this, Bingbing said: "I'm in-charge of the drama, mainly to protect my daughter and love relationship with Andy, it would easily moved people, I also teared after watching."
With regards to the box office in Mainland China exceeded millions and whether plans of a sequel, Andy said that the story is rather complete, if there's plans of a sequel, it would not be within these two years.
When asked about the competition with the films screening at the same period, Andy hope that the box office takings will be the same as in Mainland China, but never thought of defeating any films because Shaolin is about Buddhism which is not fighting for win or lose.
news and photo from: Sing Tao News, Sing Pao, Wei Wen Po, Headline Daily, Macao Daily, Ming Pao, Apple Daily News
---