Directed by Benny Chan, the premiere of Shaolin was held in Hong Kong yesterday (24 Jan 2011). The director was joined by the cast including Andy Lau, Fan Bingbing, Nicholas Tse, Yu Shaoqun, Shi Yanneng, this is considered the most completed entourage. Nicholas's father Tse Yin was also present to watch the premiere of the film.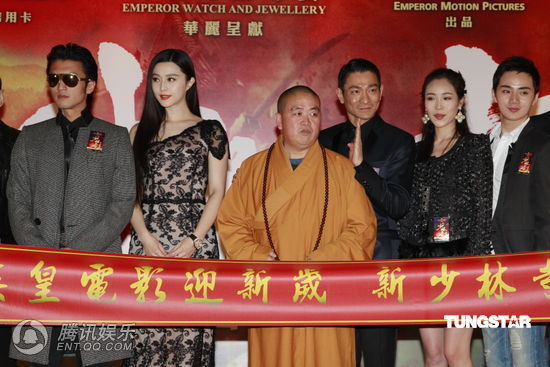 At the premiere, Fan Bingbing showed off her silky hair as gentleman Andy helped her walked onto the stage.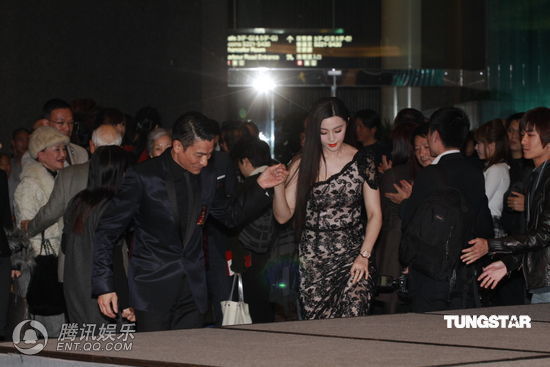 Both Andy and the director exclaimed that they could not "hold back" Nicholas during the shooting of fighting scenes as he expressed that he must put in all effort during acting. When asked why he did not wear any protection pads, Nicholas quipped that the area being protected will not be injured, the best method is to train hard to be strong and able to protect oneself.
The film managed to collect more than $ 20,000,000 in box office taking for its first day thus the film is tipped to do well. A modest Andy expressed that he does not wish the film to win any particular film, just it not losing out.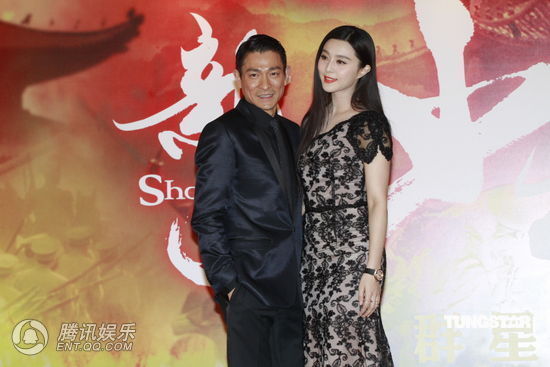 Meanwhile, since the film opened in cinema last Friday in Taiwan, it managed to become the box office champion with a collection of NT13 million after 3 days of screening. All audiences whom had watched the film sing praise of it with good comments on the Internet, the film distributor forecast that the box office takings will keep on increasing.
Andy who came to Taiwan to promote the film last Friday, despite it was still working hours and winter break for school, it was still crowded at the premiere, it can be seen of the attraction of Andy. Since being flamed for Future X-cops, good box office for Detective Dee and Mystery of the Phantom Flame and Shaolin had cleared the air for him.
Andy made a lot of sacrifices for the film, other than hurting his knee cap while practicing 7-Stars Fist, shaving his head, he also cried a total of 7 times in the film. In one of the scenes, he cried when he think of his daughter while eating noodles. He quipped: "I cried my heart out!" When Andy was promoting the film in Taiwan, he said: "I completed the film, the remain will be depended on the audience."
news and photos from: ent.QQ.com, yule.tom.com, ent.163.com, yule.sohu.com, Apple Daily News (Taiwan), udn.com
---