On 23 January, Andy Lau and director Benny Chan was promoting Shaolin at Kowloon Bay. The organizer specially arranged 18 bronze men which added more weight to the event.
At the activity, other than broadcasting the theme song sang by Andy, Andy also talked about the difficulties faced during shooting. Andy quipped that he could not forget acting opposite the children and animals. The organizer also arranged Andy to play games with the fans, a female fan took the initiative to shake hand and took photographs with him, she also refused to get off the stage after the game.
Since completing his concerts, Andy did not take a break as he continue with the promotion of his new film. The main responsibilities of promoting the film is on him, he expressed: "I recently went to Malaysia, Singapore and Taiwan, Fan Bingbing had appeared in Mainland China's promotions, Nicholas Tse and Bingbing will be appearing in the premiere tomorrow." With regards to Chinese New Year round the corner, Andy said: "Initially can have a three weeks break because Shaolin was scheduled to screen during Christmas but pushed back to the Chinese New Year period, however now estimated to have 3-4 days of rest after Chinese New Year Eve. Because need to shoot some Chinese New Year scenes for Ann Hui's new film." When asked if his family is unhappy that he was always busy at work. He asked them to be obedient and exclaimed: "I have a break for every year's Chinese New Year, except this year."
Andy was all praises for Nicholas and Fan Bingbing especially Bingbing whom seems to win recognition of Andy as he kept addressing her as "his wife". When asked if he addressed Carol Zhu Liqian with wife, he became shy.
When asked if he would took some time off to send his condolence to Eric Tsang, Andy said it would depend on his schedule but he would give Eric a phone call.
During his promotion of Shaolin in Singapore, he exclaimed that he does not mind being called "Lying Heavenly King" when his marriage was exposed and he also expressed: "Everybody made mistakes, willing to see what mistakes one made is very important, because you are sure that you won't be repeating the mistake." He then changed the topic by quipping: "Thanks the media for the reminder."
During his earlier activity in Beijing, he openly talked about his family and refused to talk now, the media quipped that he was bias. Andy quipped that reporters could write what they wanted, those whom know him will know that he would not say such things, that day he was at the activity, when asked about his past and future 30 years, he only said that he would spend with his family. When reporters asked him if his wife consider as his family, he exclaimed: "OK, you can write it this way! This is how I tell people."
When talked about Jim Chim Sui-man making fun of his songs during his performance by changing the lyrics to vulgarities. Andy expressed: "It doesn't matter, it alright when it made one happy. Actually I still can accept, it's just vulgar. The internet is an open space, as long as he knew how to take care of other, he's a society responsible person."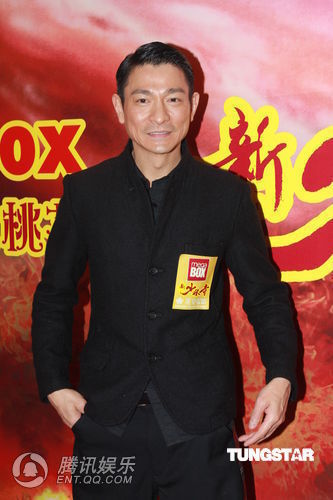 When the media talked about Kelly Chen admitting to be pregnant with twins after artificial insemination, Andy send his blessings and congratulation. When asked if he personally mind and interested in artificial insemination, Andy expressed: "Please don't ask about this as I'm already working very hard, depend on affinity!"
news and photos from: ent.QQ.com, ent.163.com, yule.sohu.com, Ming Pao, yule.tom.com, Sing Tao, Sing Pao, Wei Wen Po, Headline Daily, Macao Daily
---