For the promotion and premiere of new film – Shaolin, Andy Lau and director Benny Chan were in Taipei, Taiwan on 21 January. "Eighteen bronze men" were arranged to welcome both of them, 300 fans came to show their support for them with continuous screams.
The film company arranged Shaolin stick performance, when asked to do the 7-Stars Fist posture with the performers, Andy could hold on longer than the instructor.
Audience sing praise of Andy's good martial arts and emotional scenes in the film, Andy expressed that three months before the shooting started, he had already started learning martial arts and chanting sutra which meant he had done his homework. However, the comparison with the old film also gave him some pressure but he think that Benny did presented out some Shaolin spirit in the film.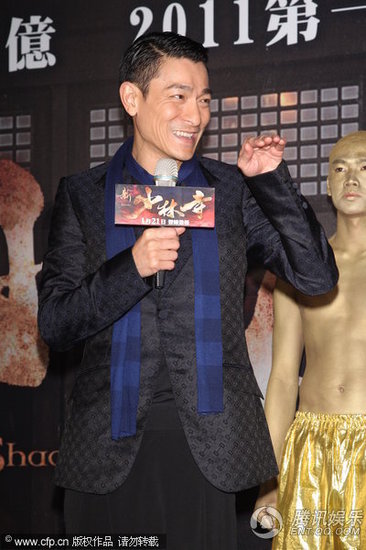 As the film was screened at the same time as Jay Chou's Green Hornet, when asked if he planned to venture into Hollywood, he said: "There will be chances!"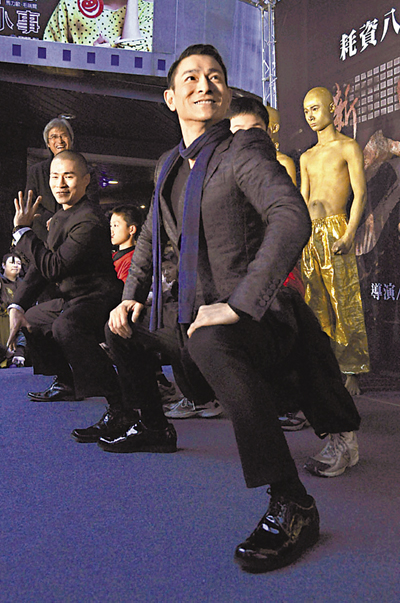 The selling point of the film was the first collaboration between Andy and Nicholas Tse. Andy sing praise of Nicholas being hardworking and his professionalism in work. Andy expressed: "Nicholas really know how to fight, but he did not wear much protection gear, it seems that he look down on my strength." Andy then urged the fans to remind Nicholas to take good care of and protect himself when they see him.
Andy also express his recognition with regards to the performance of his "wife" Fan Bingbing as he addressed Fan Bingbing as "his wife". Benny described Andy as a water tap as he could cry when asked to. He replied: "I will cry when I think of leaving my wife."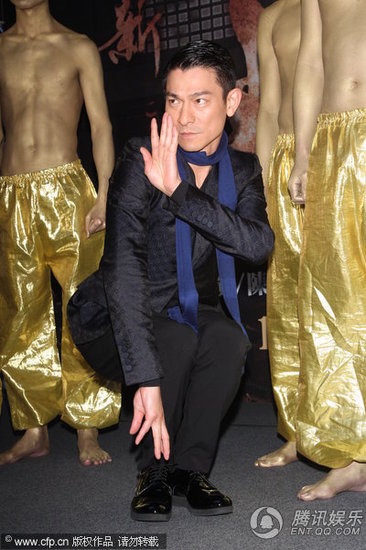 It seems that Andy was easy with the word "wife" but when the reporters asked what does his wife Carol Zhu Liqian does at home and whether she's jealous of Fan Bingbing. Andy became shy and answered: "Be good, don't ask about this."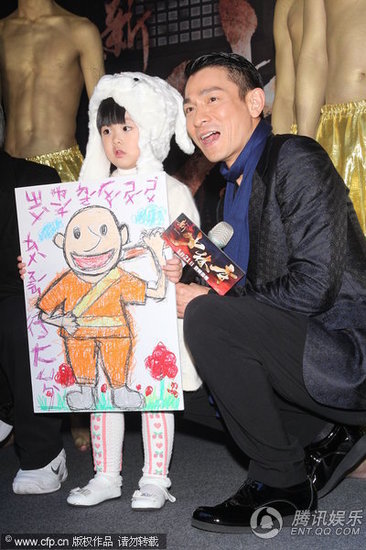 A three-years-old little girl in bunny costume were invited onto the stage as a delighted Andy carried them to take photographs for several minutes. Although carrying her for a few minutes, his hands ached as he complained: "My hand ached! Can I let her down?" Compere Mickey Huang quipped: "You had learnt Shaolin kungfu, carrying for a short while resulted in hand ache?"
With regards to Sammi Cheng's claim during his concert that he had not ate rice for a long time, Andy quipped: "I am eating rice all the while, I just ate one rice when I'm on my way here."
When asked if he would send his condolence to Eric Tsang whose 94-year-old father Tsang Kai-wing passed away in Taiwan on Jan 18 due to organ failure., Andy expressed that he had gave a phone call to the film company and he would personally gave his condolence during the funeral in Hong Kong. When asked if he seek advices from Eric's father when shooting Lee Rock, he expressed he had never met him as he only depended on the script.
news and photos from: yule.tom.com, ent.QQ.com, ent.163.com, Ming Pao, Sing Tao News, Sing Pao, Wei Wen Po, Headline Daily, udn news, Apple Daily News, Liberty Times
---