Shaolin which will open in cinema nationwide in Mainland China on 19 January, director Benny Chan brought along his main lead Andy Lau to promote the film in Guangzhou.
Andy think that the biggest highlight of his "Hou Jie" character is "humanity", he sighed and expressed his disappointment in the scenes to show off the "humanity" through the loving with Fan Bingbing were snipped. When asked how loving was the loving scenes, Andy expressed that it was not the loving that all thought, he said: "How would I have intimate scenes?"
Since his quote of affinity with Buddha in Beijing's premiere, Andy continued to talk about Buddhism, "Being a Buddhist for 20 years, will see through a bit every time, but not enlightenment but I will add in my own understanding. For the shooting of this film, I also add in my own feelings. Take for example I practice 7-Stars Fists before shooting started, after 2 weeks of practice, the shifu said its enough because the feelings of practicing martial arts is not that kind of like killing people, that's not the spirit of Shaolin, meanwhile that kind of freedom is the real Shaolin spirit."
After learning 7-Stars Fist, Andy feel that the actual kungfu is different from the films, "In the past I learn to fight beautifully, what I learn now is for self protection, &-Stars Fist seldom strikes on people."
With regards to what Shaolin is trying to express to audience, Andy exclaimed that it's not huge, "This is just a commercialize film, if the audience feel that the film is good after watching, money well spent, I'm happy with that, it's that simple."
Recalling his 30 years, Andy exclaimed that there were moments that he was scared, "But all along, never experience tiredness mentally." Although film is just a visual enjoyment, but he feel that he's working hard all the time, "What I contributed can be seen, the audience also can see it, maybe the film is not that good but I feel that understanding is enough."
When asked how he feel about the action scenes of the film, he said: "All the action scenes are great, my general character talked about grand, whenever I appeared, there will be huge groups of soldiers on horses. There was one fighting scene, Benny whom loved car chase, he made used of the horses as cars, very modern and it was fitting for that period."
Jackie Chan whom exclaimed that he does not fight as well as Andy, he quipped: "I'm only more handsome than him." Meanwhile, Andy was all praise for Nicholas Tse whom betrayed him in the film, "If you said that I'm so hardworking till my life on the end, Nicholas is 10 times what I am, he's the real workaholic. This time round his performance is very special, he's the highlight."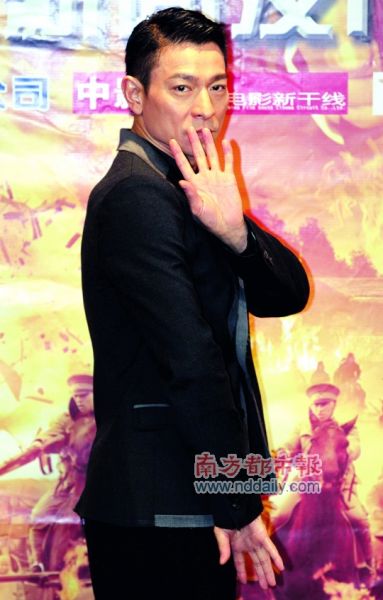 Andy does not mind people snatching the limelight from him, he said: "I followed the flow, it's OK. Like the shooting with Tsui Hark, then I knew why so many people supported him because he's willing to share his knowledge and it benefit people. I'm the same, what I knew, learning or don't know, I'm willing to tell others, need not think so much."
With regards to his 30 years promise to his wife, he explained that he actually said that his next 30 years will be owned by the audience, the media wrote out differently. He expressed: "I never say those words. Luckily you asked me this question, if not I don't know if I don't even have the chance to explain."
Jet Li's Shaolin Temple 28 years ago created a craze, Benny Chan exclaimed that there was some pressure in re-shoot a classic, he said: "Because Jet Li's Shaolin Temple is too classic and there are so many Shaolin films after that." Despite this, Benny is still full of confidence for his Shaolin, "The method that I used to narrate the story is using the caring spirit of Shaolin, with more drama to bring out the word "Enlightenment". The audience will find the drama interesting." In addition, Benny stressed that the cast is also a selling point as it's the first "golden triangle" collaboration between Andy, Jackie Chan and Nicholas.
It is the third time that Andy and Fan Bingbing were husband and wife, when asked if the audience would be tired, Benny replied: "I did not consider this, most importantly is the main investor feel that they have chemistry and audience willing to see them as husband and wife, that will do." It's alleged that either Zhou Xun or Li Bingbing was considered for Fan Bingbing's character, Benny admitted the allegation: "This is normal for every film, very normal. Actually we confirmed to use Fan Bingbing, she had three identities in the film, huge difference, this shows that the effect of her acting is good, this character is suitable for her."
news and photo from: ent.163.com,yule.shou.com, sina.com
---