Emperor Motion Picture's Shaolin held its premiere and press conference at Beijing on 13 January.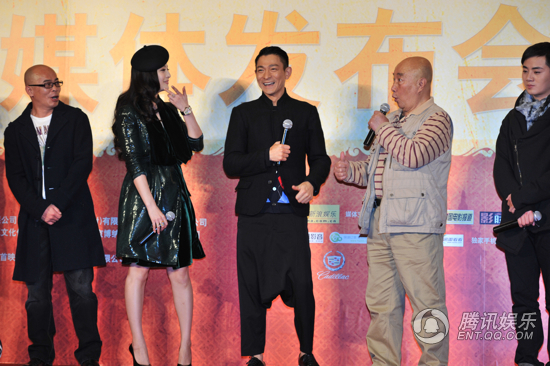 Fan Bingbing and Andy appeared together as though they are husband and wife, even the reporters quipped that they do looked like husband and wife. When asked to describe her relationship with Andy, Fan Bingbing cleverly used the description of "handsome man and beautiful woman" which won rounds of applause.
The film is the third collaboration between Andy and Fan Bingbing and was cast as husband and wife, Fan Bingbing quipped: "I also do not know why the director love to cast us as husband and wife, maybe I'm pretty and he's handsome." As they have good chemistry with one another, they also addressed each other as husband and wife off cameras. Being Andy's wife, Fan Bingbing suffered in the film, she quipped: "Although it's tough, but collaborating with Andy is a kind of enjoyment."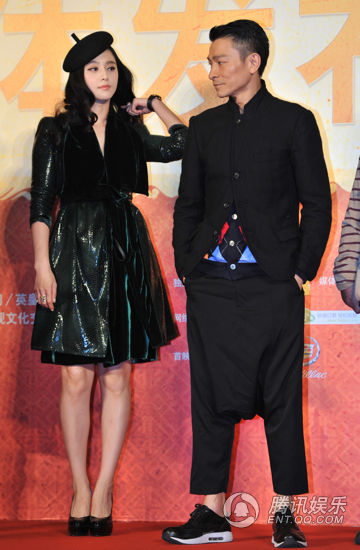 Fan Bingbing sing praise of Andy's acting, "Andy's tears flowed faster than me, I'm ashamed that being an actress, I lose out to an actor." Andy then quipped: "Tears flows automatically, I'm not sure how to make it flow upwards."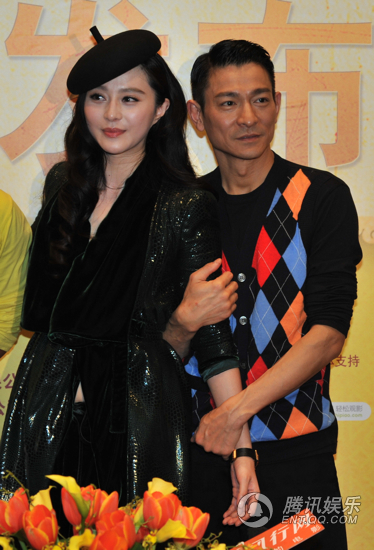 Fan Bingbing also sang praise of Andy Lau being a role model and nobody managed to better him and she wondered why. Fan Bingbing whom herself was being touted as a workaholic role model but she expressed when compared with Andy, she had met the real workaholic role model. She said: "At the set, Andy was like installed with batteries, he's always full of energy."
Andy does not agreed with the saying of workaholic role model, he expressed that it's not easy to be able to survive till today since he entered showbiz and he also had put in hard work, thus can be considered as workaholic role model. Fan Bingbing also sang praise of Andy's friendliness as he was friendly to every crew members, like an elder brother.
Fan Bingbing whom told Andy after he became a monk, "I like how you looked like now." She then quipped that after Andy became a monk and saw her, he regretted becoming a monk, furthermore she built a hut opposite Shaolin Temple, thus Andy can become a monk for 8 hours and another 8 hours as a normal person.
Andy revealed that there was a scene in the film that he was hit by Fan Bingbing but she could not do it. In the scene, Andy was wearing a cotton gown, if use force to hit, dust will scatter. Andy then brought Fan Bingbing to the monitors to watch the video and urge her to use more force. Fan Bingbing quipped that she does not bare to do it. Andy is not familiar with Fan Bingbing's nickname of 'Fan Ye' (literally translated as Fan Grandpa), he said: "Beside me, she's just like a little woman."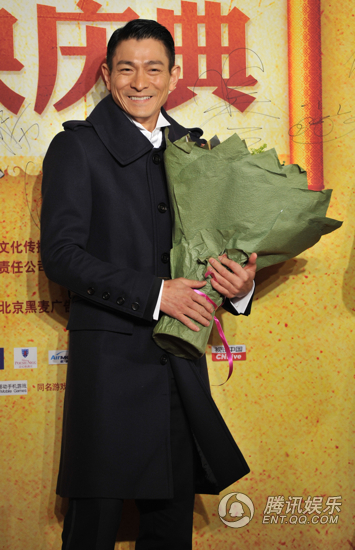 If to compare with Fan Bingbing in making fun with words, Andy does not wish to do so. He exclaimed that after shooting Shaolin, his "anger" has subside a lot. He explained that all his anger came from people made bad comments of him, he's angry that he treat people well but they don't treat him well.
After Running On Karma, this is the second time that Andy became a monk in a film. When asked if he thought of becoming a monk in real life, Andy exclaimed that he never thought about it, "It's affinity to become a monk, it's the same as becoming a vegetarian, I never thought of becoming a monk, although I do look good with a shaven head."
Andy sang and wrote the lyrics of the theme song, Andy expressed that he seldom sing theme song to prevent people wondering whether he's an actor or singer. Andy also revealed that he wanted to include "Good Karma for Penny" but it would be similar to Buddhist music, it would be far from pop music, I made changes to what it is now.
Director Benny Chan expressed that after editing, the running time of Shaolin was 3-4 hours thus he had to edited off many exciting scenes. One part being snipped off was the love relationship between Xu Shaoqun and Bai Bing. Benny exclaimed that it was snipped off because of the length of the film and not intervene by Shaolin. Benny added that no love relationship being portrayed.
After the press conference, director Benny Chan leaded Andy, Jackie Chan, Fan Bingbing, Nicholas Tse, Wu Jing, Xu Shaoqun and some little monks from Shaolin Temple to attend the premiere held at Beijing Wukesong Olympic Basketball Hall. There was an outstanding wushu performance at the event's opening.
Surely Andy was the main lead of the premiere as his fans kept chanting his name. Andy and Fan Bingbing also re-enacts some scenes from the film as they shared their shooting experience. He also performed kungfu with the 6 little monks as he exclaimed: "I'm still young." Andy invited the 6 little monks to become performing guests in his upcoming concerts. He also sang the film's theme song – 'Wu'.
As Jackie was busy shooting another film, he only managed to rush to the premiere towards the end of the event, he exclaimed: "I just rushed from the set, had a quick bath then came over." When Andy and Jackie were on the stage together, the giant screen broadcast images of them when they just entered showbiz which allowed them to recall when they were younger. Andy exclaimed: "It felt like these were took yesterday," as he sighed how time flies. It had been since 20 years since Andy and Jackie collaborate, Andy hope that this film will become another representative film.
It followed with a fire-cracker lighting up ceremony around a Shaolin board in the midst of the fans screaming brought the curtains down to the premiere.
news and photo from: ent.QQ.com, Sing Tao News, Ming Pao, Apple Daily News, Sing Pao, Hong Kong Daily, Wei Wen Po, Headline Daily, Macao Daily, yule.tom.com
---