On 25 December, Andy Lau celebrated the birthday of "the woman he loved the most" Deanie Ip in the Hong Kong Coliseum twice, he leaded ten thousands of fans to sing the birthday song which touched her. Andy also revealed special performing guest Kay Tse On Kei's words of her heart which resulted her to tear and embrace Andy, he then encourages her: "Most importantly is to tear for joy."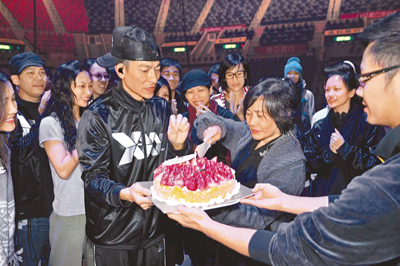 Deanie is the fixed guest for Andy's concert which showed their strong "mother-son relationship", thus during the rehearsal on 25 December, Andy gave a surprise to her god-mother whose birthday falls on Christmas Day. After she sang 'Qi Zi', the band immediately played the birthday song, Andy carried out the birthday cake and lead the dancers, little monks and Kay to sing the birthday song which delighted her.
During the actual concert, Andy suddenly said during encore: "Please give me 3 minutes of silent, I've something to say, tonight a woman that I loved the most is present and it's her birthday." The audience immediately cheered, Andy with his eyes looking at Deanie whom was seated at the control station watching the performance, he said: "MaMa I Love You."
Joey Yung whom brought her mother to watch Andy's concert and was seated behind Deanie immediately embraced each other. The ten thousands of fans and Andy then sang the birthday song.
Kay is a member of Andy World Club, with the identity of special guest performer, she duet with her idol. When Andy introduce Kay onto the stage, he said: "Many fans looked at how I aged, for this I saw how she entered showbiz, got married and have children. Remembered when she just gave birth, she was plumb and attended one of my film's premiere, she said that she did not want fans to forget her, thus she worked hard to slim down in order to make a return. To me, she had did very well, need not worry that fans will forget her."
Kay immediately broke down and embrace Andy. Andy then encourage her: "It doesn't matter that you cried, most important its tears of joy." She then sang 'Ming Xing' for her idol which won loud applause from the audience.
Surprisingly there was a group of blacks, a surprised Andy asked them if they understand Cantonese? He even asked the fans to teach them to sing 'Ru Guo You Yi Tian', they even used in-fluent Cantonese to shout: "Andy you are very handsome." It was a comical scene.
As it was Christmas day, the audience were enthusiastic as they refused to leave the Coliseum, Andy sang two encore and quipped: "Don't you have a date? Why does not want to leave?" The concert exceeded 15 minutes of normal time.
news and photos from: ent.163.com, yule.tom.com, Apple Daily News, Macao Daily, Wei Wen Po, Sing Pao, Sing Tao News, Ming Pao
---