27 February 2009 was the first day of Guangzhou Andy Lau Wonderful World concert tour. According to the organizer, the sales of tickets on the first day was very good, all prices range had been selling well, especially the most expensive and cheapest tickets range had been sold out. It can be seen how much the fans loved Andy, this is also a new record for a concert box office record in Mainland China!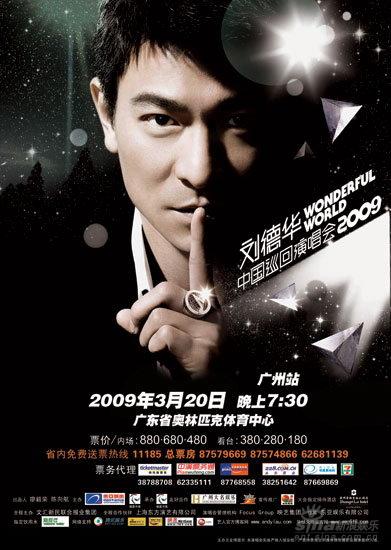 It had been 10 years since Andy held a concert in Guangdong, when news of this concert has been announced, it got all fans excited as they passed the good news around. On the first day of ticket sale, more than 10 hot-lines kept ringing, there was also a long queue at the ticket booth. When fans were interviewed, all of them expressed that Andy's concert will be exciting, they said: "The ticket is expensive, no matter how tough it is, I'm delighted that I managed to buy a ticket."
The concert has a huge production fee, no matter it's the stage design, sound system, costumes, all are done with perfection in order to bring top class enjoyment to fans. Among them, there is a raising platform on the stage, it would be the highlight of the performance, it is 80 meters wide. There will also be two side stages thus audience of the whole venue will be taken care of, the audience will enjoy the heavenly king's charisma to the fullest.
All performance will be exciting, audience should not leave early or you would be disappointed missed out the finale performance. It's worth waiting for, as during encore, Andy will be performing a flying dance as he will sing and dance in mid air, he would also have a special close contact with the audience.
Looking at the ongoing ticket sales, the organizer remind fans to buy ticket from the official source and not fall into their own eagerness of catching the concert by buying black market concert tickets at N times higher price.
news from: www.022net.com
---