Andy Lau brought along his two "sons" Andox and Box to Beijing to promote the magical children musical Andox and Box. Andy became the "spiritual guider" in the musical as he lead Andox and Box to search for the sacred flame to fight the plastic demon king. When asked of his feelings of being a "mother" for two years, Andy exclaimed: "It's not easy being a woman!"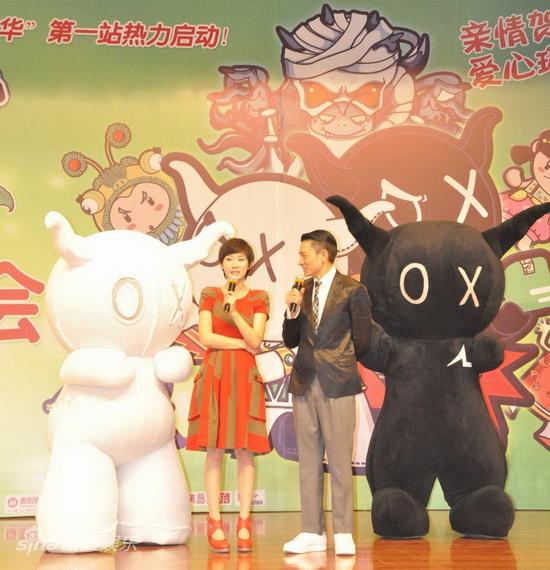 He also remind his sons that they must learn to love and protect the earth and environment. He said: "No matter how popular you are, you can't drive, take public transport, but you still need to bath, understand?"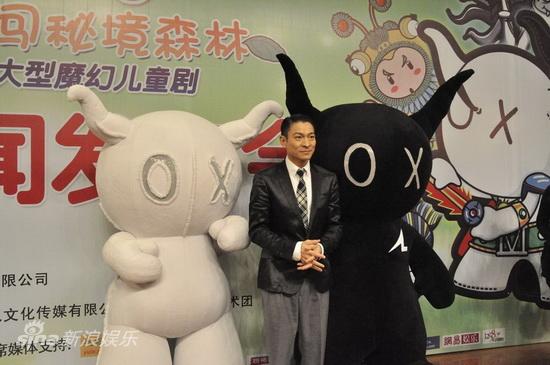 Andox and Box used environmental conservation as its theme, using the communication between parents and children as its main channel, narrating upright Andox and Box leading scientific teams to find their mother's sacred flame to battle the plastic demon king, using magical theme to educate children that they must protect the earth. The musical will be performed at Beijing's PLA Theater from 3 – 5 December 2010.
On the press conference, Andy specially came to show support for his two "sons" as he share his earth conservation thoughts with them. Andy revealed that although he's unable to physically perform in the musical, but he would took up the "spiritual guider", using "background voice" to give directions to Andox and Box.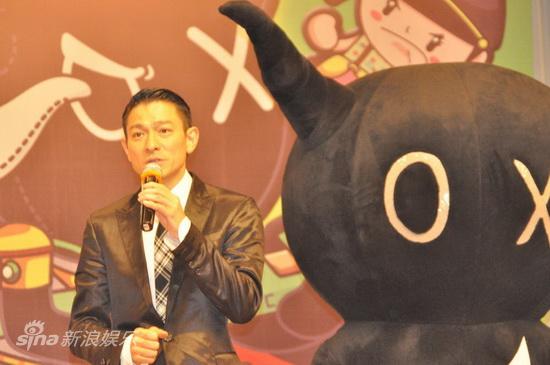 Andy revealed that the idea of producing this musical came from his childhood memories, he said: "I grew up in a farm, whenever I return to my hometown, I would discover that the greenery are getter lesser as the ponds are being replaced by roads, we doing this musical is to remind people the importance of earth conservation, nobody can stop the development of this earth, it will be trouble if kids in the future does not know what is green." Andy revealed if the musical do well in Beijing, he might consider bringing it to nationwide.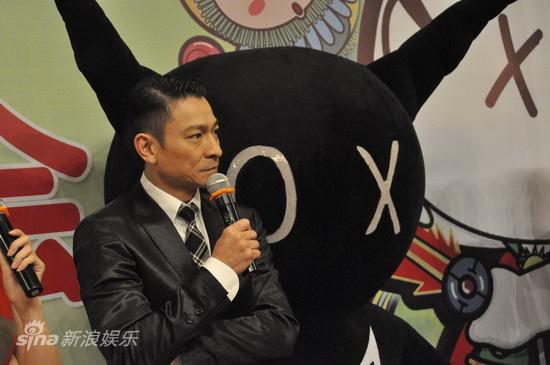 Reporters then asked: "What children musical does you like when you're young?" Andy replied: "When I'm young, there isn't much musical for children, I had watched the musical titled Sinbad, it's a story similar to Ali Baba."
Since Andox and Box appeared, Andy always addressed himself as their "mother", when asked how he felt being a "mother" for two years, he exclaimed: "Being a woman is not simple."
He exclaimed: "They are this size since I gave birth, I did not go through the process of feeding them milk, people in my company always take good care of them to lighten my load, thus my experience as a mother is still OK. But I really think that it is not simple to be a woman, to be a mother, first must understand that your mother is good, I also teach Andox and Box this way."
Having being a "mother", did he experience being a father in real life? After reporter asked this question, Andy whom always kept secret about his family matters, his smile immediately disappear and replied: "This question is not related to the musical, I won't answer adult questions."
news and photograph from: Sina.com, ent.163.com, epaper.jinghua.cn, news.china.com.cn, bjyouth.ynet.com, Apple Daily News
---