Andy Lau Unforgettable 2010 Concerts which will kick off at the Hong Kong Coliseum on 20 December 2010, it would be staged for 20 consecutive nights. Andy is currently training as he invited dance choreographers for the late Michael Jackson to choreograph his dances in order to have a perfect performance.
This cross-year concert would be different from past Andy Lau concerts as he would be trying his best to become a dancer thus writing an new important chapter in his 30th year in showbiz. In fact, this concert would be a party comprising of different exciting dances. In order to let his fans to have the best visual enjoyment, he invited many dance instructors which includes Mui Cheuk-yin, Xing Liang, Sunny Wong and the dance choreographers for the late Michael Jackson –
Travis Payne and Stacy Walker to teach him different dances.
It's still slightly more than one month away from the concert but Andy had started his preparation earlier and he would continue to rehearse his dancing. Andy quipped at the benefits of learning the dances, he expressed: "Each instructor has their own speciality, I could learn different dance beat, to be able to learn individual skills benefits me, especially Travis Payne as he changed my outlook towards fast dances, he taught me the secrets of fast dance, which is not depended on using more energy, the secret lies in the rhythm, he also taught me to use "What's up" as a cheer, whenever I dance till high would say out "What's up", the energy just came naturally, now this has become my cheer!"
Andy won praises from Travis Payne and Stacy Walker as they gave him Michael Jackson's This Is It DVD as memorabilia.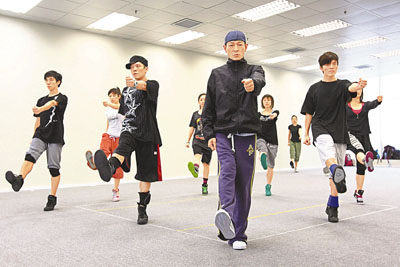 Andy expressed that the performance in his concert would make the audience excited, actually other than his own show, it's quite a big production as it includes him challenge dancing with 40 other dancers, with such a huge entourage, finding a suitable venue to rehearse is not easy, his former school supported him by lending its hall for him to rehearse, the size of the hall would be close to the size of the stage in the Hong Kong Coliseum.
Days of rehearsing and the weather turned cooler made Andy fall victim to flu, however he still wore a face mask and continue to rehearse, he quipped that his "cold sweat" would fight the flu, indeed he had a speedy recovery and even the dance choreographers sing praise of his "tie ren" charisma.
Andy would be jetting off to Taiwan this weekend as he will be staging autograph session in Taipei, Taichung, Tainan and Kaoshiung within 2 days. It had been 3 years since he last came to Taiwan for autograph sessions thus he cherish the chance to get close to Taiwanese fans.
news and photographs from: Hong Kong Daily, Wei Wen Po, Headline Daily, Central Daily News, udn news, Apple Daily News, Macao Daily, Ming Pao, Sing Tao
---