Two nights ago, Andy Lau performed in Stars Shine Jiangmen held in Wuyi Culture Plaza, other singers that performed includes Joey Yung, Gigi Leung, Gillian Chung, Bondy Chiu, Kiki Sheung, Ha Yu, Liu Xuan, Deep Ng, Wu Ting Yan Nancy and others. The comperes that night were Eric Tsang, Ha Yu, Maggie Cheung Ho Yee and Mui Siu Wai.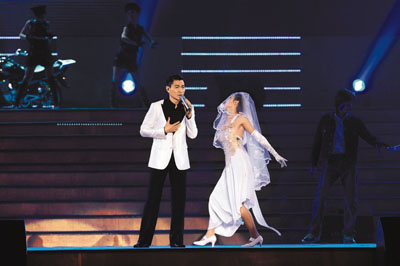 Andy was the finale performer as he made appearance as the classic character Hua Dee of A Moment of Romance, riding on a motorcycle to sing 'Yi Qi Zou Guo De Ri Zi', followed by 'Ai Ni Yi Wan Nian'.
When Andy walked to the side of the stage to have close contact with the fans, a female fan suddenly dashed onto the stage to hug Andy, being not the first time to encounter such enthusiastic fans, he still maintain his posture and continue singing his song. Andy did not want the security to pull her away by force so he immediately put down his microphone and asked the security not to use force.
When he was walking away from the side of the side, another fan broke the security barrier to give him a soft toy, he personally held the fan's hand to escort the female fan to walk down the stage.
When talked about East Asia announcement that the company would not be participating in the 4-Joint Station Presented Media Award, he expressed that he does not know the current situation but believed that each company has their own operational methods thus he does not mind.
Recently someone in Kunming tried to made use of his name to "stage a concert" as fraud, Andy expressed that he know about this and read the related fake documents, he will let his lawyers to handle the matter. He pointed out that such things happened all the time, it's special this time round as there are fake documents.
Earlier Soft Hard's Jan Lamb made a joke of him for being a step ahead of Peter Lee to find a birth mother to give birth to Andox and Box, Andy exclaimed that it was just a joke. He always wanted to have children, when asked if he thought of finding a birth mother, he avoided the question by saying: "Never thought of it, better don't ask me such questions, I think everybody are remorse when asking this question, let's skip this question."
In addition, a recent report in a magazine revealed his younger brother's photograph and it was reported that his brother has asset of at least 500 million, with regards to the allegation Andy rebuked: "It can't be?" Andy exclaimed that he had not read the magazine but his brother did called him to tell him that when he sent photographed when sending his mother to Mongkok, he was worried that his image would affect him this touched Andy as he quipped that his brother does not looked that bad: "He does not looked that bad, he had his own taste, I'm afraid that I affected him instead, we did not discussed on this matter." When asked if he know that his younger brother has an asset of 500 million, Andy stressed that he would not care so much and not reply this question. With regards if he has fear that his brother would be kidnapped, Andy expressed that he does not want to affect his brother's family.
news and photographs from: Wei Wen Po, Headline Daily, Hong Kong Daily, Sing Pao, Sing Tao News, Ming Pao, Apple Daily News, yule.tom.com, yule.sohu.com, ent.163.com
---