Fly East Asia Shanghai concert was held at Hongkou Soccer Stadium two nights ago. Although it was raining heavily, despite the open-air venue, it still could not stop the fans' enthusiasm. The whole concert's atmosphere was explosive as fans wore raincoats and carried umbrellas throughout the concert.
The performing artistes were singers under East Asia label. Leon Lai is the opening performer whereas Andy Lau is the finale performer.
When Andy made his appearance, it was raining heavily. Andy quipped that he was wearing the western suit to block the rain. Maybe Andy was influenced by the enthusiasm of the fans, he became mischievous as when he invited Sammi Cheng and the rest of the singers onto the stage towards the end of the concert, Sammi whom was wearing a hairy high heel thus not convenient to walk, thus he and Shawn Yue went to help her walk up the stage as if Sammi is the Emperess.
When Andy spotted water on the stage, he would kick the pool of water, when he spotted Miriam Yeung covering her face while singing, he walked towards her to move her hands away.
Due to the heavy rain, Andy was asked if he's scared that he would fall when he run around on the stage, he quipped that he was worried that the drenched equipments would leaked electricity but the crew member had reminded him to be careful. He added that he had padding in his shoes thus he would not slipped and fall.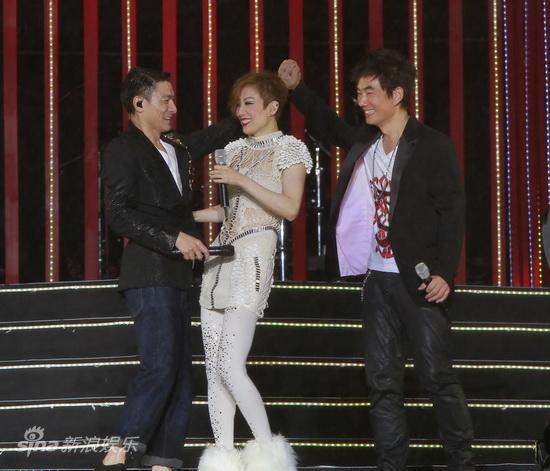 Andy exclaimed that he had never performed under such heavy rain thus he was completely drenched.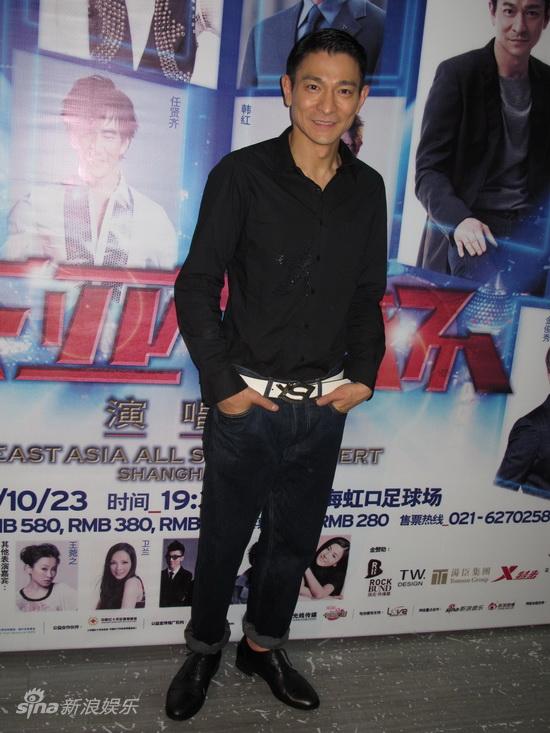 With regards to him being so high for pulling Sammi onto the stage, he quipped: "Sammi is the best performance, wear the least cloth, tallest, thinnest and the most drenched of the night. I'm like a mountain going to support the weakest."
With regards to Selina, a member of Taiwanese girl group S.H.E suffered burnt when shooting for a drama.
Andy expressed he knew her quite well, he feel that she could considered herself that her face was not burnt. He sent her his regards but unsure if he would go to the hospital to visit her.
news and photos from: Wei Wen Po, Headline Daily, Sing Pao, Sing Tao News, Ming Pao, Apple Daily News
---