Recently Andy Lau made an appearance in Taiwan variety show Super King. He sang several classic songs in the program. He and compere Jacky Wu are good friends, thus they chatted and sing together showing off their chemistry.
During rehearsal, Andy had a fall and Jacky laughed at him: "Even when you fall down, you still wanted to act handsome!" Being in showbiz for 30 years, Andy still maintain his popularity as Jacky said: "Andy is public finance, you cannot hug him at will." After saying, Jacky immediately push his whole body forward to hug Andy, the other 4 comperes also push forward to hug Andy leaving him in a difficult position.
The production team brought a motorcycle of the same model in the film A Moment of Romance for him to re-enact the classic scene, however 20 years later, the original female lead Wu Chien-lien was changed to Huang Teng-Hui. Andy couldn't bare as he quipped: "Do you want to destroy this classic scene?" When he turned back to look at Huang's enjoy expression of hugging him, he gave him a punch and run away from his bride, he jumped onto the motorcycle again and tried to knock down Huang, all the audience burst into laughter.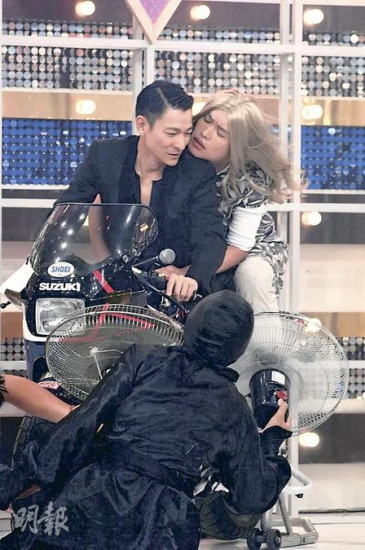 Andy remember the touching scene where his nose bled while riding on the motorcycle in A Moment of Romance, fake blood was stuffed into his nostril, as the fake blood was too thick, it's hard to wash away. When he woke up the next day, his father found blood on his blanket, Andy quipped: "My father find it strange, I have a son why…."
Andy whom always looked stylish, he revealed one embarrassing incident where he combed his hair at the backstage area during his concert, he accidentally bring the comb thinking that its a microphone onto the stage.
news from: Ming Pao, Sina.com, EpochTimes, Now News, Sing Pao
---