Detective Dee and the Mystery of Phantom Flame which started its run on 29 November, during the National Day holidays, the total box office collection in Mainland China had reached $280 million yuan (NT$1.3 billion) till last weekend, the box office champion for three consecutive weeks, its second in the 2010 Chinese film box office charts behind After Shocks.
The film's box office collection is the highest box office collection in Mainland China for director Tsui Hark, it's also the highest box office collection for Andy Lau film. This film made Andy and Tsui Hark to stand at the peak of Chinese film as they made their way into the $300 million club.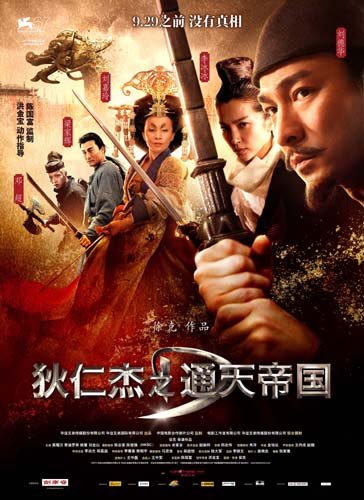 Calculated till 19 October, the film had collected NT$36 million in Taiwan to become the highest box office taking film of Andy in his 30 years career. The NT$1.3 billion box office taking had broke his previous best box office taking of NT$97 million for The Warlords three years ago and also saved him from the grace on his nomination for Best Actor in Taiwan's 1st Ass Award (for lousy films).
Currently the executive producer Chen Kou-fu is in discussion with scriptwriter Chang Chi Alu on the script of the prequel. Director Tsui Hark revealed that if he wanted to shoot a sequel, he would hope to revive Pei Dong-lai and Shanguan Jing-er from their death.
Huayi Brothers CEO Wang Zhonglei expressed: "Detective Dee and the Mystery of Phantom Flame is the first major film that Huayi Brothers invested by itself, such results allowed the company to collect back its investment and made a profit."
Despite screening for three weeks, audience still gave the film high review as good results are expected next week. Huayi Brother revealed that the films had sold distribution rights to 14 countries. Other than good box office takings in Korea, Taiwan and Hong Kong, the film would also be screened in England, Germany and Italy. Detective Dee was well known in Europe due to the the novel Celebrated Cases of Judge Dee (originally Dee Goong An) by Dutch writer Robert Hans van Gulik. With this Andy Lau version of Detective Dee by Tsui Hark, it would bring this Chinese detective to the world and show off his charisma.
news from: ent.QQ.com, ent.163.com, yule.tom.com, Apple Daily News
---