The press conference for Andy Lau 2010 latest album unforgettable was held in Beijing's China National Film Museum last night. As it's Andy's 30th anniversary in showbiz, other than the classic old songs included in the album, it was a retro setting for the press conference. When asked about his feeling on coming this far, he quipped that he's still "as handsome" and never find it tough as he hope that he could balance between work and family. A VCR showing blessing from his showbiz friends which includes Zhang Ziyi, Barbie Hsu and Jay Chou were broadcast.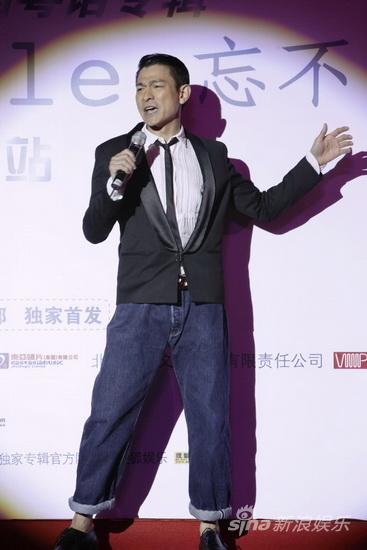 Dressed in black western suit, jeans and leather shoes, Andy made an appearance in his standard "common lover" image. When he made his appearance, he sang 'Ta Lang', 'Da Yan Jing' and 'Zheng Ai Wu Tai'. When singing the jazz flavor 'Da Yan Jing', he twist his hand and waist to show off his dance moves. When talked about singing the songs of Teresa Teng, Danny Chan, Anita Mui, Leslie Cheung, Fong Fei Fei and classic songs from other singers, Andy exclaimed: "I wanted to let everybody know which are my favorite songs. I was touched by many singers when I'm young, although when you listen these songs today you might find them outdated. I feel that those who like me has the rights to know my favorite songs, to know the outdated Andy Lau before he entered showbiz."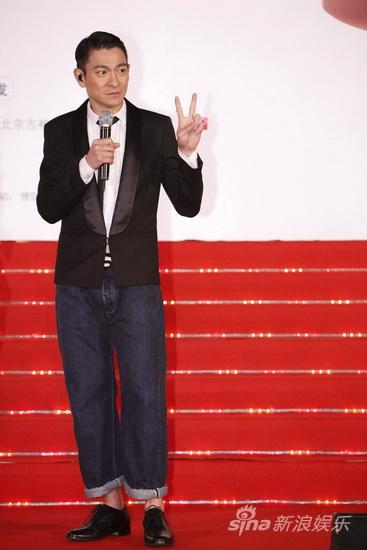 With regards to this 30th anniversary album, Andy expressed that he hope to allow fans to see his original self as he was wearing a singlet worth HK$30 on the album cover and didn't put on any makeup nor styled his hair. The image being Andy Lau raising both his hand onto his head and the sun shines through his arms, he quipped that the shooting crew specially look for the location as early as three in the morning, "We go for our meals when the clouds covered the sun, when the sun came out, we immediately continue shooting."
Talking about his 30 years in showbiz, Andy exclaimed: "When you watch early recording of me when I'm young, I could not say my dialogue properly. All of you would know, a man who knew nothing is able to continue till now." However, the compere Li Xia sing praise that he's still as handsome, Andy immediately accepted the praise and said: "This is for sure." He expressed that it's tiring continuing till now but he had never felt tired and hope that he could balance between work and family. With regards to whether he set a target for his future, he said: "It shall be where I would reached."
The fans is one part that Andy could not gave up, when he watch the VCR where fans exclaimed: "I adore you since I'm 5 years old", "I knew Andy Lau when I'm 2-3 years old", a modest Andy sighed "Everybody was "cheated" by me for 30 years, they got "cheated" by me when they're young, when they grew up they are used to be "cheated" by me."
Talking about his old songs, a delighted Andy made a joke as he said: "'Ni Shi Wo De Nv Ren' (You're My Woman)", Li Xia whom could not react in time exclaimed: "You gave me a shock!" Andy immediately followed: "You are one of my woman!"
In addition, there was several retro segment in the press conference. Past posters of his album were pasted on the four walls, the organizer also present Andy with cassette tapes and black vinyl of his old albums, as he quipped: "I knew who own this black vinyl record, I do not have it as requested from the fan, he told me: "No way!" He finally gave me this time round."
Facing all these "evidence", Andy had no choice but to surrender to his age. Looking at his old photographs, Andy told the compere Li Xia not to comment that he's old, he said: "I have the same look when I was young, there isn't any change, when I'm still studying everybody called me 'Ye Ye' (Gradpa), not allow to say that I'm no longer young! You can only say that these photographs were taken when I'm not so old."
With regards to his singing career, he made a conclusion: "A person's success cannot be judge with all the good things and not the bad things, because this is the complete life. I have got what I've contributed these 30 years. I don't have any target for the future, I will just walk the road in front of me, will be careful in my every step."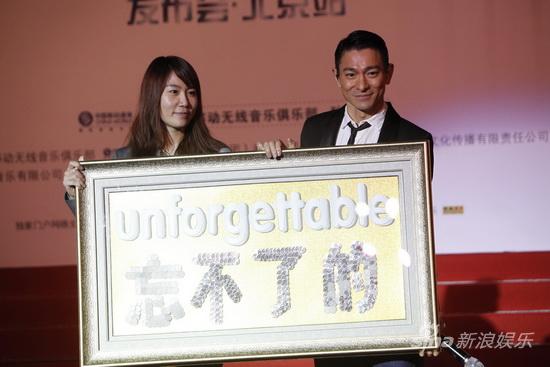 One of the organizer, General Manager of VMP International (China) Ltd Chen Ying Zi present Andy with a "unforgettable" formed by coins of the last 30 years. Andy thanked his long time partner for the present as he bow to her to express his gratitude.
A video of the blessing from Andy's friends from showbiz was also broadcast at the press conference. Zhang Ziyi thanks Andy for his encouragement during her most difficult period; Li Bingbing expressed that Andy will be her idol forever; Show Law exclaimed that "Andy is my lover.", Jay Chou expressed that Andy has a high position for him, Pauline Lan exclaimed that her room's wall was pasted with Andy's photographs, Jacky Wu expressed that Andy is forever a Silly Child ('Ben Xiao Hai'), Zhang Xiaoyan was saying: "For so many years, age had not leave a mark on Andy's face!"
The other artistes that appeared in the VCR includes Wu Bai, Hu Gua, Wilbert Pan, Vic Zhou, Rene Liu and May Day, all of them wished Andy could be popular for another 30 years.
His friends' blessing touched Andy and was shocked at how time flies, he said: "Take for example Sandrine Pinna (Chang Yung Yung) in the video, when I was shooting 'Ru Guo Kan Dao Ta Qing Go Su wo' music video with her, she's still a little girl whom I can carry her with my hands, I told her: "Can I carry her again!" She immediately ran off."
Although time flies, Andy's sincere and modest did not change as after the press conference, he bow to the audience a few times to express his gratitude of their support.
news from: ent.sina.com, yule.tom.com, ent.QQ.com, ent.163.com
---