Andy Lau held his new album unforgettable autograph session at Wonderful Worlds of Whampoa yesterday. He announced that he would be adding 2 nights to his December concert thus total up to 20 nights which equals his personal record. With regards to Charlene Choi declare her love relationship with William Chan, Andy whom tried to hide his marriage exclaimed that he is a "poor grade student" in this area thus he does not have anything to teach them.
Andy's appearance at Whampoa attracted 500 fans seeking his autograph while thousands onlookers. As it was Andy's 30th year in showbiz, they specially used 30 Andy's albums to form a "30". Little children dressed up in Andy's past classic images were arranged to appear in the activity. The images includes A Fighter's Blues, Running On Karma and Full Throttle, their dressing made Andy burst into laughter. One of the children performed Latin dance, when Andy spotted the little girl's heels came loose, Andy knee down and help the girl glued her heels, unexpectedly revealed his fatherly side.
One of the children imitate his photograph of his poster which require him to raise his hands, to be realistic, the boy drawn armpit hairs which is rather funny.
In the end, 5 children dressed up as the characters in 'Ren Ban' music video. In another segment, paper board of Andy's image in concert were carried on to the stage, among them is one where Andy was riding on a horse, however the paper board only had the horse body but not the head as Andy quipped: "What horse were you riding?"
Andy sang three songs and the fans requested for an encore thus he sang 'Zhang Sheng Xiang Qi' to satisfy the fans. He also happily announced that he would be adding 2 nights to his concert, he exclaimed that he would not be adding more nights as 20 shows had equal his personal record, he's already satisfied. He said: "Never considered of exceeding, 20 nights is enough, I wanted to cried for stop when it was 18 nights." Meanwhile, boss Peter Lam might consider adding another charity show, but everything is still being discussed.
Recently there were photographs in magazine of Carol Zhu Liqian looking slimmer instead of looking pregnant, it was said that it helped Andy to clarify everything. An embarrassed Andy said: "Great! Thanks a lot!"
Andy whom exclaimed that he hope to have children and his recent activities had arranged children to participate, he explained: "Normally if it isn't children, it would be women, of course I like both of them. (Did you plan to have children?) I knew that everybody is concern about me, let nature take its course! (Would you disclose if you have children?) I really don't know, let's wait when the time comes."
When asked if he would announced through his website? Andy quipped: "All of you kept asking me whenever you see me, I would get to "play" each time!"
For this autograph session, the crowd reminded him of the countdown activity at Canton Road. As his concert would be cross-year, he could count down with the audience in the Hong Kong Coliseum, he said: "It would be fun, but it would be different when it's held indoors when compared to outdoors."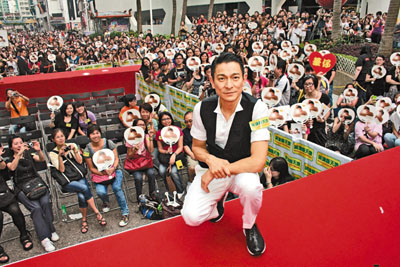 He create quite a commotion for his hiding of his marriage last year, recently the love relationship between Charlene Choi and William Chan went public, Andy sing praise of their bravery and send his blessing and he was not informed of them getting into relationship, when asked if he could share any experience with them? He replied: "Nope, I think they gave a deep thought before going public, they will know how to handle, furthermore I score low grades in this area."
Andy revealed to the Taiwanese media that he had whitening injection, he joked that it's "plastic surgery ancestor", he explained that he had the injection a long time ago and he did mentioned this before (20 years ago when his nose bridge was injured when he did a somersault in a TVB anniversary performance) but nobody reported it and he only had one injection. When asked about the allegation that Charlene and Dee Hsu had plastic surgery, he said: "Nope, I see they looks very naturally."
In Taiwan, Andy's album which was released on 13 October made it into second of the Top Seller charts within 2 days.
news from: Wei Wen Po, Hong Kong Daily, Sing Pao, Sing Tao News, Ming Pao, Apple Daily News, ent.QQ.com
---