Since Tsui Hark's Detective Dee and the Mystery of Phantom Flame opened in cinemas on 29 September, it had done very well in the box office. Calculating till 7 October, the combine box office taking in Mainland China and Hong Kong had reached 200 million yuan.
During the 7 days National Day holiday in Mainland China, a total box office taking of 280 million yuan was collected, Detective Dee and the Mystery of Phantom Flame was the biggest winner as it managed to collect 180 million yuan. Looking at how it goes, the film has the possibility of exceeding 300 million yuan.
Executive producer Chen Kou-fu, Tsui Hark, Li Bingbing, Carina Lau and Deng Chao whom were in Taipei for the film's premiere were excited when told of the news. Other than thanking the audience in Mainland China, they also hope that the film can do well in Taiwan.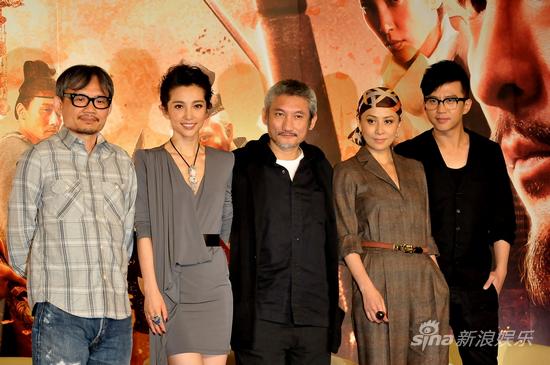 Chen Kou-fu expressed that his different thinking with Tsui Hark is different allowed the Detective Dee character to become more exciting, because the character played by Andy Lau is intelligent and nobody knows what's he's thinking, this is created because of his different viewpoint with Tsui Hark. He said: "I initially wanted Detective Dee to be a 'model policeman' who is more reserve and overcautious, but Tsui Hark made him have a sense of humor, a bit crazy making him more interesting."
He revealed that they are developing the script for Detective Dee prequel, in it Detective Dee would be more "crazy", "don't care of other people's opinion and always telling the truth, this is the reason that he landed in prison".
news from: ent.QQ.com, sina.com, yule.sohu.com
---