Andy Lau held his concert's press conference at InterContinental Hotel on 4 October, he announced that he would be staging 3 additional shows from 4-6 January, thus there would be a total of 18 nights from 20 December 2010 to 6 January 2011. Boss Peter Lam, Ivana Wong, Paula Tsui, "mother" Deanie Yip, Ann Hui and Lee Tim Sing were present to show their support, Eric Tsang was the compere of the event.
Andy expressed that it's ideal that he could staged 18 nights of concert and added that the concert would be based on dances, he said: "I did many dangerous stunts all these years, everybody was saying that it's not good, thus the theme would be on dance, but dancing is difficult to me, I'm not good at it and need to spend more time!"
The press conference opened with the making of the music video of the concert's theme song I Don't Wanna Say Goodbye. Andy who was wearing a gray color Western suit and pants made an appearance. On behalf of Andy, Eric told friends not to request tickets from Andy. When asked of his feeling of 30 years in showbiz, he said: "It past in a blink of an eye." Andy expressed that he had made many friends in these 30 years thus he could have a smooth career.
This is Andy's first appearance after allegation broke out that his wife Carol Zhu Liqian is 3 months pregnant, however Andy denied the allegation, he said: "Nope, not as what the magazine reported, I will be holding my concert soon, I don't want to be quoted that I'm using this as promotion." With regards to spending $200,000 each month on bodyguards to protect his wife, he said: "It is not what had been spreading around, thee will be drivers and other, it's been a long time."
The guests revealed a lot of secrets of Andy and talked about feelings being in showbiz for 30 years.
Lee Tim Sing whom gave Andy the chance to be the male lead in movies and TV dramas describe Andy as a "golden ox". Andy quipped and asked when Lee would give him another chance in TV dramas and tell Virginia Lok whom was seated among the audience: "TVB did discuss with me, if TVB is sold, there is no need for discussion as new boss would have different thinking, I'm thinking of my former boss!" Lee revealed that he once taught Andy how to seize time to rest during shooting of TV dramas. Andy revealed: "That time when Lee said he would give me holiday, I could not, it's only possible if I admitted to hospital, thus I admitted to hospital for 2 days!"
Paula Tsui, a self declared Andy's fan agreed immediately when Andy invited her on telephone. Andy revealed Paula specially went to buy a new pair of shoes for the event, however the new shoes are sample, the right and left are one size different, thus Paula was wearing different size shoes. Paula gave Andy the nickname "Edward I".
Eric Tsang revealed that he first met Andy when he could not find a hair stylist during shooting and he approached Andy who was then a newcomer to cut his hair. Eric quipped: "That shampoo boy was at my home as early as 6am to do my hair. Thus said its not important of a person before entering showbiz, most importantly is know how to work hard, with this mentality, you will make it!" Andy then express that he's the hair stylist and not the shampoo boy, the fans burst into laughter.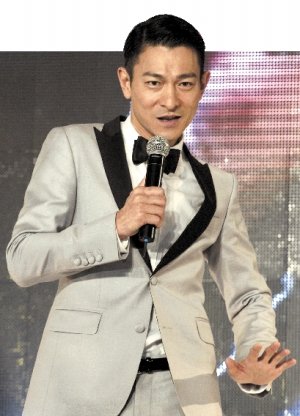 Ann Hui pointed out that Andy is "The Child is Father of Man". Ann whom cast Andy in his first film Boat People exclaimed she scared till her legs were trembling in fear when shooting the intimate scene of Andy and Cora Miao. Andy exclaimed: "During that time I was so stiff!"
Deanie Yip exclamation on stage asking Andy to love his wife more made everyone surprised, she said: "Most importantly is that you must be healthy and take good care of your wife, work hard for a grandchild for me to see!"
Andy whom normally won't talk about his family matters quipped: "Only you dare to say these words, who else dare to say these things?" Andy then said his thanks and preparing to send his guest away, Eric quipped: "You are sending her off after she said these words, Andy must work hard when you're home, unless you cannot make it….. I meant you don't have enough time!" In return, Andy asked Eric if he wanted to help him to send off his guest to beat around the question.
Andy invited his music producer Chiu Tsang-Hei onto the stage to play piano and he immediately sang 'Zhang Sheng Si Qi'. He also introduce his 4 dance choreographers Sunny Wong, Mui Cheuk-yin, former dance choreographers for Michael Jackson, Janet Jackson and Madonna, Lady Gaga – Travis Payne and Stacy Walker. In the end, he invited boss Peter Lam onto the stage to congratulate the concert a success.
In addition, Andy exclaimed that he have the idea to invite Idy Chan, Chow Yun Fat and the TVB 5 Tigers as guests of his concerts to appear in the segment Moment which will feature the artistes that he collaborated before, but nothing had been confirmed.
After the event, when the media asked him if he would listen to Deanie's advice, he immediately did a "pull up zipper" action expressing that he would not be answering the question. The media then asked if he has affinity with "rabbit", he locked his fingers and refuse to answer the question.
However when he was interviewed and asked if he would work hard for a baby, he said: "This is fate, I will not know when, let nature take it course."
More photographs of the press conference here
news from: ent.QQ.com, Apple Daily News, Macao Daily, Headline Daily, Hong Kong Daily, Wei Wen Po, Sing Pao, Sing Tao News, Ming Pao, ent.163.com
---