According to Hong Kong media report, Andy Lau whom had just celebrated his 49th birthday spent the past year location shooting in Mainland China because he wanted his marriage denial to die off. Despite married, Andy did not change his secret behavior as he continue to "hide" his wife Carol Zhu Liqian.
During his birthday party with his fan club last Saturday, when reporters asked if he had received presents from Carol, Andy replied:" Please don't ask me, you know I won't answer this question." With such protection of his wife, Carol had become the "invisible wife".
In the latest issue of Next Magazine, it was reported that Andy bought an apartment in Kadoorie Hill with Carol's name early this year in order to provide her a "hideout", he also bought two 7-seaters vehicles as her transport to hide from the media.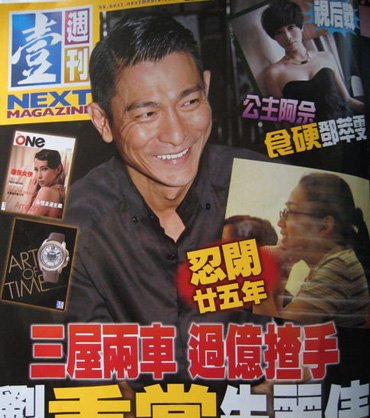 According to the magazine's report, in order not to have his wife out in the public, Andy gave big presents as compensation. Before marriage, it was alleged that Carol is in charge of Andy's finance, "In recent years, Andy's finance is in the control of Carol Zhu Liqian. In 2005, Andy had already bought properties worth $20 million to Carol's family," insider revealed.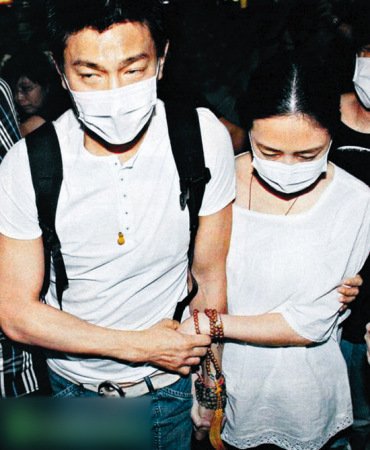 In addition, earlier Andy had secretly transferred the 2 Kadoorie Hill properties under his father's company name to an overseas company where Carol is one of the shareholder, even the 2 adjoining apartments in Kadoorie Hill had been sold to Carol's relatives in Malaysia.
Andy is currently in Taiwan shooting music video. He set off 7 in the morning to Taipei Wanhua Sports Center for the shooting of the music video for 'Da Yan Jing', he love the song for its catchy and relax tune.
In the music video, he is a judge of a talent show as he would looked at the contestants with his eyes wide open and shouted at them. The director also arranged 2 models wearing cleavage revealing outfit and mini-skirts to show off their long legs to walk beside Andy, giving him an eyeful bonus for waking up early for work.
During his free time while shooting, he twist his behinds to do Twist dance. Close to 50 years old, but his stamina does not lose out to a youngster.
With regards to the Next Magazine report, Andy whom work from morning till 4pm was asked when he was returning to his hotel, upon hearing Carol's name, he smile and said: "Thank you," before telling the cameraman to watch his step, thus changing the topic. When asked if he's tired after shooting the music video, he quipped: "Still OK!"
In addition, Andy will be staging Andy Lau Unforgettable exhibition from 1-22 October at Whampoa's Wonderful Worlds of Whampoa. On 17 October, he would also have his autograph session there. He would autograph for 500 fans and sing 4 songs.
Several awards that Andy won throughout his career which includes the 12th Outstanding Young Persons Of The World, Lansbridge University's honorary doctorate, Taiwan's Golden Horse Award, TVB Most Popular Male Singer, his costumes in films and concerts, vinyl records, newspaper articles and other items would be on display at the shopping mall.
Currently, any customer whom spent HK$600 at the mall could redeen a Andy Lau Unforgettable 2CD+DVD.
news from: ent.QQ.com, ent.163.com, ent.baidu.com, Liberty Times, Apple Daily News. Sing Tao News, wei Wen Po
---