On 23 October, Fly East Asia Shanghai concert will be held at Hongkou Soccer Stadium. Singers from Hong Kong, Mainland China and overseas which includes Andy Lau, Sammi Cheng, Leon Lai, Richie Ren, Miriam Yeung, Andy Hui, Denise Ho, Shawn Yue, Jun Sookim, Park Yuchun, Kim Jaejoong and more than 30 artistes of East Asia would gather in Shanghai to perform in the concert.
One of the biggest performer Andy Lau was interviewed earlier expressed that he hope that he had the chance to attend the closing ceremony of Expo 2010 Shanghai.
With regards to Fly East Asia Shanghai concert, Andy think that it's a chance to showcase the unity of East Asia artistes and also allow Mainland China fans to witness the hard work and development of East Asia. Andy expressed that East Asia had never held any large scale with such a strong cast in Hong Kong, "Other than artistes under East Asia label, we also invited Mainland China's Han Hong and Korean pop groups. The company would plan the program according to the artistes' characteristics. When the director communicate with me, it was said that this is not a mixed performance as it would end after I sang two songs, we would be showing off East Asia's charisma and strength through our performance." Andy expressed that there would be surprises among the performance, but he's in no position to reveal anything, he hope that fans could have a different audio and visual experience, one time for sure is that the East Asia artistes would duet a song.
Actually Andy is pretty familiar with Shanghai as he had performed in Shanghai many times, "Even though Shanghai fans had watched my performance many times, but whenever I'm there, it was like their first time watching me, Shanghai fans are the best."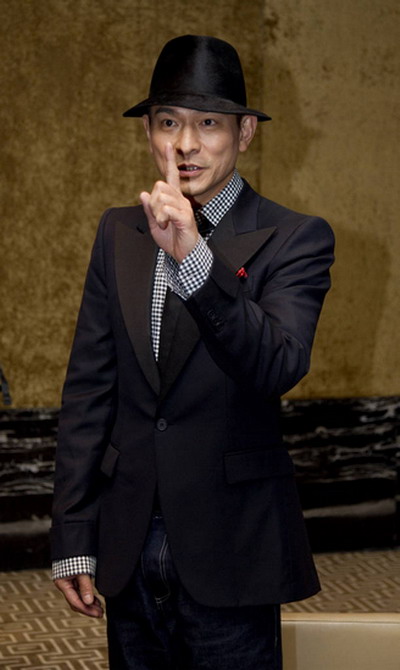 One thing to mention, since his secret marriage came to light in 2009, Andy had cut down on his music and films, he expressed that he's actually waiting for a brand new chance, "Hope that I could find a new breakthrough and height for my showbiz career." He revealed: "Currently it's more clear in planning of my films, I would be collaborating with Sammi Cheng, would start my concert tour next year, surely I'll come to Shanghai but the time had yet been confirmed, believed Shanghai fans would not need to wait too long."
Actually Andy seldom participate in such concerts, it can be considered as an exception for East Asia. He exclaimed that Peter Lam is a boss like his friend, "It's not easy to be a boss for an entertainment company, I had a deeper contact with Peter when I was shooting Infernal Affairs, initially I feel that he's a person easy to get along with, but not sure of his outlook and involvement in showbiz until I collaborated with him and found out that he had put in so much time and money in showbiz. In recent 10 years, you can see the development of East Asia. I also hope that East Asia, Media Asia and Peter could do better. Meanwhile I feel that he's a boss like your best friend as he work well and maintained a good relationship with artistes, this is hard to come by."
Meanwhile being Goodwill Ambassador of Expo 2010 Shanghai, Andy anticipate the chance to attend the expo's closing ceremony. Andy expressed that although he attended several Expo related activities and visit the Pavilions several times, "It's a pity that I really don't have the time to spent 1-2 days to look around. It's also a tight schedule this time round, expected I don't have the time to walk around, but I hope I have the chance to attend the closing ceremony."
news from: yule.sohu.com, ent.tom.com
---