Detective Dee and the Mystery of Phantom Flame which will open in the cinema on 29 September, director Tsui Hark, Andy Lau, Carina Lau, Li Bingbing, Tony Leung Kar Fai and Deng Chao were at The Place recently for the recording of CCTV-6 First Show as they showed off their talents.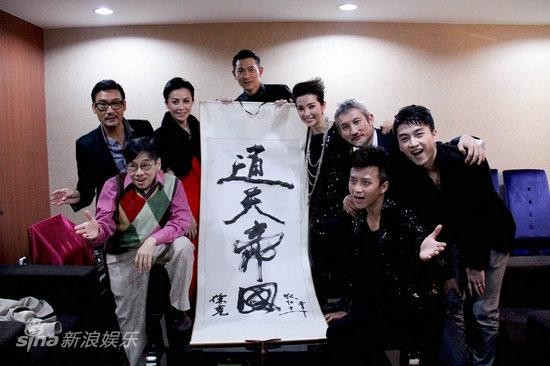 Tsui Hark is well verse in calligraphy, the calligraphy on the promotional paper fan of the film was done by Tsui Hark.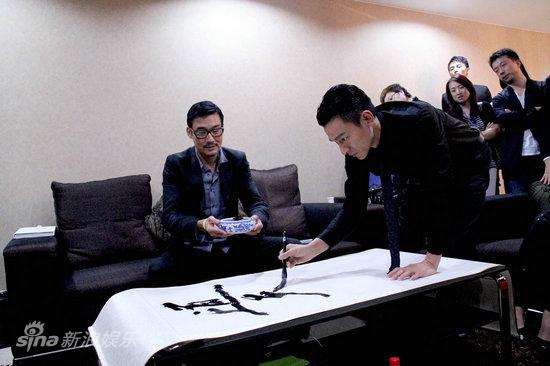 At the backstage, heavenly king Andy appeared from nowhere to write the calligraphy words "Tong Tian", he had never display his calligraphy skills in public, even "Empress" Carina exclaimed: "Never expected that Andy is well verse in arts and action!"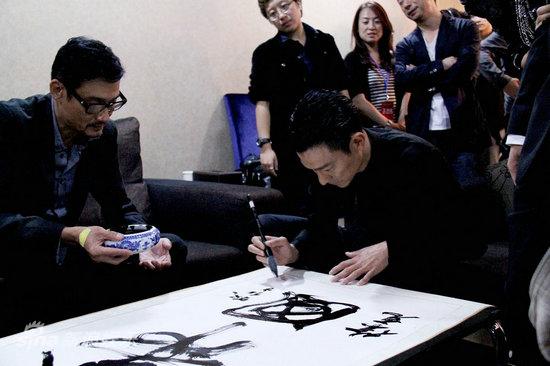 Andy and Tsui Hark discussed for long periods on what calligraphy they were going to write, they finally decided on the four words "Tong Tian Di Guo", beside Andy's name he wrote 'Di Ren Jie'.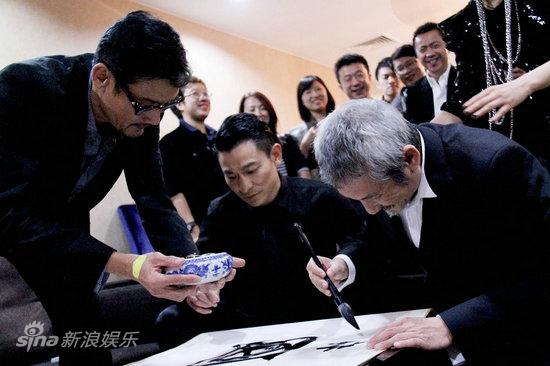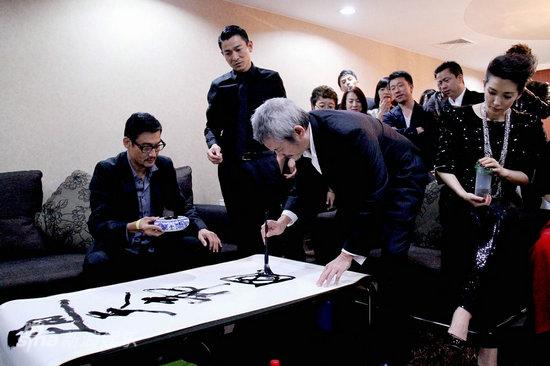 After witness Andy's calligraphy skills, Tsui Hark decided to write the words "Di Guo" in cursive calligraphy. Both of them were satisfied of the final calligraphy as they invited the entourage to take a photograph together.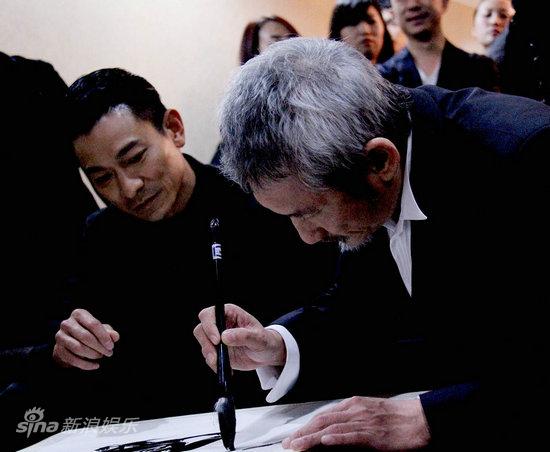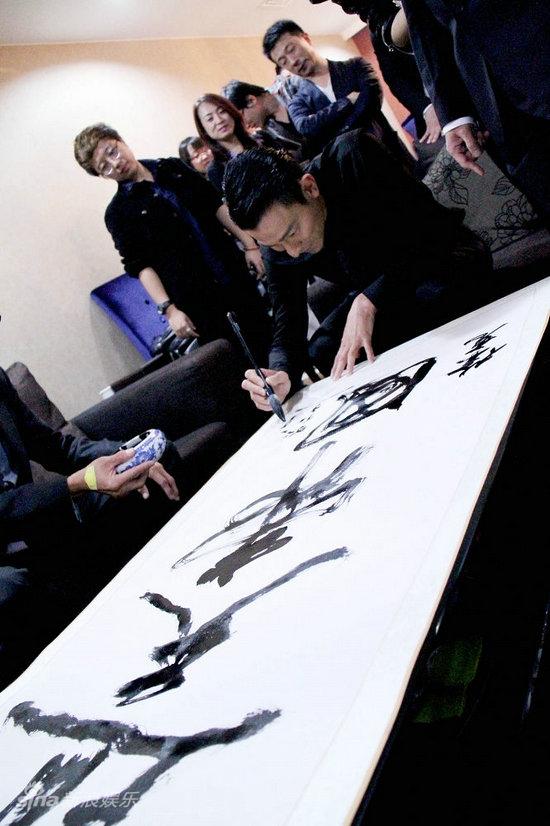 Andy and Tony had knew each other for 30 years as they were classmates at TVB Artiste Training classes, but they were always low profile when comes to their relationship. During the film's premiere in Guangzhou, Tony was asked of his "super hero", Tony took the initiative to talked about his deep friendship with Andy, he exclaimed: "Since the TVB Artiste Training classes, Andy has high requirements for his own character, personality and professionalism", after getting along with him while shooting this film, Tony take Andy as a hero in showbiz.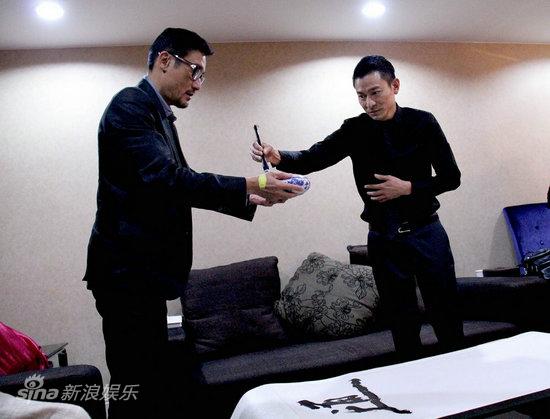 When Andy was about to write the calligraphy, Tony prepared the ink for him and attended to him. He was concentrated looking at Andy writing, their deep friendship can be seem, actions are louder than words.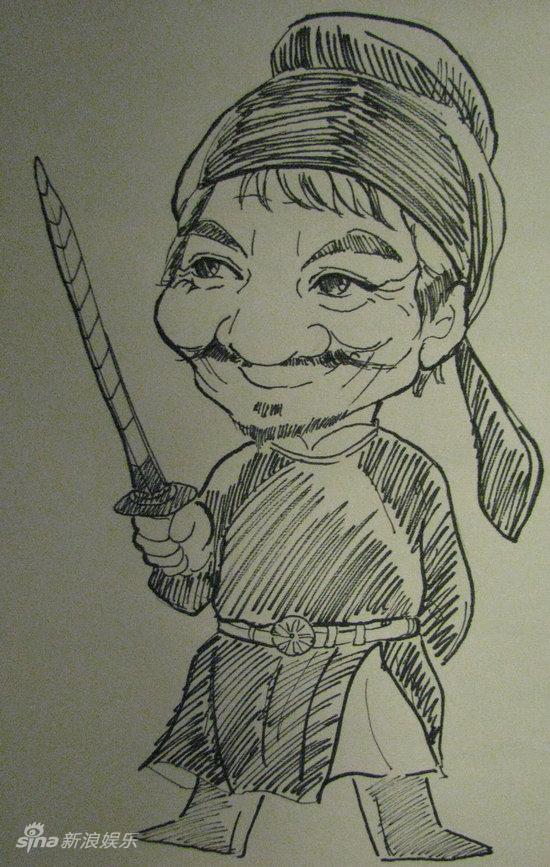 First Show invited Andy, Li Bingbing, Carina Lau, Deng Chao and Tony Leung Kar Fai to talked about how they felt of Tsui Hark and asked a cartoonist to draw out their feelings. Deng Chao think that Tsui Hark is an old child, Tony said that Tsui Hark is a dreamer as he always dream of movies, Li Bingbing thinks that Tsui Hark has high abilities as he's Lord Lao Zi. Andy said that Tsui Hark is Di Ren Jie as he's clever, able to know the truth and create a perfect person. Carina understand Tsui Hark the most as he know how to understand the "monkey within everyone", being clever and mischievous, she describe Tsui Hark as the Monkey God whom smoke cigar.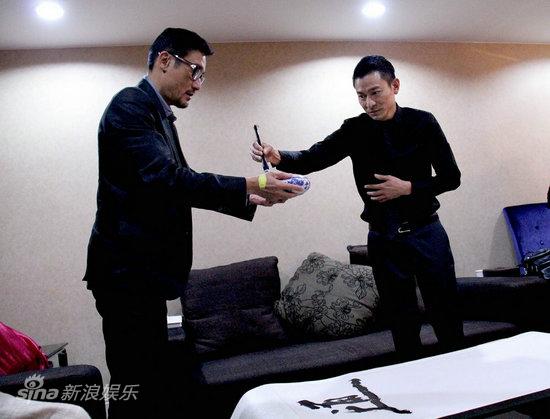 Andy joked that he had an agreement with Tsui Hark to cast him in his 50th film when he entered showbiz in 1981, he had been a fan of Tsui Hark and know many of his films. He said: "When he set up his production company 26 years ago, he had the words "A production of Tsui Hark" in his first film, it's not a trend during that time, Tsui Hark started it and many other directors followed what Tsui Hark had did."
However, Tsui Hark surprised Andy by exclaiming that he followed it from another director and did not started the trend.
news from: ent.QQ.com, Sina.com
---