On 21 September, Detective Dee and the Mystery of Phantom Flame director Tsui Hark along with Andy Lau, Carina Lau, Li Bingbing, Deng Chao and Tony Leung Kar Fai to Guangzhou for 4 meet-the-fans session at Galaxy Cinema and Fei Yang Zheng Jia Cineplex. When the entourage made their appearance, the audience immediately cheered and gave a thunderous applause.
Being in Guangzhou, Tsui Hark and Andy used Cantonese to greet the audience, unexpectedly Deng Chao whom is not well verse in Cantonese also greet the audience with Cantonese.
The handsome combination of Andy and Deng Chao was the highlight of the night, before they could speak, the audience stopped them with screams of "Too handsome," "Most handsome Di Ren Jie", some fans even address Deng Chao as "Chao Ren (Superman)".
Deng Chao expressed: "Even my hair turned white! All of you must watch the film!" The fans replied: "You're still handsome even with white hair!" Deng Chao also made jokes of Andy, "Watch the film, free Andy Lau concert tickets." Andy immediately "hit back", "Watch the film, Deng Chao give you concert tickets." Both of them seems to have a strong friendship as Deng Chao exclaimed: "In another 6 days will be Andy's birthday, let's wish him a happy birthday!"
The organizer prepared a birthday cake for Andy towards the end of the session, this surprise Andy as he shouted out: "My only wish this year is that Detective Dee and the Mystery of Phantom Flame do well in the box office!"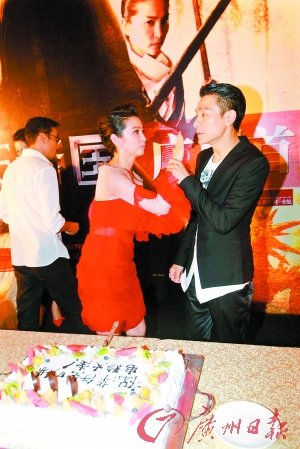 When everybody was cutting the cake, Li Bingbing used her finger to dip some cream and wipe on Andy's face.
Later when Li Bingbing wanted to help Andy wipe away the cream on his face, he rejected her offer.
news from: ent.tom.com, ent.163.com, ent.QQ.com
---