Detective Dee and the Mystery of Phantom Flame which will open in cinemas on 29 September nationwide, the entourage were in Guangzhou to promote the film yesterday.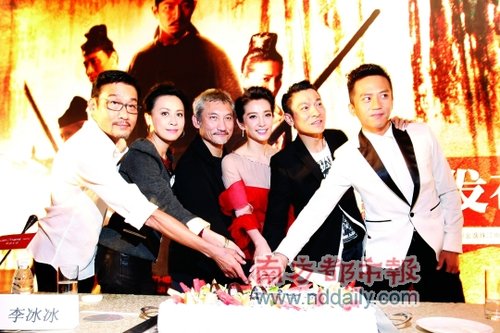 Andy Lau whom was the most handsome Di Ren Jie to date was in a delightful mood as he made jokes on director Tsui Hark, sing each other's praise with Li Bingbing on the intimate scene, he became the highlight of the event.
Andy also revealed that he would invest on a director Ann Hui's film, he exclaimed: "I won't give up on art films even suffer loss," even Tony Leung Kar Fai treat Andy as his hero. In addition, it would be Andy's birthday in another 5 days, the organizer specially prepared a birthday cake to celebrate his birthday in advance.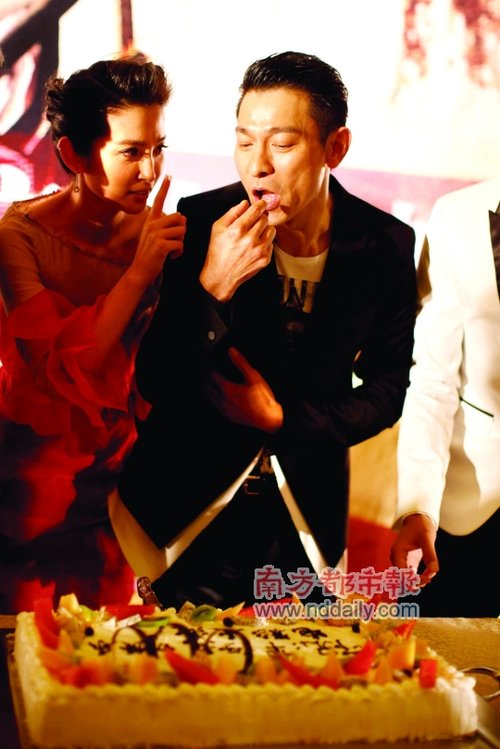 Among the entourage, Andy seems to be in delightful mood as when he's free he would start to observe the microphone on the table. Indeed when Tsui Hark was narrating his hero, the reception of the microphone is not good as occasionally there was no sound, the compere wanted to check the microphone, Andy suddenly burst into laughter because he was controlling the microphone button. He also demo how he did it as everyone burst into laughter, even Tsui Hark had no choice but to admit defeat.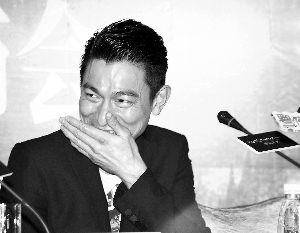 When interviewed, Andy exclaimed that he had taken things more lightly: "I had gone back to my old days where I like to joke, actually at one period of time I'm afraid of what people were saying, living in fear, later I think about it and people should be more relaxed. During the shooting of this film, some scenes are dangerous, Tsui Hark arranged body double for me, initially I wanted to do the stunts myself as I'm afraid that people would start saying that I used body double, I mind what people said about me, but Tsui Hark does not think so, he feel that I should be like Di Ren Jie, I shall not be affected no matter what's the situation, thus I take things more lightly now, I don't care what other said about me."
Despite a more open mentality, Andy is still more reserved when comes to acting, when talked about Donnie Yen's nude scene in Legend of the Fist: The Return of Chen Zhen becoming the highlight of the film, Andy said that he does not wish everybody's attention to be on that scene, "I can't act when I strip, wearing only my underwear is the bottom line for me. Although nude scene is catching everybody's attention, but looking at the news and the scene in the context of the film, it's two different matter, Donnie Yen was fighting very hard, but everybody's attention is on the nude scene."
He added: "Actually, the focus of Detective Dee and the Mystery of Phantom Flame is not on the seduction scene, Bingbing and other are just following the media question when comes to answering questions, we does not mind that the scene is not mentioned." He disclose that he had discussion with Bingbing on how to answer questions on the scene, "I joked with her, Bingbing dressed up as a male is like seducing me," these mischievous words made everyone burst into laughter.
After the shooting of Detective Dee and the Mystery of Phantom Flame, Andy was photographed to be in discussion with Han San Ping. With regards to the report, Andy expressed that he was just discussing The Founding of the Party, he does not have any new project with China Film. However, with regards to his film investments, Andy revealed that he would collaborate with Ann Hui next. For the films that Andy invested these few years, some films just losing money, even The Gallants which has good reviews also didn't made money.
A determined Andy said: "I'll still continue even I'm losing money, films has a very strong will of living, maybe 8 years later I could earn back my money by just selling copyrights." Despite many commercialize films to his name, Andy had always love art films, with his idol looks, nobody wanted to cast him in art films, "I still have feelings in art films, but my looks distance me from it, nobody approached me for art films, so I only can invest." Andy quoted A Moment of Romance as his art film representatives.
He revealed that he would invest in an Ann Hui's film at the end of the year, he will be the male lead, when asked if he's worried of Ann Hui's box office power, Andy exclaimed that he believed in her, "Don't pressurize her, her art films are the art films that everyone desire, if it's action films, don't approach her, I only want to watch good stuffs, more and more people are watching art films."
Both Tony Leung and Li Bingbing quote Andy as their hero. Tony said: "Andy was my classmate during the acting training classes, but recently I think he is our showbiz's hero. From the training classes, to his career and his self requirement, especially his love for his family and fans, it is really touching."
As it is Mid-Autumn Festival, when the entourage was asked how to celebrate. Director Tsui Hark will jet to Beijing to spend with his crew members, whereas Andy, Carina Lau and Tony would fly back to Hong Kong to celebrate with their family.
news from: Sina.com, ent.tom.com, ent.QQ.com
---