Detective Dee and the Mystery of the Phantom Flame is the only Chinese film competing in 67th Venice International Film Festival, after receiving high praise in the preview, the world premiere was held at the film festival on 5 September. Director Tsui Hark, producer Wang Zhonglei and Shi Nansheng, the cast Andy Lau, Li Bingbing, Carina Lau and Deng Chao walked down the premiere's red carpet at Lido Island. Maggie Cheung also showed up to wish Carina all the best to win the Best Actress award, but she did not attended the premiere.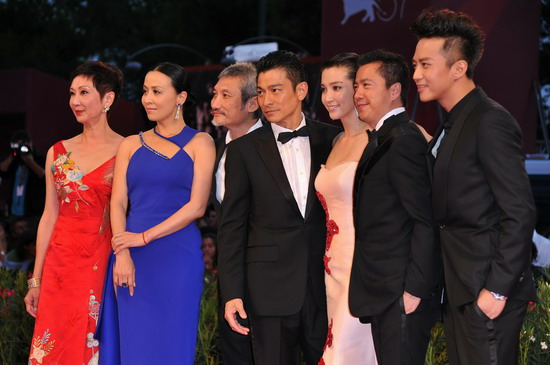 When the entourage entered the screening hall, the audience immediately stand up to applause in welcoming them, the cast in turn waved to thank the audience. When the name of Tsui Hark appeared on the silver screen, the audience began to applause, it was the same reception received when Andy, Li Bingbing and Carina's name appeared on the screen, this is a sight hardly seen in premiere.
After the screening, the applause last 10 minutes as the world once again witness the exciting wuxia film of Tsui Hark. Other than the enthusiastic audience, the head of the judging panel – Quentin Tarantino was also among the audience, his presence resulted in a small commotion.
With regards to the audience's concentration on the film, in several exciting action scenes, the audience paid close attention. During the first fight between Andy and Bingbing, at the segment when Andy splash water on her, the audience burst into laughter. Andy also smiled and looked at Bingbing. When the entourage was leaving the cinema, Carina walked rather fast, Andy whom was walking behind her scolded her: "Wu Zhetian! Walk slower!"
There was a canoeing competition in Venice that day, most of the route needed to be changed, the entourage need to walk from their hotel to the boat that bring them to Lido Island. Along the 5 minutes walk, the international audience screamed and took photographs of them as it does not lose out to the red carpet.
Detective Dee and the Mystery of the Phantom Flame win high praise in the festival, as internally recognized film magazine Variety gave it 7.6 points, this is the highest point rated on a film for the past 5 days in the festival. The festival opening film Black Swan rated 7.1 points, Norwegian Wood rated 5.7 points and Somewhere rated 7 points.
news from: yule.sohu.com, Ming Pao
---