Li Bingbing was instructed by Empress Wu (Carina Lau) to accompany Andy Lau to investigate a case in in Detective Dee and the Mystery of the Phantom Flame, this is her third collaboration with Andy. Andy remember when he first saw her in Cat and Mouse's Zhuozhou (Hebei, China) shooting studio, looking at the little woman sitting beside him, he thought Anthony Wong brought her here, but Andy sing praise of her by looking at her: "Till today, she's still so innocent!" Bingbing smiles: "I'm should consider myself stupid!" Andy then correct her: "Kids are not stupid!" Bingbing the insist that she's a stuipd kid.
Other than Cat and Mouse, they also collaborated in World Without Thieves were they also fight against each other, Andy said: "I can see her improvement but she's still the same!" A modest Bingbing then say: "I'm not careful and beat Andy twice!"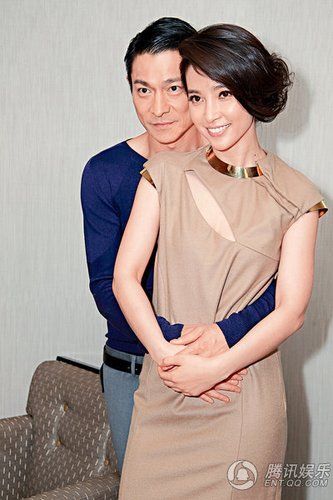 In the film, Bingbing has many action scenes, she even fight against Andy, Andy suffered as he got beaten by her, Bingbing smiled: "Andy is an expert, when he was beaten by me, everybody present wanted to burst into laughter but don't dare, fearing that he would be angry!" Andy then quipped: "I'm not injured physically but my heart is hurt, even I'm so agile but still I couldn't run away, I was hit on my shoulder, luckily not on my face because I'm an idol!" Bingbing console him: "Then I'll be responsible for the later part of your life!" A mischievous Andy then said: "You can even without hitting me!"
Bingbing exclaimed that she does not feel pressurize when collaborating with Andy this time round, however Andy always asked himself why he gave people pressure because he wanted everybody to act well, Bingbing said: "Andy had a lot of ideas and fight well, can be seen that he's very professional, it's not a waste training all these years!" Upon hearing, Andy exclaimed: "I've nothing to say! Haha!"
In the film, Bingbing was sent to investigate a case with Andy, she also need to seduce Andy, but Andy quipped that he couldn't enjoy as the seduction was during the investigation of a case, but he revealed that Bingbing need to "strip" and it was more daring that in The Message, initially wanted to request the director to clear the set but in the end, there were more than 20 people walking around during shooting as nobody cared of their feelings.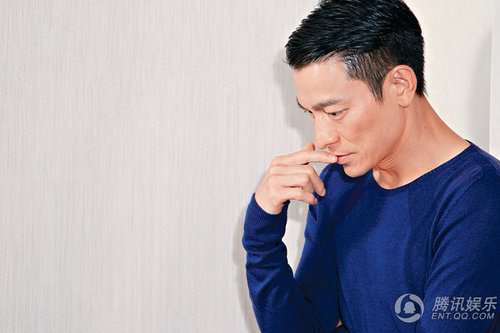 When asked of the feeling of stripping? Bingbing immediately answered: "It's him (pointing at Andy), he discovered that I have a good figure!" Andy then added: "That time I was fatter, initially she (looking at Bingbing) had prepared her emotions to act, I'm not ready thus went to discuss how to shoot the scene, I then know that I also need to strip! During that time I'm not prefect!" Bingbing then laughed at Andy: "Therefore now you know who wanted the set to be cleared, must check out the seduction scene. I would not dare in real life!" Bingbing's face turned red.
When asked to choose between action and seduction scene, Bingbing quipped: "I really to be in love relationship, it feels more romantic!" She watched Andy's Look For A Star, it feel that it's a different Andy Lau, the inner feelings can be seen, very open, people will love this kind of man, so Andy promise her to write a similar script to collaborate with her.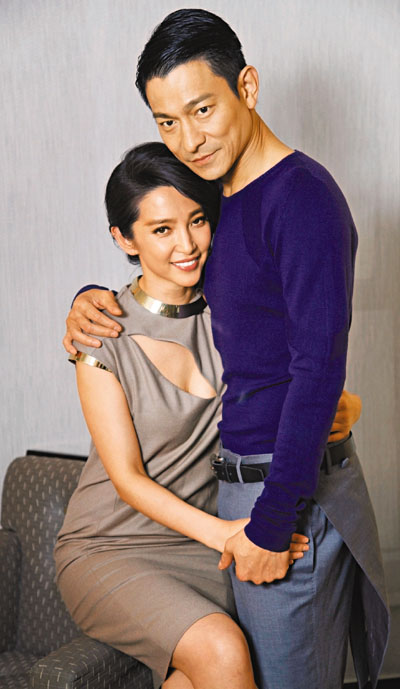 Bingbing continue: "I remember when I first came to Hong Kong for film promotion, I was being asked how I felt of Andy, I said that I liked him as he's a good person, it came out to be my love declaration to him, but when you asked me how I felt of Andy now, I would still say that I liked him, loved him, but it's admiration and respect! Actually I need to be careful of what I said, many people loved him, I'm just one of them!"
Upon hearing, a gentleman Andy said: "Her usage of words are so cute!"
With regards to director Tsui Hark, Andy sing praise that he's creative, he said: "One day I saw Tsui Hark standing at the rooftop, I asked him what he was looking at? He said: "I wanted you to fight it!" Unexpectedly 4 days later, he came with a deer horn and asked someone to dressed up as a deer to fight with me, collaborating with him like like going for lessons, he came out with question, I need to do homework!" In addition, Andy revealed when trying out his image, Tsui Hark suggested that he shave his eye brow, Andy rejected as he said: "I tried shaving my eye brow during the shooting of Running Out of Time when I dressed up as a woman, than my eye brow failed to grow back, thus I'm against it! In addition, when shooting period films, I don't want to wear hair gear as it would result in hair falling and the effect looked fake, thus when shooting this film, I grew my hair long and add extensions, it would looked more natural."
news from: www.people.com.cn, ent.qq.com
---