Detective Dee and the Mystery of the Phantom Flame which will opens in cinemas on 29 September will be director Tsui Hark's 50th film in more than 20 years career. It's his first collaboration with Chen Koufu and the only Chinese film to compete in 67th Venice International Film Festival, Andy Lau and Li Bingbing are also vying to be the Best Actor and Actress thus this is a rather meaningful film which took 10 years in the making. The film will have its worldwide premiere at the 67th Venice International Film Festival on 5 September with the theme of Dream Back to Tang Dynasty, the whole cast will also gathered again. With this chance, Huayi Brothers seized the chance to present the latest poster, audience can count down to await the arrival of Tang Dynasty arriving in Venice.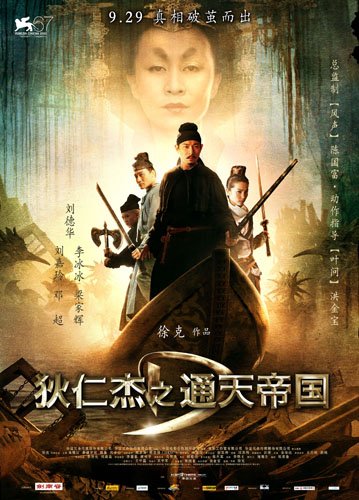 Other than the earlier released 5 characters' silhouette posters, a new poster was designed specially for the festival, these posters will be revealed during the festival. The latest poster used the boat in the Ghost Market as its theme, Empress Wu Zhetian in the background, mystery creatures hiding at the sides of the boat to display the detective investigating a mystery case. The Ghost Market is the most mysterious and colorful set for the film, it's an underground world almost forgotten by people, it's a heaven for those people escaping from reality and those carrying out illegal business. The poster is trying to show off the dangerous Ghost Market which fit director Tsui Hark's positioning of the film and win by wisdom confidence by Huayi Brothers, using technologies with a steady script, high class production and shooting techniques to break into the international market and create a new standard for Chinese films.
Two days after the premiere, Huayi Brothers will held a dinner titled Dream Back to Tang Dynasty at Venice's Hotel Exelsior where movie-makers, media, famous local and overseas personals from the film industry will gather together.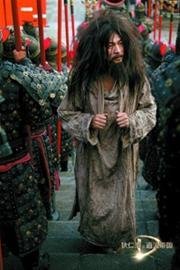 An exhibition will also be held where the film posters, props and Empress Wu Zhetian's costume would also be displayed. The booth will also be decorated with Tang dynasty lighting and paintings for the additional mystery atmosphere, dragon and phoenix will be at the background of the stage, the giant LED screen will broadcast videos of Detective Dee and the Mystery of the Phantom Flame.
Huayi Borther's CEO Wang Zhonglei, director Tsui Hark, the cast which includes Andy Lau, Li Bingbing, Carina Lau and Deng Chao will be in Venice to meet the media.
---