Andy Lau whom is 48 years old this year is the "diamond bachelor" of showbiz, his good friends Michael Miu and Felix Wong had got married long ago, even Tony Leung Chiu Wai and Carina Lau got married last year. Andy earlier expressed that he had some personal matters to attend to this year, he added that he will reveal it when it happens. Indeed he's busy preparing for his "personal matters" which was published in yesterday's issue of East Weekly. It was reported that he would marry his alleged girlfriend of 24 years Carol Zhu Liqian in April.
With regards to their marriage, the Chu family seems to be excited as Zhu's auntie expressed to her neighbour: "Carol will be getting married soon, I'm so happy, finally can be married to the Hong Kong singer, all of you also know him." It's believed that Zhu's auntie is referring to Andy.
In order to keep the wedding a low profile, Andy jet off to Malaysia on 10 February, he went alone and stayed for 5 days to discuss the wedding with the Zhu family, he also celebrated Valentine's Day with Carol before returning back to Hong Kong for work. On 12 February, Andy met up with Carol's family at a high class restaurant near the Kuala Lumpur embassy to discuss their wedding dinner arrangement. Although there were no much customer in the restaurant, but Andy was still careful to sent people to look out for any suspicious characters before stepping into the restaurant with Carol. During the discussion, Andy expressed that currently he need to "keep fit!", believed he wanted to have his wedding in his best condition.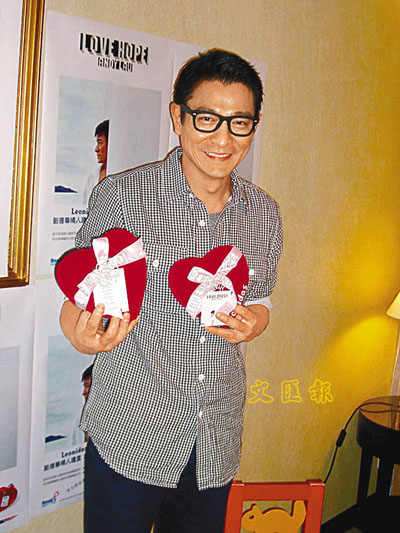 In order to make up for Carol's silent support all these years, he specially picked 6 April as the wedding date which is also Carol's birthday for a "double happiness". The wedding dinner will be held at Carol's uncle Kuala Lumpur Berjaya Times Square hotel. Last year, Carol's sister also held her wedding there, Andy also attended as a special guest as he sing and send his blessing.
In addition, Andy also gave Carol's father a bungalow worth $70 million as bride price. He also asked good friend Lin Xi to write the lyrics for his new song Longtime Companion as a wedding present for Carol. Andy exclaimed that this song narrates the beginning of marriage, the couple need to understand each other, no matter good or bad, they must walked till the last day to know the result. He also expressed that his attitude to love had never change till he walked his last step.
In addition when Andy was in Malaysia, there is a 6-7 years old little girl whom always appear by the side of Andy, the little girl resemble Andy. According to neighbours, Carol seldom appeared but indeed there is a little girl and boy, the little girl seems to appear more often.
With regards to the marriage, Ming Pao called Andy to rectify but he express that he would not comment on the marriage.
news from: Ming Pao, Wei Wen Po, Apple Daily News, Headline Daily, Sina.com, Sing Tao News
---